It's hard to believe that it's that time of the year already, but with December almost here, we thought that it was high time to start thinking of year end office parties in Cape Town that will wind off another great year on a festive note.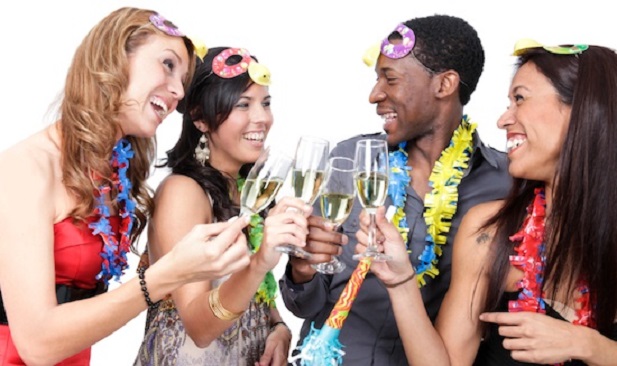 Depending on the size of the company, whether the annual year end function is fancy or low-key, where you wish to kick off the fun, and of course, the budget you have to get things going, there are many options to consider for the final workplace bash of the year. Before we get on to some fresh ideas for 2014 office parties, be sure to check out our previous lists for some inspiration.
> 2013 end-of-year office party ideas
> 2012 end-of-year office party ideas
Top Picks for 2014 Office Parties in Cape Town
Just about ready to start planning the most awesome of all office parties in Cape Town? We have some great ideas that cater to events of all types, sizes and budgets. Here are some of our top picks to consider for your office bash, including daytime events and evening events:
Daytime Office Event Ideas
1. Franschhoek Wine Tram. Take your team out to the beautiful Cape Winelands, and explore some of the top estates on a fun tram route that includes visits to various farms, cellar tours and other activities. Lunch on this tour needs to be booked separately – you can find all the info you need for booking in the link provided above.
2. Constantia Wine Route. One of the oldest wine routes in Cape Town, the Constantia Valley is home to a small number of outstanding estates. This location in the southern suburbs makes it an ideal option for businesses based nearby, while it is less than half an hour from the City Centre too. Find out more about estates and activities in the link above.
3. Hiking in Cape Town. For a day out that is something different to the norm (and good for you and your team too), planning a hike on one of the many amazing scenic routes in the city and surrounds makes for a refreshing day out. End off with a lunch or dinner at a restaurant of your choice, or casual drinks back at the office. View a list of hiking routes in the link above.
4. Sightseeing Bus Adventure. Get the full tourist experience in the City Sightseeing Bus, which takes you across various routes on a double-decker open bus. Explore the City Bowl and its attractions, or take a longer drive out to see some scenery on the peninsular route. More details on ticket prices in the link above.
5. Sandboarding. Looking for something more extreme? Sandboarding is certainly the type of team building adventure that few employees will forget! Taking place on the dunes of Atlantis just outside of Cape Town, this is sure to be a day full of fun, action and memories that will last for years to come. Get all the info on this activity in the link above.
Evening Office Event Ideas
1. Gold Restaurant. In Green Point, the Gold Restaurant experience is 100% uniquely African. Here, you can enjoy delicious dining along with entertainment such as tribal dancing, drumming and local music. Read our review above for full details, or contact the restaurant on +27 (0)21 421 4653 for bookings.
2. Classy Cocktails. Be inspired by some of our favourite cocktail spots in the city, and plan an evening affair to remember. Cocktails are a versatile event option that can be as formal or fuss-free as you choose. Glam things up with a dress code to suit the occasion and get a photographer on board to capture the many moments that are sure to unfold. Find our top picks in the link above.
3. Summer Concerts. Kirstenbosch Summer Concerts kick-off soon, with a fantastic lineup that is sure to make this summer sizzling. For a laid-back Sunday event, plan an office picnic under the stars. You can check out the full concert lineup along with ticket prices and info on the link above.
4. Beach Bars. Head to the beach once the sun has started to dip, to enjoy one of the always-rocking beach bars found in the city's coastal suburbs. Who says that beaches are reserved for swimsuits and flipflops only? At these spots, you can experience a stylish take on traditional beach party, with bubbly, music and good food to boot. Check out our list of beach bars to find your inspiration.
5. Rooftop Bars. Alternatively, you can take your party to new heights, by choosing a rooftop venue that is cooler-than-cool. Lame puns aside, these bars range from chilled to smart, with plenty of choice to suit all event types. View our top picks in the list above.
 –
We hope that your party planning gets a bit easier with these ideas, and better still, that your 2014 office party in Cape Town is one that will go down in history for its sheer level of awesomeness!