Ideal for all levels of fitness, hikes in Cape Town range from easy strolls all the way to challenging routes – this means that everyone can get out there and enjoy the beautiful outdoors… however fit you consider yourself to be.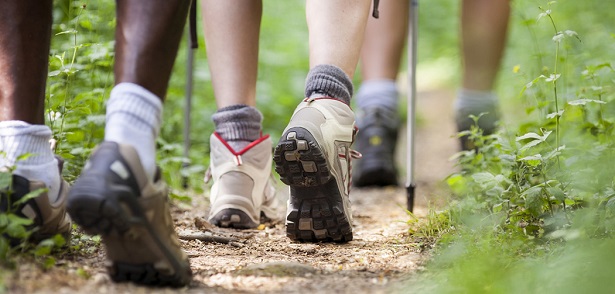 With an abundance of natural heritage that has blessed the Mother City with spectacular scenery from coast to coast, hiking is one of the best ways to get out there and enjoy the amazing views. From Table Mountain to some of the lesser known forests, nature reserves and outdoor areas, hiking can be enjoyed throughout the year as long as the weather is not too hot or not too wet.
Keen to find out where to find some of the best hikes in Cape Town? Keep reading to get the lowdown on our favourite routes…
Where to go Hiking in Cape Town
Here are some of our suggested routes for hiking in Cape Town…
1. Lion's Head, City Centre | Level: Moderate
This summit is one of the shorter ones, offering some of the best panoramic views of the city below (and some equally amazing sunsets). The Full Moon Hike is a very popular nighttime hike that is enjoyed by many locals and visitors, while there are some easier routes to take if you want to avoid any major hills. For the climbing parts, there are many hand-holds and chains that help you make your way up and down. This hike has two routes.
2. Devil's Peak, Tamboerskloof | Level: Moderate – Difficult
Accessed from Tafelberg Road just off Kloof Nek Road, near the Cable Car Station, this hike is more suited to experienced or fit hikers. The views are nothing short of spectacular, with incredible views of the city. For a more easy walk that still has great views, you can walk along Tafelberg Road too without worry of any cars. This hike has three routes.
3. Deer Park, Vredehoek | Level: Easy – Moderate
In Vredehoek meanwhile, the Deer Park hike is a nice and easy option for all ages. This gentle hike takes you through the little reserve found on the low slopes of Table Mountain. There is a pretty forest that is great for dog walking, with beautiful mountain views from higher up and a longer hike that can be accessed for those who want more of a challenge. There's a small restaurant nearby too, aptly named Deer Park Cafe. This hike has four routes.
3. Newlands Forest Contour Path, Newlands | Level: Easy – Moderate
Newlands Forest is home to many awesome hiking trails, but of all of them, the Contour Path is the most rewarding. On this path, you make your way through shady paths, streams, pure forest and mountain slopes. The scenery is green and fresh, and you are sure to come back with some phenomenal photos, too. This hike has three routes (and some other trails and walks that can be started from the main car park).
4. De Hel, Constantia | Level: Easy – Moderate
In the heart of the Constantia greenbelt lies a hiking area that is something of a secret. In fact, it is very easy to miss the entrance if you are not looking out carefully for the 'De Hel' sign on Southern Cross Drive or on Constantia Nek Drive. The hike is circular, so you can enter at either entrance. There are loads of tall trees, shady paths and scenic wonders to enjoy here, and dogs and kids will love it too. This hike has nine routes.
5. Cecilia Forest, Constantia | Level: Easy
Also in Constantia, accessed via the parking area on Constantia Nek, this tranquil forest is lovely for walking the dogs, taking the kids out or simply enjoying a scenic walk. There is a single path that meanders over various scenic areas, with streams, trees and many other things to see. Some even believe that you can see fairies in these woods, so be sure to keep your camera on hand… you know, just in case. This hike has one route.
6. Kirstenbosch National Botanical Gardens, Newlands | Level: Easy – Difficult
It's famous for its picnics, summer concerts and lush gardens, but Kirstenbosch is also home to many great hiking routes as well. You can take one of the semi-guided walks that take you through different vegetation areas, such as the fragrant plants, edible plants, rose, fynbos and afromontane forest areas for starters. Just be sure to stay on the paths, as you could find yourself somewhere in the middle of the mountain if you venture off into the bush! This hike has seven routes.
7. Silvermine Elephant's Eye, False Bay | Level: Easy – Moderate
The breath-taking Silvermine Nature Reserve spans across False Bay, and is one of the loveliest places to enjoy some fresh air and nature. This hike takes you up to a huge cave that from a distance, looks much like the eye of an elephant. The hike spans across Table Mountain on the False Bay side, with a reservoir and lots of picnic spots also found within the reserve. There are a number of parking areas too. This hike has two routes.
8. Muizenberg Mile, False Bay | Level: Easy
Also in False Bay, Muizenberg Mile offers a gentle walk along the beaches and rock pools of Muizenberg. Ideally, it's best to do this walk at lower tide, as high tide brings the breaking waves close to the path and can result in getting rather drenched. Great in summer, but less fun in winter! This hike has one route.
–
Speaking from experience, having done just about all of these hikes (and gone abseiling off Silvermine's peaks, I might add), it's hard to choose a favourite. If I had to though, I would say the Contour Path, Cecilia Forest and De Hel – for their "foresty" beauty and the great memories that I have of these trails.
Now it's your turn… what is your favourite hike in Cape Town, and why?