While some may already be enjoying end of year bashes, others still need to get cracking to find just the right venue. From trendy hotel bars to amazing Winelands encounters, we have searched far and wide to bring you the very best, most spectacular end of year bash ideas.
Before we reveal our top picks for venues, a bit of planning is required. Don't worry, this won't take long. Things to consider when choosing a venue include what sort of vibe you are after (outdoor, indoor, fun, unique or stylish for instance), what time of day your event will be held and of course, the number of people in your group.
Once you have a rough idea of these considerations, the fun part begins…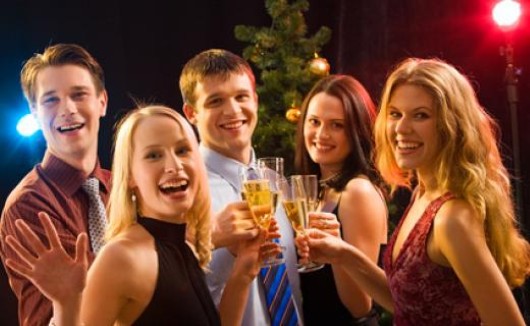 Smaller Group Office Events
Catering to a smaller group of up to 15 people allows a huge range of venue options to choose from; whatever sort of party you want to have. Some great ideas for smaller groups include:
The Grand Café & Beach, Granger Bay Road, Granger Bay (021 425 0551). What better way to enjoy summer than good food, cold bubbly and a private beach setting?
El Burro, 81 Main Road, Green Point (021 433 2364). Mexican food, generous margarita jugs and a great, chilled atmosphere abound.
The Grand Daddy Hotel, 38 Long Street (021 424 7247). Wide range of rooms, along with the stylish bar area, or even the upstairs roof.
Radisson Blu, Beach Road, Granger Bay (021 441 3000). Views of the ocean, a rim-flow pool, comfortable loungers and fresh sea breezes.
Chukkachurri, 20 Coburn Road, Green Point (072 992 7588). Small, fun and home to the best barmen in the city, this Argentinian polo themed spot is always a blast.
---
---
Larger Group Office Events
Larger groups still have plenty of options, but obviously factors such as space need to be taken into account. Here are some cool ideas for bigger groups:
One&Only Hotel, Dock Road, Waterfront (021 431 5101). Home to Maze and other dining options, this hotel is as stylish as it gets.
Upper Eastside Hotel, Brickfield Road, Woodstock (021 404 0570). Woodstock's first hip hotel, this spot is ideal for lunches, dinners or cocktails.
Moyo @ Spier, Lynedoch Road, Stellenbosch (021 809 1133). Loads of space for big groups, roaming face painters, African music and a delicious buffet make this a fun day out.
Royal Cape Yacht Club, Duncan Road, Table Bay Harbour (021 421 1354). For a more exclusive venue that offers everything from catering to bars, this is a great option both day and night.
Headquarters Restaurant (HQ), Heritage Square, 100 Shortmarket Street (0 424 6373). Here you book an entire floor to yourselves, to enjoy a memorable lunch or dinner and the famous HG steaks.
---
---
Unique Office Party Venues
Tired of all the same old options? Try something entirely different and unique this year with these great ideas:
Cape Town Comedy Club, The Pump House, Dock Road, Waterfront (021 418 8880). With a host of regular comedy shows, along with special events lined up for the festive season, this popular comedy club is sure to deliver a world-class combination of big laughs, good times and great memories. Just what you need for boosting staff morale!
Two Oceans Aquarium, Dock Road, Waterfront (021 418 3823). Have breakfast near the Kelp Exhibit or cocktails next to the Predator Exhibit for a truly memorable year-end celebration.
Chavonnes Battery Museum, Dock Road, Waterfront (021 416 6230). Give your team an experience they will not forget with a historical themed party.
Let's Go Bowling, Stadium on Main, Main Road, Claremont (021 671 1893). Yes, it's a little cheesy. But it's a well-known fact that team building activities make for happy staff members.
Waterfront Boats, V&A Waterfront (021 401 1300). Take your party to the open water with a huge range of cruises designed to suit all group sizes, times of day and levels of festivities.
Ratanga Junction, Century City (021 550 8504). This massive theme park is a bit less of a big deal than it was when it launched, but it is still the best place to enjoy wild rides, good food and plenty of fun.
Grand West Casino, 1 Vanguard Drive, Goodwood (021 505 7777). With everything from theatres to Blackjack tables, themed restaurants, bars and even an ice rink, you and your team are bound to find ways to keep yourself entertained.
Whether you are seeking something laid-back and chilled or even something that the office will be talking about for years to come (much to the chagrin of new employees who won't get the inside jokes), with a bit of creative thinking, you can find just the right venue for your office party in Cape Town this year.
---
Still looking for more venue ideas for your end of the year celebration? We've got you covered! Here at ComeToCapeTown.com, we offer an extensive range of luxury villas for private parties or accommodation to suit every preference. From outstanding villas to trendy apartments, exceptional aparthotels and hotels, along with our Curated Collection, we have something for everyone. Get in touch with our team today for assistance in finding the perfect luxury romantic getaways and summer activities to enjoy in Cape Town.