Less than half an hour outside of the city, Sandboarding in Cape Town takes you to the dunes of Atlantis for an adventure that can only be described as unbelievably amazing.
It's a little bit like snowboarding, and in fact the sport is done using a snowboard. But instead of icy cold snow, you get to soar over pure white sands as you navigate the ups and downs of the Western Cape sand dunes. Simply put – this is adventure sporting like it is meant to be enjoyed… crazy, fast and oh-so-thrilling!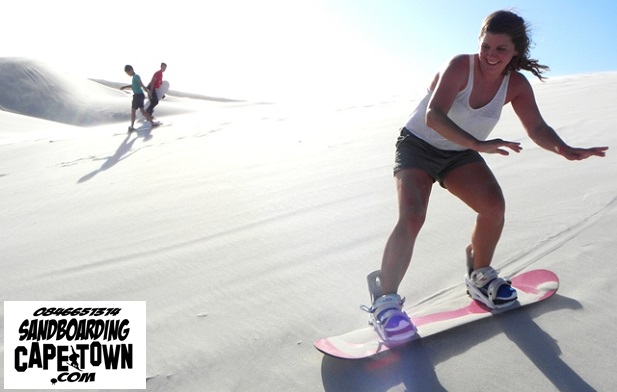 Even if you have never been on any sort of board before, you can learn how to get started thanks to the expert help provided by your guide. All equipment is designed to provide optimal safety, with proper bindings that add more stability and security. If you are not in the best shape, you may find this very challenging.
You can get a group of friends together for a sandboarding group session, or go on your own and make some new friends. Whatever the case, this is something that every adventure-seeker should try at least once.
Why Try Sandboarding in Cape Town?
In the need for some speed and fun? Sandboarding in Cape Town is just what you need. This adventure lasts for up to three hours, with training and assistance provided along with gear. Some info you need to know about this activity includes the following:
– Pro gear with snowboard bindings
– 2.5 – 3 hour sessions
– Hands on training
– No experience needed
– You need to be in fairly good shape
– Various packages offered, ranging in price from R300 per session and upward
– 4×4 transfers are available on request
– Activity is weather dependent (bad weather = bad sandboarding)
– Dress in beach gear with trainers, shorts and t-shirts
– Don't forget to wear sunscreen and bring along a water bottle
Check out the Sandboarding Cape Town website to find out more about what they have to offer.