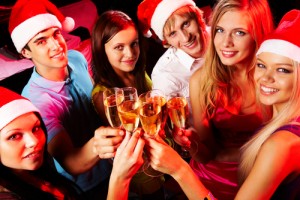 December is fast approaching, and that means it is just about time to think about Cape Town year end functions.
Getting started now means that you will have far more chance of snapping up that great venue you like so much.
Better still, you can also prepare things to make this year the most epic of all office bashes in the entire history of office bashes.
No idea what to do this year?
Let us give you a bit of inspiration…
Day Time Office Functions
First up, we have some ideas that are best for daytime events. Some are boozy, others are not. Some are free, others are not. What they all have in common though is that they are not your usual stock standard staff lunch.  
* False Bay Meander. For something cheap and fun, hop on a train in the morning to head out to Kalk Bay or even Simons Town. Ideal for lunch, or for chilled drinks and oysters at Brass Bell or even a boat trip from the Simons Town harbour, you can plan your day however you like. At the end of the day, everyone gets back on the train again to go back to the office.
* Township Tree Tours. Greenprop offers some amazing ideas such as their tree planting tour in the townships of Cape Town. What makes this function idea unique is that you can give back to local communities while still having fun in the process. Bookings: +27 21 461 9265.
* Laser Tag, Tokai. Who says team building has to be sedate and gentle? Now you can fulfil your long-time dream of taking out that annoying guy in marketing, and show everyone just how long you can outlast the rest. Just don't shoot the boss, whatever you do. Bookings: +27 21 790 7603.
* Forest Survivor & Cook Off, tbc. Arranging your office bash through an operator such as Adventure Works is one way to take things to the next level. The Survivor style team building event is ideal for South African summer – best of all, you get to braai at the end! There are plenty of other cool ideas from Adventure Works too by the way. Bookings: +27 21 790 9015.
* Party Boat Cruises, Waterfront. Now you can take loads of happy snaps and post them to Instagram with captions like 'I'm on a boat!' while you make like P Diddy on a luxury yacht. These boats launch from the V&A Waterfront, offering a full day of booze, cruises and fun. Bookings:  +27 83 251 8784 (note: head offices are in JHB but their cruises are offered at various locations countrywide).
Evening Office Functions
Then, we have the evening events that get things moving after the sun has gone down. If you're not keen for a traditional dinner-and-drinks vibe, these ideas are sure to hit the spot…
* Orphanage Cocktail Emporium – 227 Bree Street (corner of Orphan and Bree Street, Cape Town (021 424 2004). This award winning cocktail bar serves only the finest artisan cocktails, elixirs & intoxications found in Africa. A downstairs restaurant and upstairs club complementing the intimate vibe of the main bar, sets the tone for a fantastic year-end function..  
* Café Chic – Gardens. With no cost for venue hire, a stylish restored Victorian mansion setting and assistance with menus and wine pairing, this spot is great for small to medium sized functions. You can theme your function too, adding more fun to the evening's proceedings. Bookings: +27 21 465 7218.
* Villa St James – St James. On the False Bay coast, this stately manor house offers the ideal setting for a 'murder mystery' type event or even a Gatsby themed dinner party. There are numerous room options such as the banqueting room, billiard room and ship's bar – accommodation is also available if you want to stay over. Bookings: + 27 21 782 9356.
* The River Club – Observatory. In the Southern Suburbs, you can arrange an entertaining games night at one of Cape Town's oldest venues. Team building is always a good thing, but when there is lots of beer and laughing involved, it's even better! Bookings: +27 21 448 6117.
* Private Chefs – anywhere. Another idea you may want to consider is hiring a private chef to cook for you and your guests. This way, you can choose to host a dinner at any venue (even that fancy house that the boss never lets anyone visit), and have someone else cook a full course meal according to your preferences. We recommend Chardonnay Chefs, who operate city-wide. Bookings: +27 83 375 6471.
Still haven't found just the right idea yet? Have a look at our awesome year end office party ideas from last year to see even more cool options.
We want to hear from YOU – how will you be spending the end of the work year this year? Share your thoughts below!