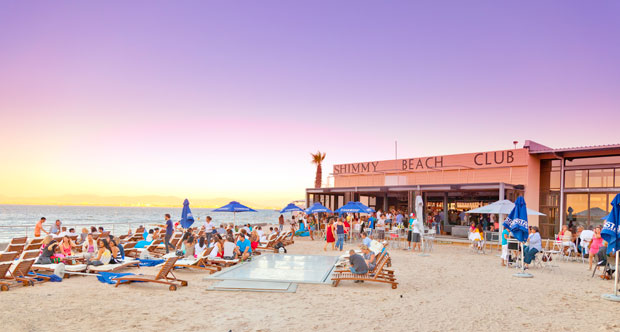 Last week we featured some great rooftop bars in the Mother City – this week we bring you some of our favourite beach bars in Cape Town!
Cape Town is famous for its beaches, boasting not one but two oceans to choose from depending on your preferences. With the trendy Atlantic Seaboard on one side, the beautiful Northern Atlantic Seaboard on the other and plenty of beaches in between, you will find more than enough beach bars to go around…. whatever sort of mood you may be in on any particular day.
There are the upmarket, trendy spots for those balmy nights of seeing and being seen. There are also the chilled spots where kids can run amok. Then there are the local treasures, where anything goes and shoes (and regular clothes) are optional.
If you're in the mood to enjoy an afternoon or evening as close to the beach as possible, check out our list of great Cape Town beach bars below.
Our Favourite Cape Town Beach Bars
From coast to coast, we bring you some of the best places to enjoy a cold one right near the ocean. In no particular order, here are our top picks for Cape Town bars near the beach…
– Shimmy Beach Club. South Arm Road, V&A Harbour Waterfront | +27 21 200 7778. With beautiful views and beautiful people, it is no wonder that this Waterfront bar and restaurant is making proverbial waves. The atmosphere is stylish and upmarket, while a man-made beach, kid's play area, private function venues, in-house DJ, excellent menu and yummy cocktails are all offered. Open Tuesday to Saturday, 11h00 to 02h00 (kitchen open until 16h00).
– Grand Café & Beach. Granger Bay Road, Granger Bay | +2772 586 2052. This venue comprises a large indoor restaurant and bar that has a stylish vintage glam décor theme, as well as a small private beach that is fitted with deckchairs, loungers and tables. Here you can sit back and enjoy fine bubbly along with specialities such as their divine pizza or ice cream sundaes, as you lie in the sunshine and relax. Open Tuesday to Saturday from 12h00 until late, as well as Sundays for lunch.
– The Bungalow. Glen Country Club, 3 Victoria Road, Clifton | +27 21 438 2018. The old La Med was one of those places you either loved or hated (or both). The Bungalow however brought this beach hangout into a new era, adding plenty of style to what was already a prime location. Enjoy live music, drinks and those famous Clifton views, in a family-friendly environment. Open all week, noon to late.
– Dunes. 1 Beach Road, Hout Bay | +27 21 790 1876. Dunes is a beloved Hout Bay institution, that has managed to retain its laid-back charm for what seems like forever. Enjoy a chilled beer and a good meal, bring the kids if they are getting in your hair, bring a few friends and sit back for a relaxing day in 'Houters'. Open all week from noon to late, with breakfasts served from 09h00 on weekends.
– Maestro's on the Beach. Milnerton Beach, Bridge Road, Woodbridge Island, Milnerton | +27 21 551 4992. In Milnerton meanwhile, you can enjoy those iconic views of Table Mountain along with a festive atmosphere, good menu, affordable drinks and family-friendly facilities at Maestro's – a local favourite. Open all week from noon to late, for lunch and dinner.
– Blue Peter. 8 Popham Road, Blouberg | +27 21 554 1956. Situated at the Blue Peter Hotel, this Blouberg bar and restaurant lies right near the beach. Sit outdoors with sand under your bare feet, take a post-lunch stroll along the beach or get a group of friends together for a relaxing afternoon of fun in the sun. Open all week for breakfast, lunch and dinner with special Sunday lunches.
Where is your favourite summer hang out spot? Share your top choices for Cape Town beach bars in the comments below and let us know if we've missed anything!