Rooftop bars in Cape Town, along with venues that boast balconies, are extremely popular during the warmer months. For good reason too, as you will soon discover…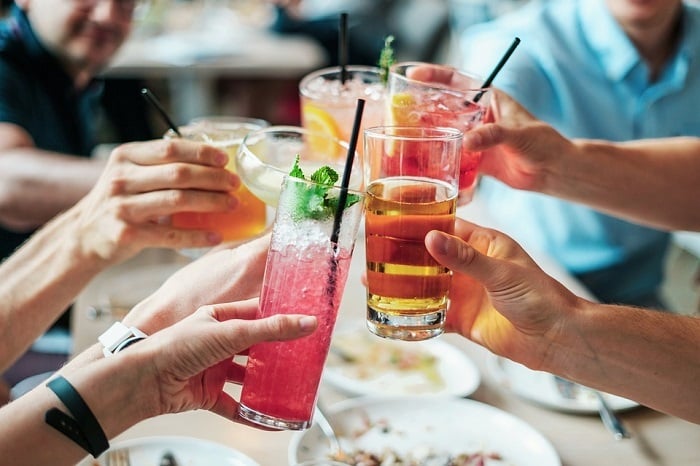 The Mother City summer months brings deliciously warm evenings that lend themselves to outdoor relaxation and leisure time. After spending the day at the beach, being inside after dark often just feels too hot, too cramped or just not quite as good as being outside in the fresh air. If you love sitting on a balcony with a cold beverage, good company and some decent views, then you are sure to love our carefully hand-picked suggestions we have lined up for you in this guide to the best rooftop bars in Cape Town.
Our Favourite Rooftop Bars in Cape Town
Here are some of the very best rooftop bars in Cape Town for you to enjoy when the weather is good…
The Silo Rooftop
The Silo Hotel, Silo Square, V&A Waterfront / +27 (0)21 670 0500 / [email protected]
Brand new to the Cape Town bar scene, The Silo Rooftop is located in the Silo Hotel in the V&A Waterfront. This bar offers extraordinary views, a swimming pool, loungers, a tempura bar, oyster bar, cocktails, bubbly and more. Please note that this bar is only open under reservation. Be sure to make a booking to enjoy this spot. Try The Silo Rooftop if you are… looking for an elegant place to soak up some sun.
Zenith Sky Bar
Cape Royale Hotel, 47 Main Road, Green Point / [email protected] /www.caperoyale.co.za/sky-bar/
Situated within the Cape Royale Luxury Hotel, Sky Bar has its own private pool (perfect for enjoying a swim in summer), deck and bar. The atmosphere is stylish yet still relaxed, the cocktails are delicious and the views are urban. Try Sky Bar if you are… looking for somewhere central and stylish.
Cartel Bar
71 Waterkant Street, De Waterkant / +27 (0)79 180 3378 / [email protected]
Managed by NVD Property and powered by IC | IC, Cartel Bar is a premium rooftop bar that is also available to book as a private function venue for celebrations. This bar is laid-back yet stylish, offering amazing views of the City Centre and De Waterkant. This is a perfect spot to enjoy cocktails once the summer weather kicks off in earnest. Try Cartel Bar if you are… planning a private function.
The Deck Rooftop & Pool Bar
Fourth Floor, Cape Quarter, 27 Somerset Road, De Waterkant / +27 (0)76 643 0287
At the top of the Cape Quarter shopping centre, open for lunch and after work drinks from 11h00 until 20h00, you will find The Deck Rooftop & Pool Bar. As the name implies, this bar also has its own private swimming pool. An excellent range of cocktails are served here, but no snacks or food is served. You can however go down to one of the many restaurants in the centre. This bar is closed on Mondays and Tuesdays. Try The Deck if you are… keen to relax on a hot summery afternoon.
Sky Bar @ Grand Daddy Hotel
38 Long Street, City Centre / +27 (0)21 424 7247 / https://granddaddy.co.za/play-and-eat/bars
At the very top of the Grand Daddy Hotel on Long Street you will find Sky Bar – an elegant venue that is ideal for after-work drinks, cocktails, sundowners or special occasions. A range of beers, champagne, cocktails and other drinks are served, while you can also enjoy phenomenal views of the city, along with excellent service. The Sky Bar is open from Wednesday to Saturday, 16h00 to 20h30 in winter, and Monday to Saturday, noon to 20h30 in summer. Make sure you call ahead – this bar is weather dependent. Try Sky Bar at Grand Daddy if you are… keen for weekend sundowners.
Skybar @ Grey Hotel
49 Napier Street, De Waterkant / +27 (0) 21 421 1106 / [email protected]
At the Grey Hotel in De Waterkant, you will find Skybar – an elegant rooftop venue that is ideal for any occasion. This bar has its own pool, making it one of the best rooftop bars in Cape Town to be on a hot summer's day. The service is excellent, the drinks menu is also amazing, and the views span over De Waterkant, Table Mountain and the CBD. Try Skybar if you are… looking for a sophisticated spot for a pool party.
Rick's Café
2 Park Road, Gardens / +27 (0)21 424 1100 / www.rickscafe.co.za
Go for the Mojito happy hour specials; stay for the beautiful décor and chilled rooftop garden. Rick's is a treasured City Bowl venue, offering a balance between smart and relaxed. The menu is full of exotic goodies, while the cocktail list is sure to impress too. Great for weeknight meet-ups and Saturday afternoon pre-party sundowners. Try Rick's if you are… keen to mingle with locals for a low-key evening.
Tjing Tjing
165 Longmarket Street, City Centre / +27 (0)21 422 4374 / www.tjingtjing.co.za
This is where you are likely to find a good selection of beautiful people, enjoying a bit of beats, cocktails and morsels. One of the most popular rooftop bars in Cape Town, this a great spot for early or later festivities, and is nearly always busy (adding to the atmosphere). Try Tjing Tjing if you are… ready to get into a party mood, Mother City style.
The Waiting Room
273 Long Street, City Centre / +27 (0)21 422 4536 / [email protected]
Waiting Room is situated above Café Royale (one of the the most popular restaurants in Cape Town). This is the type of venue that you often end up at a bit later on, rather than arrive at early. The music will keep you going to the early hours, while the views provide that perfect urban touch that will do your Instagram photo feed justice. Try Waiting Room if you are… amped to mingle, dance and have some fun.
_________________________________________________
There are many (many) other amazing spots that have outdoor bars and dining areas, of course – we could need an entire website just to begin listing them! For now, we hope you find at least one or two rooftop bars in Cape Town for what is sure to be a sizzling summer ahead.
Looking for more tips on how to plan the perfect summer holiday in Cape Town? Our team of travel experts are on hand to help you enjoy the holiday you deserve. Whether you are looking for accommodation options in major destinations such as the City Centre, Waterfront, De Waterkant or anywhere else, or a rewarding tour or even travel tips, we are always on hand to help you get started. Get in touch for more tips on rooftop bars in Cape Town and other fun things to enjoy this summer.