Wondering how to decide on the best time to visit Cape Town? With each season offering its own highlights, the change of seasons is clearly seen throughout the Western Cape. In South Africa's Mother City, seasons run from the hot, dry summer months between December and February, to the colourful autumn months between March and May, the wet, green winter months between June and August, and finally to the bright spring months between September and October.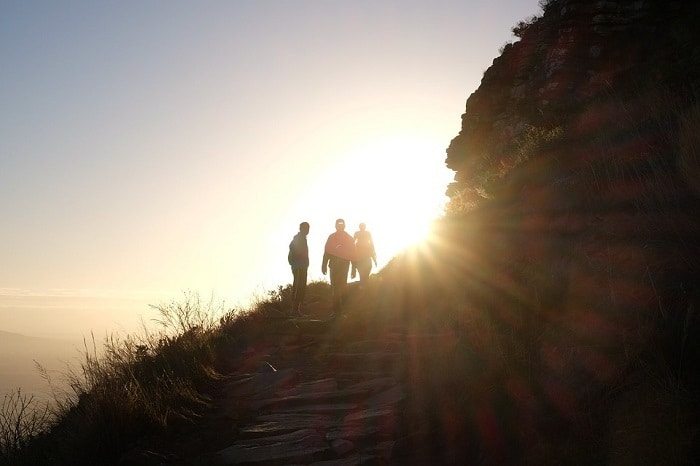 As no two seasons are the same, it means that any time of year will be the best time to visit Cape Town… depending on what you plan to do during your trip. To get an idea of what each season offers, we have put together mini guide to help you decide when to travel to Cape Town.
The Best Time to Visit Cape Town
Whether you prefer to spend your time on the beach, out in nature, taking a road trip, savouring the food and wine destinations of the Cape or simply making the most of every day, there is no single best time to visit Cape Town. Instead, there are four distinct times to consider, each offering an abundance of things to see, do and experience within the city and its surrounds.
Summer: December to February
While the weather technically begins to change from cool, refreshing spring days to warm summer days in around November, December is when summer officially arrives. Being in the southern hemisphere, Cape Town celebrates Christmas and New Year at the height of its summer. If you have never experienced an African festive season, you are certainly in for a treat! Some of the general highlights to enjoy during summer in Cape Town include:
Autumn: March to May
From March, the weather slowly begins to cool, although it can often be hot right up until the end of autumn. The large number of trees within the city and its surrounds start to lose their leaves, first changing from green to a riot of autumn colours – red, yellow, orange and gold. While it can sometimes rain a little in summer and autumn, the weather during this time is mostly warm and dry. Off-season rates begin towards the middle and later part of autumn, making this an affordable time to visit. Highlights to enjoy during autumn in Cape Town include:
Food and wine festivals, music festivals and other outdoor events
An ever-changing countryside that shows off its vibrant autumn colours
Country road trips, weekend getaways and much-needed escapes to the coast
Reduced rates, offering affordable accommodation and flights to Cape Town
Winter: June to August
When June arrives, winter is officially here. If you thought that this time of year was anything like a northern hemisphere, think again. Winter in Africa is often jokingly referred to as summer in London. The weather during this time of year is often crisp and cool, with temperatures typically averaging at around 15 degrees Celsius. After the long dry season, the rains are much anticipated. Storms happen from time to time. Even the wettest day is followed by a warm day however, making winter the best time to visit of you are looking for an affordable holiday. Highlights to enjoy during winter in Cape Town include:
Restaurants with fireplace, winter restaurant specials, cosy indoor dining and fine red wines
Walks on windswept beaches, horseriding, winter fitness, and plenty of outdoor adventures
Food and wine festivals, cultural festivals, ballet, opera, comedy, art and other cultural pursuits
Reduced low season rates on accommodation and flights to further help you save
Spring: September to November
As winter changes into spring, the countryside begins to awaken in a blaze of colour. Spring flowers start to bloom, attracting hoards of visitors to the Cape Floral region in search of wildflowers. Whales come into the bay to calve and breed. The weather ranges from refreshing rain showers to mild, cool days and warm days. The nights get a bit longer and the landscapes start to prepare for the summer ahead. Some of the many highlights to enjoy during spring in Cape Town include:
Flower Season, offering the chance to head out into the West Coast to see the wildflowers
Whale Season, offering the chance to see Southern right whales in the bays
Outdoor fitness, hikes, nature walks, quiet beaches, gardens and parks
Mid season makes this an affordable time of year to book accommodation and flights
___________________________________
All in all, every time of year is the best time to visit Cape Town. Ready to start planning your dream holiday to Cape Town? We offer a wide range of accommodation options across the city along with tours, car hire and everything else you need for a memorable stay. Get in touch today to get more advice on the best time to visit Cape Town according to your budget and requirements.