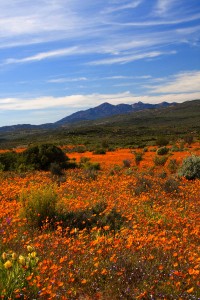 Spring in the Mother City is a very special time of year indeed, not least because it gives the chance to witness the simply spectacular display of wildflowers in Cape Town!
Each year during late August and as late as early October, the countryside turns into a landscape that is almost too beautiful to imagine.
Every shade from vivid orange to bright yellow, deep pink, gentle blue, startling purple, pure white, rich green and vibrant red (with plenty of other colours too) can be seen as a carpet of wildflowers takes over the peninsula.
And of course, every year locals and visitors alike make the pilgrimage to take in this marvel and flood Instagram, Twitter and Facebook with photos that capture this display of nature at its finest.
Wondering where to go to get in on the Cape wildflower action? 
Check out our guide below for more info!
 Your Guide to Cape Town Flower Season
Cape Town Flower Season is the highlight of spring – see nature showing off its insanely colourful blooms at one (or all) of these great reserves and festivals that take place every year during the spring months.
• Kirstenbosch Botanical Gardens: August – September
If you don't have time to get out of town, you can still enjoy Cape Town wildflowers right here in the Mother City at Kirstenbosch Gardens in Newlands. Take a walk to see daisy fields and many other wildflowers, have a picnic or go for High Tea at Moyo any sunny day you have free to spare.
• West Coast Spring Flowers: August – September
In the West Coast National Park, which lies on the R27 road about an hour from Cape Town, you will find the Postberg Nature Reserve. It is not far from Langebaan, which means that you can enjoy the lagoon after you have gotten your fill of flower fantasia. Be aware however that the reserve is a protected area, so no littering or excessive noise is allowed.
• Worcester Wildflowers: August – September
Out in Worcester, which is also not far from Cape Town, you can visit the Karoo Desert National Botanical Gardens to see beautiful sights such as the Namaqualand daisies and koekerboom trees. It's a great place to spend a sunny spring day too – take a picnic and grab family or friends for a fun daytrip one weekend, and you are sure to come back revived!
• Rondeberg Private Nature Reserve: August – September
Just 70km from Cape Town lies Rondeberg Private Nature Reserve near Jakkalsfontein. There are vast fields of flowers to be seen left, right and centre, as well as an art gallery. The reserve offers guided walks and refreshments too as a nice extra bonus.
• Clanwilliam Wildflower Show: 29 August – 8 September 
Visit the lovely country town of Clanwilliam to see the 'Blomkerk' (Flower Church) befitted with a host of wildflower displays. This annual event is one of the most popular flower shows around – there is a small entry fee that is paid at the door however (well worth the cost). The town is near Cederberg, about two and a bit hours' drive from Cape Town.
• Caledon Country Fair: 6 – 9 September 
About 120km from Cape Town, you will find the town of Caledon, just off the N2 road. This town and its surrounds are as pretty as it gets, and makes the ideal backdrop for an annual country fair. Admire the flowers, relax in the laid-back environment and take in some sunshine.
• Tulbagh Horse and Wildflower Show: 18 – 21 September 
Flowers, horses, beer and food… what could be better? The annual Tulbagh Horse and Wildflower combines all of these and more in a festival that the whole family can enjoy. It is held on the Tulbagh Show Grounds – about two hours from Cape Town.
• Darling Wildflower Show: 20 – 22 September 
Another well-known festival and in fact one of the oldest flower festivals in the province, the Darling Wildflower Show is hosted in the West Cape Coast Biosphere. It is organised each year by the Darling Wildflower Society, and is always a great trip. Stay overnight and have breakfast at Evita's coffee shop while you're there!
• Hermanus Wild Flower Show: 26 – 29 September 
In Hermanus, the annual display of flowers from Fernkloof Nature Reserve never fails to be hugely impressive. In addition to the show area held in the hall, there is also a market with stalls and a kid's area, with tea and lunch on sale in the gardens. Between August and November, whales can also be seen in the bays, so be on the lookout as you drive up to Hermanus and once you get there. 

So there you have it folks – some great ideas for how to enjoy Cape Town Flower Season.
Now it's your turn – tell us what you love most about spring and why. Share your thoughts below in the comments and let us know!