Despite more than a few very hot days, the gradual transition to autumn in Cape Town has more or less begun, and I for one am rather glad. Not that I don't love the gloriously warm summer days, with its blue skies, sizzling weather, bustling beaches, shorts weather and constant hum of activity. Summer is lovely in this part of the world (something that visitors know only too well). But I have always loved the cooler months. Something about the refreshing air, change of scenery, change of weather and the sign of one season moving to another invigorates me hugely, which means that I always look forward to the start of new seasons.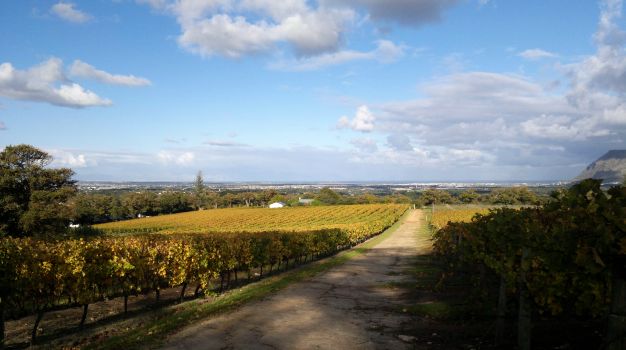 In Cape Town, autumn is quite something to behold. The city's large abundance of oak and plein trees and other seasonal plants turn the landscapes into a golden riot of muted, pretty colours – red, gold, orange and brown. The weather gets crisp, while staying dry and often mild (plenty of time for rain once winter arrives, after all!). The return of slouchy sweaters, boots and scarves. The smell of smoke in the air as restaurants start to get their fireplaces going again… it really is amazing. And there is so much to do during the autumn months as well. Lots to eat and drink as well, now that I think about it.
Really, there is so much to love about the Mother City during the autumn months that you should rather be asking yourself what is not to adore about the change of season.
Why We Love Cape Town in Autumn
Still not fully convinced on the wonders of autumn in the Cape? Here are a few reasons that should change your mind…
1. It is a photographer's dream season. Instgrammers and happy snappers love it too, for good reason. This is the type of season that makes all of those incredible nature shots happen. Russet toned leaves everywhere, clear skies, parks, forests and nature reserves showing off all their colours and trees. You will hardly even need a fancy filter to get that perfect "gazzilion likes" photo that could catapult you to Instagram fame. Or at the very least, make the folks back home a bit jealous. Top spots for ah-mah-zing photo opps include Kirstenbosch Botanical Gardens, Table Mountain Cable Way, Cape Point Nature Reserve, Newlands Forest and Silvermine Nature Reserve to name but a few.
2. You can still go to the beach. That's right, y'all. All that pretty weather and you can still soak up the sun on top beaches such as Clifton or Camps Bay. It is not uncommon for temperatures to hit the 30 C level even in late April. Even in May, you can enjoy a few beach days. That doesn't mean that the weather will be hot every single day of course. It does slowly start to cool down as the season progresses, so you may not be able to spend every day getting your tan on. But you can certainly enjoy a few more days until winter arrives. Best beaches to soak up some rays include Clifton, Llandudno and Camps Bay, but Boulders Penguin Beach near Simons Town is also worth visiting.
3. It is an affordable time to travel. The 'in between' seasons of spring and autumn are generally more affordable compared to peak season, which runs during the hottest months of the year. This is true for all travel related costs, from airfare to accommodation. Planning a holiday during a mid season month can therefore work out a lot easier on your budget. Use the cash you save to stay a while longer, or fork out for a beautiful villa from our spectacular collection of villas in Cape Town to ensure that your holiday is even more memorable than ever.
4. There are less crowds. Another benefit of this time of year is that it is usually quieter and therefore more relaxing. School holidays in South Africa have their main holiday at the end of the year, making the months from December to February the busiest. There is another short holiday for schools for Easter, which runs for a few weeks in March and early April. The latter holiday is never as hectic as the end of year holidays, which tends to be when every local in the city takes their annual leave as well. Less crowds means more space to enjoy the city's top attractions, from the V&A Waterfront to the historical City Centre, museums, art galleries, beaches and various other sights.
5. It is all about the food and drink. Ok, technically, seeing how much the city loves its food and drink, every season is geared towards wining and dining. But in autumn, there are quite a few harvest style festivals that are dedicated to the wonders of eating and imbibing fine wines (and beer). What better time of year than autumn to forget that diet and indulge your senses in locally made delicacies? Top picks for annual festivals involving food and drink include the upcoming Constantia Food & Wine Festival, but we also suggest taking a look at some of the best foods to try in Cape Town while you're at it.
…
So before you despair at the winding down of yet another incredible summer, stop for a moment to truly appreciate the bountiful delights that we get to enjoy during autumn in Cape Town. This will help you realise that this is a great time to plan a trip to the Cape, with much to offer.