As the weather gets warmer, wine tasting in Cape Town offers a somewhat different experience to the cosy, fireplace, red wine infused winter wine tours that are so lovely when it is cold outside. Any time of year is great to savour fine wine basically, and the Cape Winelands are lovely each and every season. With constantly changing colours, trees and scenery, the landscapes offer something for everyone, whether you go exploring in the heart of winter or the midst of summer. But while the Wine Route (and wine tasting tours) remain a year-round activity, what will differ somewhat is the types of wines on offer.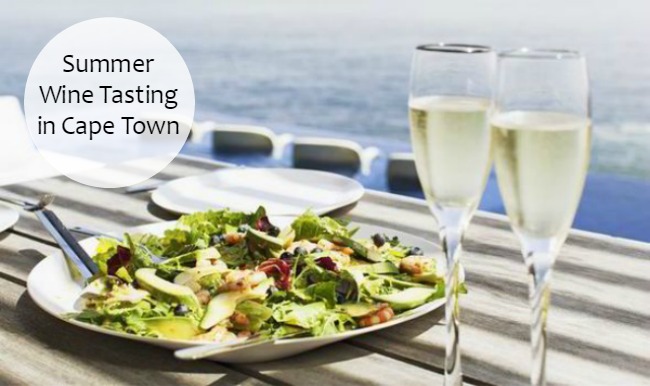 Whether you consider yourself a red or white wine person, you may be surprised at the variety of different varietals on offer in South Africa's iconic wine growing province. From the delectable Methode Cap Classique (our local answer to champagne) to blends that are neither fully red nor white, and everything in between, this post gives you some tips on which wines to try in the hot weather, and where to sample fine wines this summer in Cape Town.
Where to Try Wine Tasting in Cape Town This Summer
You could live in the city your entire life, as a born and raised local, and still find something new and interesting to take away from a wine tour. Speaking from personal experience as just such a local, I like to visit the Winelands at least once a year – if not more. I love winter, and enjoy the atmosphere and beauty (and, of course, the wine types) on offer during the cooler months. But when it is hot outside, and there are plenty of beautiful days to spend outdoors, eating cheese and drinking crisp, cool bubbly, wine tasting and vineyard exploring is also amazing.
A great way to get a fully-rounded trip that includes visits to some of the better known estates, a few tastings, some lunch and transport to the Winelands and back is an organised tour. Here at CTCT.com, we offer half day wine tours as well as full day wine tours. The former give you a shorter time for those with just a few hours to spare, while the latter are ideal for those who have a full morning and/or afternoon free.
If you would rather explore the region at your own pace, you could drive up either by hiring a car (if you're visiting the city on holiday), or your own car (if you're a local and haven't been up to a wine farm for years). You could also try a Classic Cats Wine Tour, which takes you through the Winelands in a luxury vintage car. Stellenbosch is the largest wine region, along with the nearby towns of Franschhoek and Paarl. It is home to some of the most famous estates, including Spier, which offers a number of activities and attractions for visitors of all ages. The Franschhoek Wine Tram is another good option for those who want something that is somewhere in between self-adventure and guided.
Don't forget that there is also a smaller wine route in the heart of the southern suburbs of Cape Town as well for shorter trips. The Constantia Winelands is great for a quick trip, and is home to a number of excellent estates. Constantia Uitsig is especially worth visiting, with an on-site restaurant, gorgeous vineyards and central location of less than 30 minutes from the City Centre. Other small wine areas include Durbanville in the northern suburbs and the Hermanus wine route to name but a few.
Summery Wines to Taste in Cape Town
Last but not least, here's a quick pick guide to some of the best wine types to enjoy in summer…
* MCC (Methode Cape Classique)
* Sauvignon Blanc
* Chenin Blanc
* Brut Rose
* Chardonnay
* Pinot Grigio
* Pinot Noir
* Syrah
…
Now it's over to you. What are your favourite wines to drink in Cape Town during summer? Share your favourites below and tell us what you look for in a summery wine.