There are few things that can compare to summer time in Cape Town. Stunning, blue-skied sunny days, late sunsets that set the sky alight in a beautiful celebration of colour, blissful sun-kissed beach days, and a vibrant summer-time vibe that fills the Cape Town air. The Mother City is pure summer holiday bliss!
Summer is the time of year when the beautiful, exciting, and vibrant city of Cape Town truly comes alive, and its nothing short of glorious!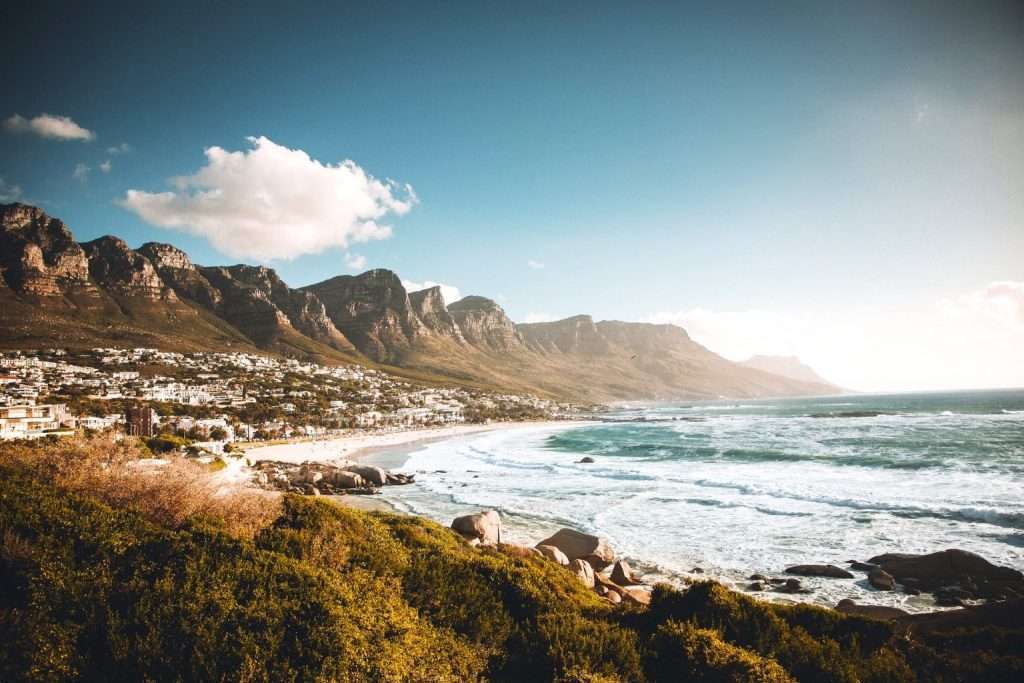 Here are some of the best things to do in Cape Town in Summer, all of which will be thoroughly enjoyed by both the young and young at heart.
Attend a Kirstenbosch Summer Sunset Concert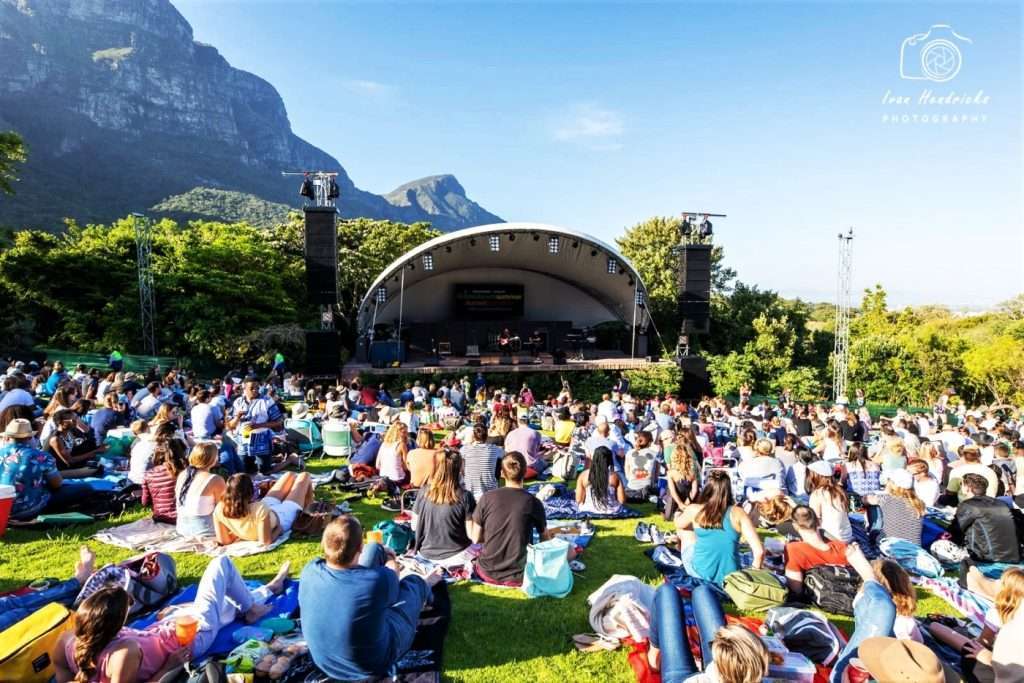 Nothing says the Cape Town holiday season is finally here quite like the start of the Kirstenbosch Summer Sunset Concert Series. Besides, there's no better way to celebrate the vibrant summer season than to the cool beats and epic sounds of some of the best local and international music acts in the shade of Table Mountain. Plus, the fact that you get to live your very best Summer Sunset Concert life in one of the most stunning settings in Cape Town, the beautiful Kirstenbosch Botanical Gardens, with all your fiends and family just makes it all the more special.
With an incredible jam-packed line-up to look forward to this year, attending one of Kirstenbosch's Summer Concerts is definitely one of the best things to do in Cape Town in summer and right throughout the holiday season.
Visit & explore Crystal Pools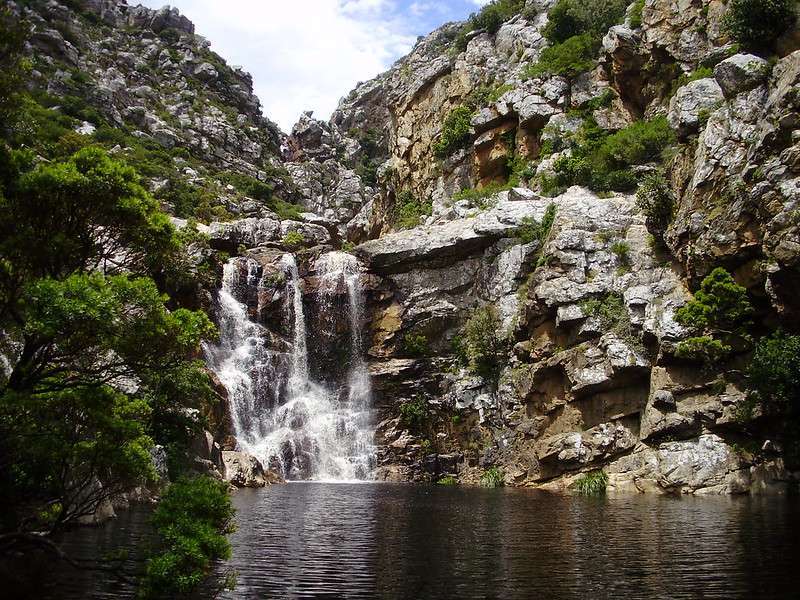 If taking a dip in the Crystal Pools Waterfall is not on your Cape Town summer adventure bucket list, go ahead and add it right away! Located approximately 90 minutes outside of Cape Town, the Steenbras Nature Reserve offers hikers, adventurers and anyone looking to explore the great outdoors the ultimate escape from the city.
The Crystal Pools Hiking Trail starts on the R44, just after you've crossed the bridge over the mouth of the Steenbras River. The trail features indigenous fynbos, beautiful lush surroundings, and incredible views throughout.
The first pool is located just 45 minutes from the start of the trail. Besides an invigorating dip in the cool and refreshing water, you can enjoy a lovely picnic under the shade. If you've got some extra energy left in your hiking 'tank', we highly recommend you continue your journey to the second pool. Boasting some seriously cool swimming and kloofing opportunities as well as a spectacular waterfall, it promises to be one exciting adventure you won't soon forget.
**Tip: This hiking trail is suitable for anyone who is reasonably fit, however, it is slightly more challenging for those who are not in tip-top hiking shape. While the half-day hike takes you through rocky, but generally flat terrain, with an amazing waterfall at the top, it is quite a trek. So make sure you are well prepared and have plenty of snacks, water, and energy to get there.
**Important note: To ensure that the hiking trails don't get too crowded, a maximum of 50 people are allowed per day. It is essential to book as early as possible to avoid disappointment.
Distance from Cape Town: 1.5 – 2 hours
Where to find it: Steenbras Nature Reserve (via N2 and R44)
Opening times: 7.30am – 2.30pm (office hours) | 6.30am – 7pm (hiking trails may differ slightly according to sunrise and sunset)
Contact details: 021 444 6927 | [email protected] (bookings must be done via email, at least 3 to 5 working days before your visit) | 021 957 4725 (emergency number)
Dog-friendly: No
Cost: R75 per person
Enjoy the ULTIMATE Cape Town beach day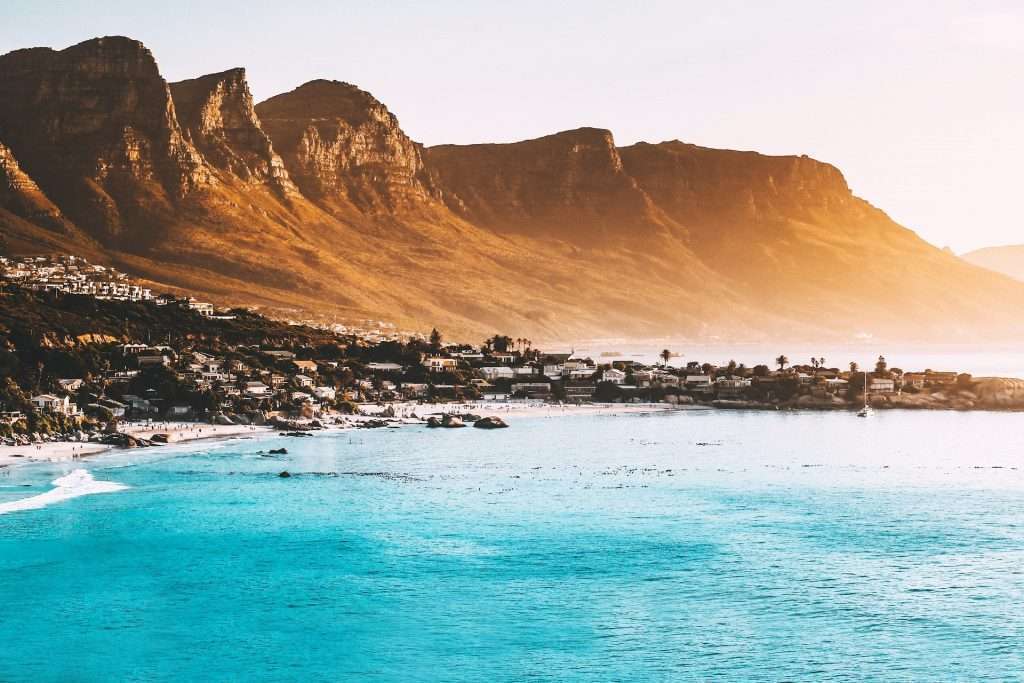 In Cape Town, summer time is beach time! There is nothing like being sun-kissed, sandy-toed, and salty-haired while soaking up all the Mother City sunshine as you enjoy a blissful day on one of Cape Town's beautiful beaches. But there's just something extra special about getting to do it while celebrating the vibrant Cape Town summer and holiday season. Yes, in the Mother City, holiday season is all about cool summer vibes and chilled beach times and who are we to say otherwise?! Plus, the fact that the whole family can enjoy all the holiday season beach fun in the sun is just an added Christmas bonus!
Cape Town is home to some of the most breathtaking beaches in the world, with people travelling from all around the globe to experience the Mother City's beach magic first-hand. Whether you're looking for a stunning secluded beach escape, long stretch of white sand, something a little cooler and quirkier, the perfect fun-filled family Beach, the ultimate surfing hotspot, or a beautiful beach gem where you can simply sit back, relax, and soak up the glorious Mother City sunshine, Cape Town has the perfect beach for every beach lover at heart.
While some of our beach favorites are Clifton Beach, Llandudno Beach, Bloubergstrand, Big Bay, Boulders Beach, Beta Beach, Bakoven, Water's Edge, Camps Bay, Muizenberg Beach, Sunset Beach, and Windmill Beach (to mention merely a few), there is an endless list of amazing beaches in Cape Town.
Enjoy an outdoor Galileo Open Air Cinema screening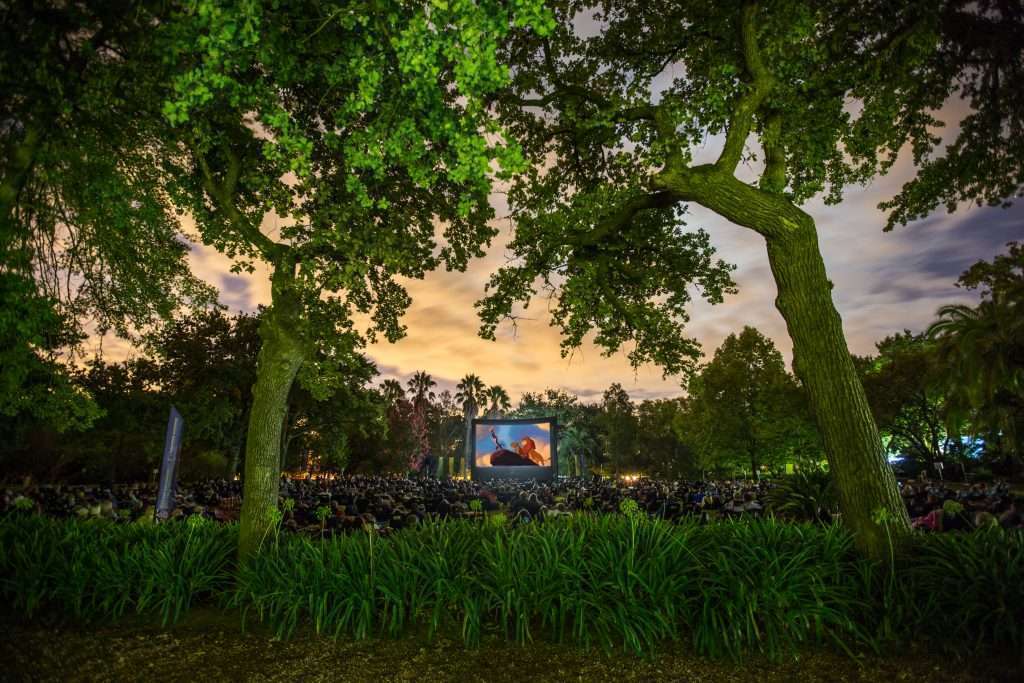 Known as Cape Town's first and finest outdoor movie experience, a visit to The Galileo Open Air Cinema should be on everyone's Cape Town holiday bucket-list. In Cape Town, the wildly popular and iconic The Galileo Open Air Cinema is synonymous with summertime bliss, as it brings movie magic to majestic venues across Cape Town throughout the vibrant Mother City summer season as well as special screenings on Christmas eve and Christmas day in Cape Town.
The Galileo invites both the young and young at heart to enjoy a memorable and magical outdoor movie experience underneath a canopy of stars and the Mother City moonlight.
You can also visit The Galileo Open Air Cinema website for more information, updates, along with their jam-packed movie line-up this holiday season.
Go Sandboarding at the Atlantis Dunes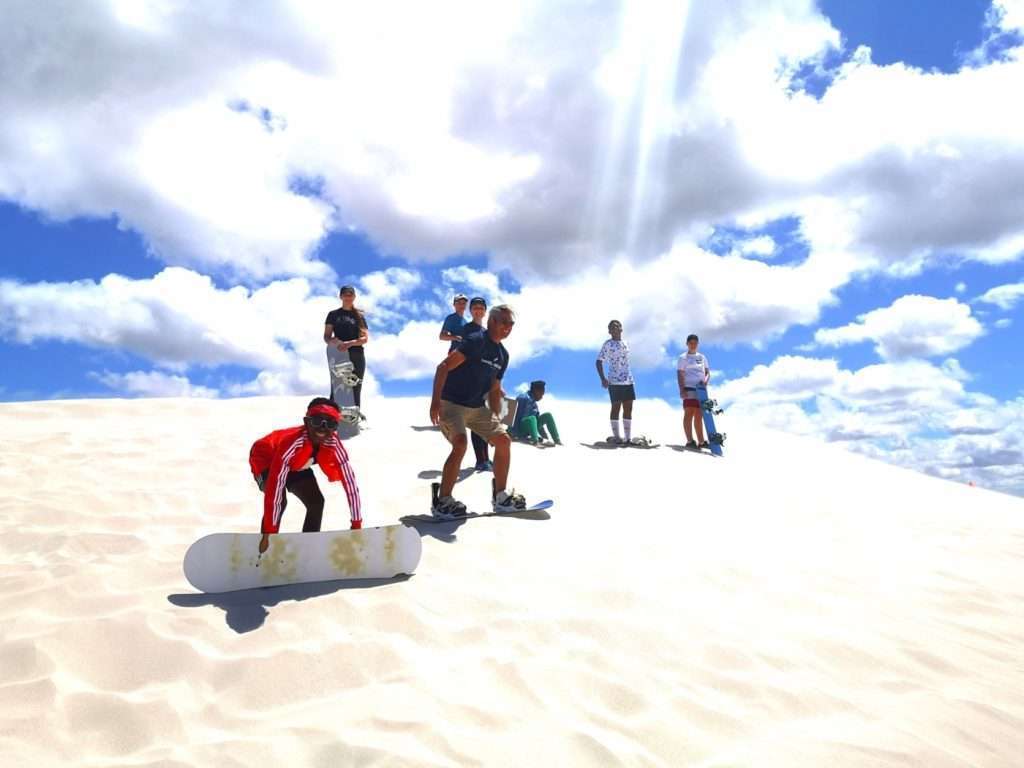 Trade in the snow for sand this holiday season in Cape Town by going on the ultimate sandboarding adventure at the famous Atlantis Dunes!
Located approximately 40-minutes from the city center, the Atlantis Dunes is the ultimate sandboarding mecca. It is also one of only a handful of sandboarding locations in the world, undoubtedly making it one of the most thrilling bucket-list worthy experiences and best outdoor things to do in Cape Town.
Want to know the best part? People of all ages and experience levels are invited to join in on the sandboarding fun. Even if you've never sand boarded a day in your life, the experienced guides will be right there to help you out along the way.
Take a stroll along the Se Point Promenade
Stretching along the stunning Atlantic Seaboard Coastline between Sea Point and Mouille Point, the vibrant Sea Point Promenade is so much more than one of the Mother City's top attractions. Deemed somewhat of a beloved local gem, the sought-after Sea Point Promenade welcomes absolutely everyone and anyone – From families with kiddies, fitness-enthusiasts, strollers, dog-walkers, and joggers, to cyclists, skateboarders, rollerbladers, eager travelers, avid adventurers, and everyone in between (the list is truly endless).
The famous Sea Point Promenade is essentially a broad paved sea-side contour path which follows the coastline curves, boasting sensational views of the Atlantic Ocean, mountains, and several small beaches and hidden gems along the way. It also features a large luscious green lawn which separates the beachside promenade from the roadside pavement (sidewalk).
To amp up the excitement level, the Sea Point Promenade has something for EVERYONE to enjoy. Some fun-filled activities and attractions families can enjoy when visiting / taking a stroll along the Sea Point Promenade include a maze, an action-packed putt-putt course, an enjoyable kiddies' train ride located near the historic lighthouse on the Mouille Point side, as well as plenty of children's play parks on the lawns. There are also several perfectly positioned benches along the promenade ideal for scenic ocean-gazing and keeping an eye on your little ones while they play and have the absolute best time.
That's not all! In addition to an Olympic-sized swimming pool located at the Sea Point Pavillion, perfect for warm summer days, the Promenade boasts an amazing array of restaurants, bars, eateries, and ice-cream shops along its coastline route for when hunger, thirst, and cravings strike!
**BONUS: The Sea Point Promenade is one of the best sunset spots in Cape Town – Making it perfect for a sunset stroll. It is also a great location to enjoy amazing sightings of Cape Town's Marine Big 5 (dolphins, whales, mola mola sunfish, Cape Fur Seals and African Penguins). With so many incredible things to see, do, and experience, visiting the Sea Point Promenade is by far one of the best free things to do in Cape Town with the whole family year-round – come rain or shine!
Visit the iconic Gin Bar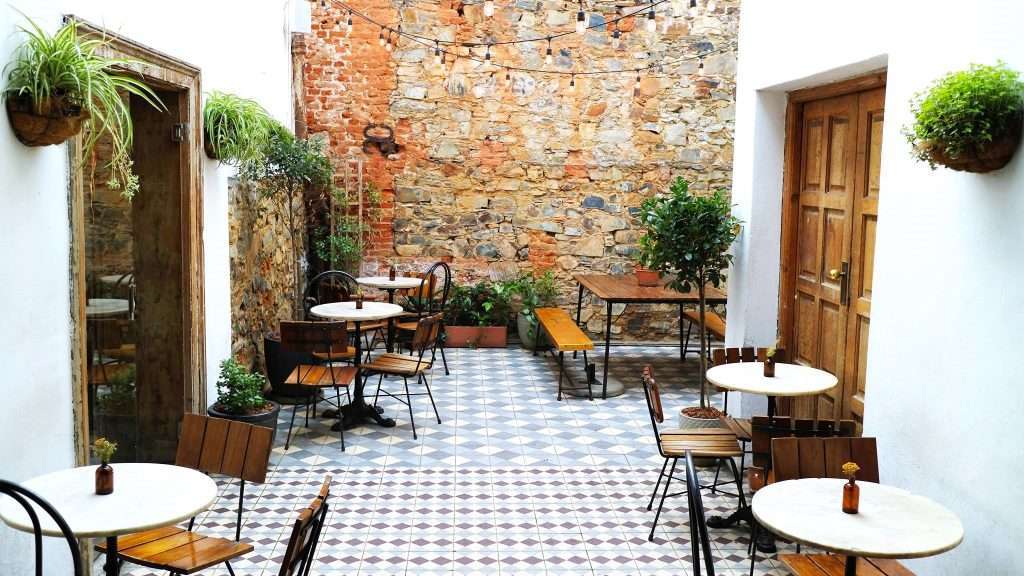 Bring on the GIN! Fondly known by Cape Town locals as the 'secret' Gin Bar, mainly due to its hush-hush, unmarked location hidden behind a cool Chocolate Café, Honest Chocolate, and nestled in a Mediterranean-style secret courtyard – It is an absolute MUST on any night out in Cape Town, especially during its holiday season!
Deemed one of Cape Town's coolest hidden gems, hippest hangouts, and favourite Gin nirvanas, The Gin Bar should be right at the top of your 'Things to do at night in Cape Town' list!
At The Gin Bar, they take their gin seriously, VERY seriously! They pride themselves on making the entire experience all about the star of the show – THE GIN! So, if you're a head-over-heels gin-lover at heart, the iconic Gin Bar is undoubtedly exactly where you should be.
As the name suggests, all the signature cocktails at The Gin Bar contain Gin, well, besides the virgins of course. The menu is concise and favours quality over quantity. When it comes to their much-loved signature cocktails, The Gin Bar cleverly named their classic five cocktails The Head, The Heart, The Hope, The Soul, and The Ambition, all intended to provide their drinker with as much needed healing for whatever may ail them.
If you're not much of a gin lover, no problem! They also offer a selection of amazing classic cocktails to choose from – ensuring there is something for everyone to enjoy.
**Interesting fact: Did you know that the Gin Bar was one of the first bars in the Mother City to dedicate itself to all things gin? Thereby making it the true OG of the Cape Town gin scene. It is also one of the country's only true speak-easy bars.
Location: The Gin Bar | Enter through Honest Chocolate Café – 64a Wale Street, Cape Town
Spend the day at Oudekraal Beach & have a braai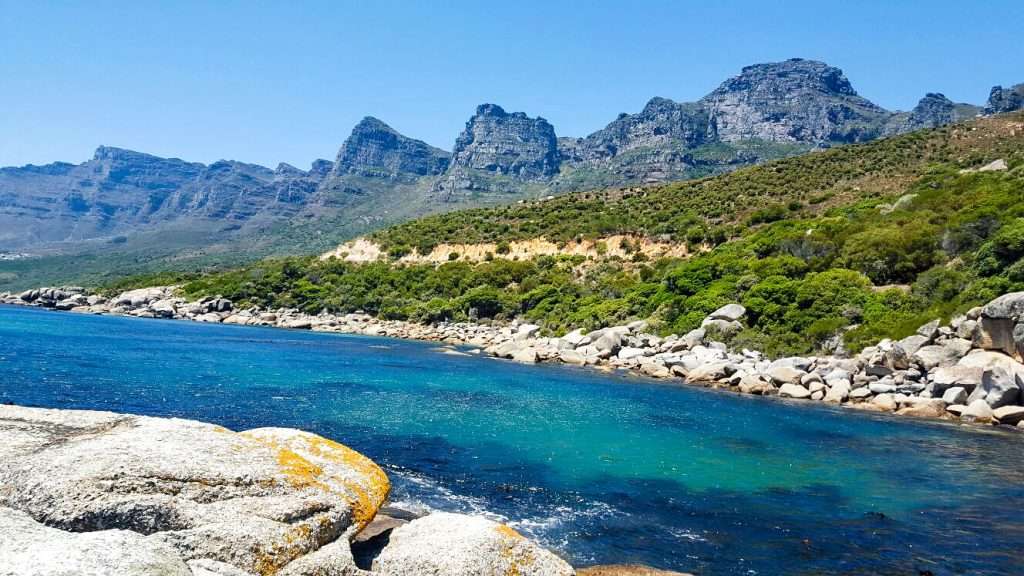 Tucked away in a sheltered cove between Camps Bay and Llandudno, Oudekraal is not only one of the top beaches in Cape Town, but one of the best braai spots too. It has approximately 40 private braai spots scattered along the lawns above the sheltered cove and sandy beach below.
Oudekraal is also one of the top beaches for enjoying a fun-filled family beach day. The beach is surrounded by large granite boulders that keep big waves at bay, making it the ideal place to swim, especially for the little ones. The water is also calm enough for snorkelling near the shore – adding an extra dose of adventure and thrill to a fun family braai and beach day.
**Tip: Because of its popularity and stunning beach location, the braai spots at Oudekraal can get snatched up pretty quickly. It is important to arrive early to secure a top spot.
Location: Oudekraal, Victoria Road, between Llandudno and Camps Bay
Cost / Conservation Fee:
CONSERVATION FEES FOR 1 NOVEMBER 2021 TO 31 OCTOBER 2022
South African Citizens and Residents (with ID):
R36 per adult per day
R18 per child, per day
Additionally: R25 per vehicle
SADC Nationals (with passport):
R72 per adult per day
R36 per child, per day
Additionally: R25 per vehicle
Standard Conservation Fee (Foreign Visitors):
R144 per adult per day
R72 per child, per day
Take a trip to Silvermine Reservoir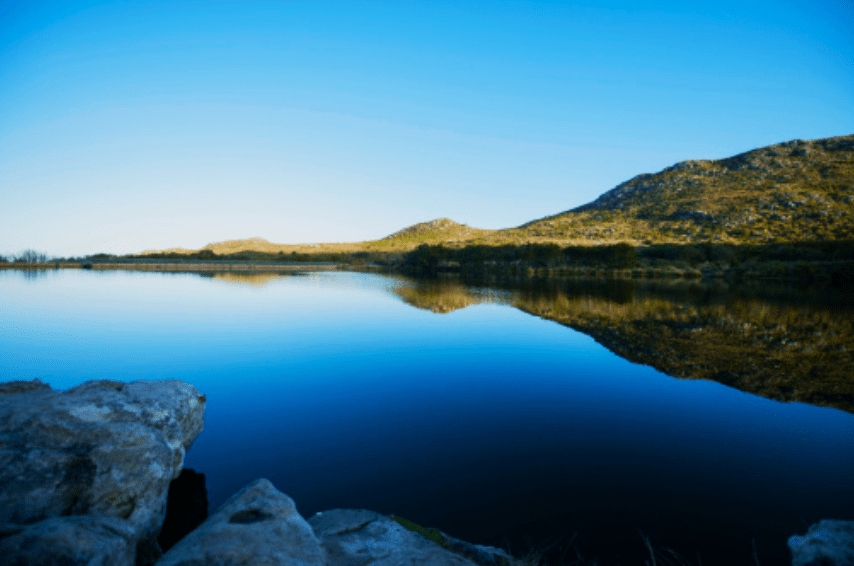 Located in the Table Mountain National Park, between Hout Bay and Noordhoek, less than an hour's drive from Cape Town's city centre, the Silvermine Reservoir is a fan-favourite among both locals and tourists for cooling down when the Mother City heats up – undoubtedly making it one of the best dams, rivers, and waterfalls in Cape Town.
The Silvermine Reservoir can be reached via various hiking trails / routes, the most popular being the Elephant Eye Cave, Silvermine Ridge, and Sentinel View. The large, glistening reservoir is not only wildly popular for leisurely swims and picnics – with several stunning picnic spots scattered around the reserve – it is also the starting point for many other exciting hiking trails. This makes it the perfect place for a fun-filled family day out. There is also a 1km trail around the reservoir with a boardwalk that's easily accessible for wheelchairs and prams.
**Important note: As there are no lifeguards on duty, swimming in the Silvermine Reservoir is done at your own risk.
Swimming: Yes. Take a dip in the reservoir before or after your hike – or even both if you're keen. There is also a river and various streams located along some trails.
Where to find it: Silvermine Reservoir in Table Mountain National Park (via M3)
Opening times: Daily, 8am – 5pm (May to August) | Daily, 7am – 6pm (September to April)
Starting and end points: Silvermine Reservoir
Duration: 1 – 3 hours
Contact details: 021 712 0527 | [email protected] (Table Mountain National Park)
Dog-friendly: Yes, but dog walkers require a Level 1 My Activity Permit | Contact Tokai Plantation Office at 021 712 7471 for more information
Child-friendly: Yes
Cost: Conservation fee (rates valid until 31 October 2023): R38 (SA citizens and residents with ID); R19 (SA children, 2 – 11 years) | R76 (SADC nationals with valid passport); R38 (SADC children with valid passport) | R152 (international visitors; standard conservation fee); R76 (international children; standard conservation fee) | Visit the SANParks website for more information
Go Surfing!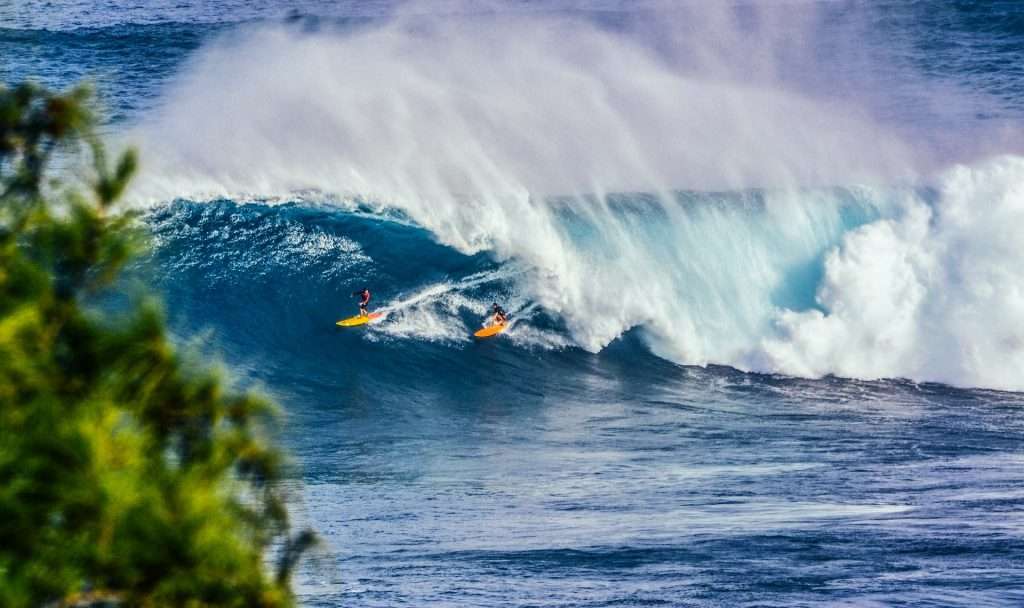 By far one of the most exhilarating adventures, and bucket-list worthy experiences to try in Cape Town is surfing! Home to some of the most beautiful beaches in the world, coolest waves, and a stunning year-round mild Mediterranean climate, Cape Town has established itself as one of the most highly sought-after surfing hotspots / destinations for surfers from around the world simply looking to ride its stellar waves. While others simply can't resist the pull of the ocean.
Regardless of your skill or experience level, or whether you're an avid surfing pro looking for your next big wave or a surfing first timer eager to get out there and give it a go, Cape Town has the perfect wave to ride and surfing beach just for you.
If you're an adventurous thrill-seeker and experienced surfer looking to chase your next big wave, the following epic Cape Town surfing spots will be right up your alley:
The Dunes at Noordhoek Beach: Experience level: Advanced
Long Beach in Kommetjie: Experience level: Intermediate – Advanced
Llandudno Beach: Experience level: Intermediate – Advanced
Dungeons (one of the world-famous big-wave surf spots): Experience level: Advanced
Crayfish Factory (between Kommetjie and Scarborough): Experience level: Advanced
If you're a surfing newbie looking to ride your very first Cape Town wave, the laid-back coastal town of Muizenberg and its famous Muizenberg Surfer's Corner has you covered.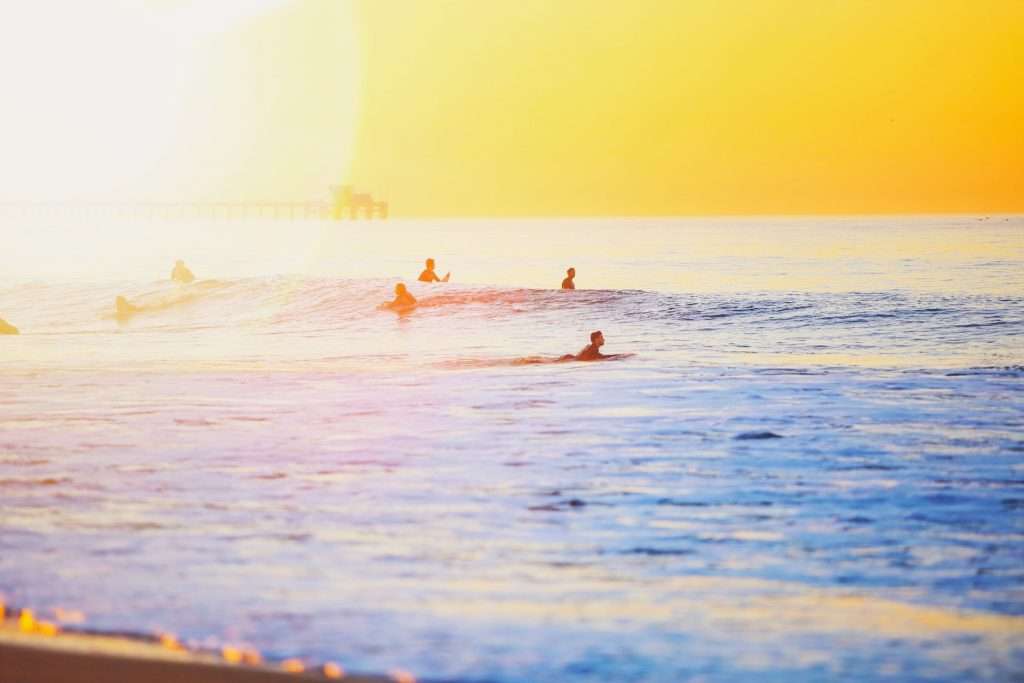 Muizenberg's famous Surfer's Corner has become one of the most popular surfing beaches in Cape Town for locals and travellers alike. But, most importantly, it is the best place in Cape Town to learn how to surf – And the best thing is, it welcomes surfers of all ages and experience levels to join in on the surfing fun and games! Muizenberg's gentle waves and clean lines can be surfed almost year-round – Making it the ideal Cape Town surfing spot as well as any longboarder's paradise.
As the sea-side town of Muizenberg embodies Cape Town's surfing culture in every way, it boasts a variety of places where you are able to rent surf boards, wet suits, and take up surfing lessons. In addition to being one of the coolest surfing spots, Muizenberg Beach is also one of Cape Town's best blue flag swimming beaches. This means that in addition to being the best place to learn how to surf, it is also the perfect spot to enjoy a fun beach day out with the whole family.
Other top Cape Town surfing beaches include:
Bloubergstrand: Experience level: Intermediate
Kalk Bay: Experience level: Intermediate
Big Bay: Experience level: Intermediate
Glen Beach: Experience level: Intermediate
Explore everything the vibrant False Bay has to offer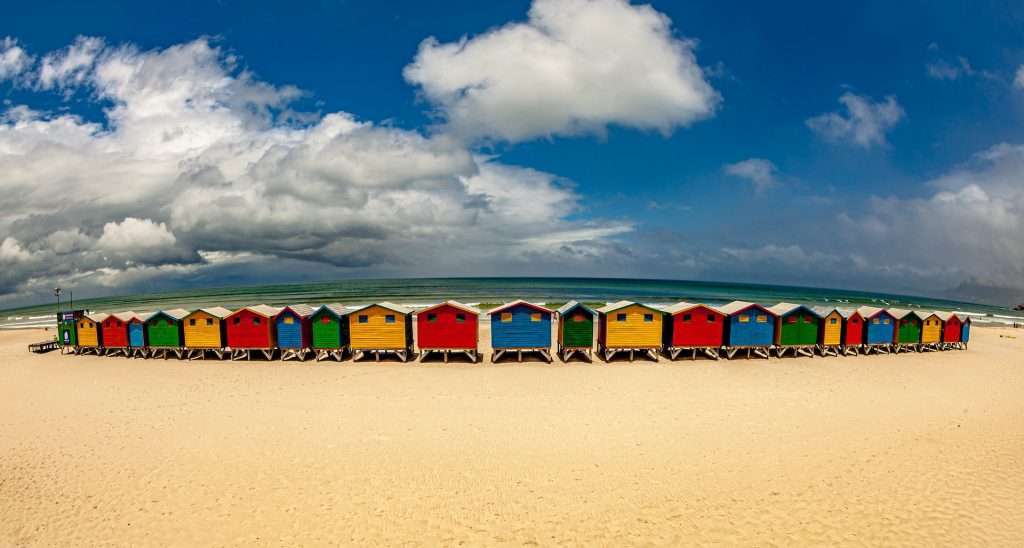 Exploring the vibrant False Bay coastline and everything it has to offer is by far one of the best things to do in Cape Town this summer and holiday season.
The beautiful and vibrant False Bay is without a doubt one of the best summer destinations in Cape Town. In fact, for many, the False Bay coastline is preferable to the trendier Atlantic Seaboard.
The largest true bay in South Africa and one of the great bays of the world – at its widest point it is a staggering 30km across the bay – False Bay stretches in a glorious arc all the way from Hangklip, close to Pringle Bay, through to Cape Point on the peninsula.
Boasting such a magnificent and vast coastline, the False Bay coast is a continuous collection of stunning seaside villages, coastal towns, and hamlets, their narrow avenues lined with quirky and quaint shops, hotels, restaurants, and pubs – That's only scratching the surface of what this incredible Cape Town destination has to offer.
From beautiful beaches, great surfing spots, exciting hiking trails, caves, fishing harbours, tidal pools, nature reserves and natural wonders, to countless bucket-list worthy adventure experiences, tons of hidden gems and cool secret spots, as well as a myriad of picnic spots and lookout points, particularly during the whale season when whales enter the bay to calve. The False Bay coastline is one of the best places in the Western Cape to spot the Cape's incredible marine life after all, especially the infamous Cape Town Marine Big5 – Southern Right Whales, dolphins, Cape Fur Seals, Mola Mola Sunfish, and African Penguins.
Top False Bay areas / destinations:
Kalk Bay
Boulders Beach
Muizenberg
Simon's Town
St James
Fish Hoek
Gordon's Bay
Buffels Bay
Smitswinkel Bay
Long Beach
Cape Point
Strand
Monwabisi, Macassar, and Mnandi (favoured for fishing)
Rooiels
Hanglip
Pringle Bay
Explore & Experience the cool coastal town of Kalk Bay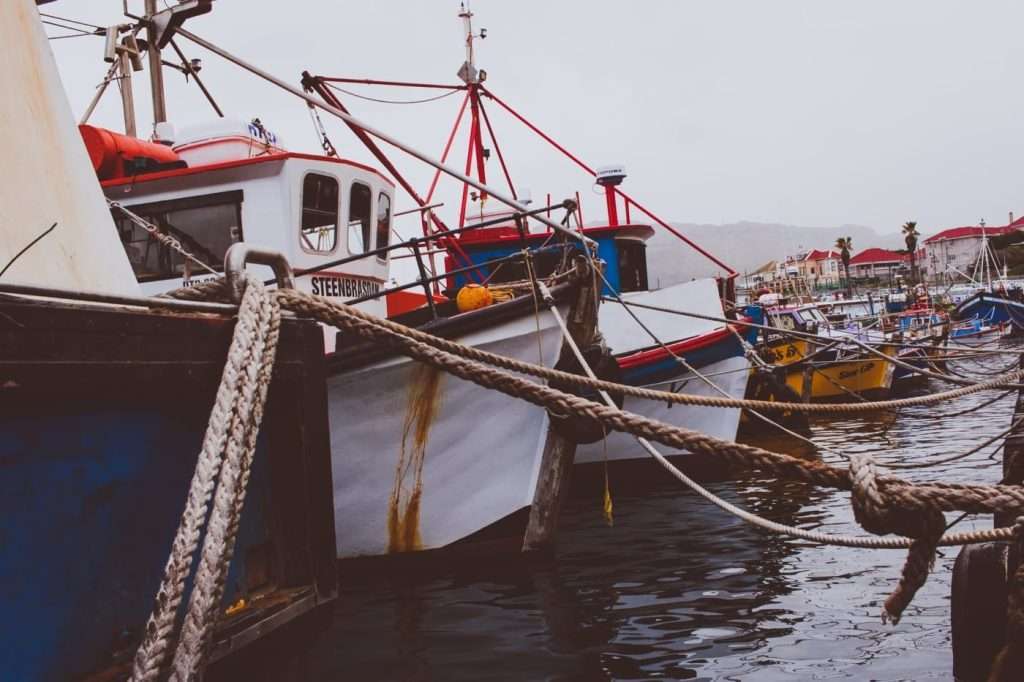 While we're on the topic of False Bay, exploring, discovering, and experiencing the cool charismatic coastal town of Kalk Bay and all the amazing, fun-filled, and thrilling things it has to offer is most definitely one of the best things to do in Cape Town in summer and holiday season.
Previously declared one of the coolest neighborhoods in the world by Forbes, the quirky sea-side town of Kalk Bay definitely lives up to ALL the hype! Located along the vibrant False Bay coastline, this ocean-front fishing village is jam-packed with tons of hidden gems & one-of-a-kind finds, cool surfing spots, thrilling hiking trails, epic caves, a bustling harbor, action-packed adventure experiences, and magnificent marine life. Believe it or not, that's merely scratching the surface of what Kalk Bay has to offer.
Renowned for its unapologetic scenic beauty, authentic charm, adventurous spirit, and vibrant energy – You won't find anywhere else quite like it in the Western Cape, or the world for that matter.
**If you're looking for more exciting things to do in Kalk Bay, here are a few great suggestions:
Take a refreshing dip in the Dalebrook Tidal Pool and / or Wooley's Tidal Pool – Take your pick!
Go cave exploring
Go surfing
Visit the Kalk Bay Harbour
Explore the quirky streets of Kalk Bay
Hike the famous Boomslang Cave – It is a relatively easy hike perfect for novice hikers, families with kids, and adventure seekers – It is known as one of Cape Town's more adventurous hikes after all. Click here to find out everything you need to know about the Boomslang Cave hike.
Enjoy a unique seaside dining experience at the renowned Brass Bell
Go on an adventure-filled hike from Kalk Bay to the Amphitheatre
Indulge in a rock-your-socks-off ice cream at the famous Ice Café
Visit Kalk Bay's local plant and garden shops – Perfect for head-over-heels plant lovers! The Kalk Bay Garden Shop is most definitely worth a visit!
Enjoy a cup of coffee & bite to eat at the iconic Olympia Café & Bakery – While an array of breakfast, lunch, and dinner options are available, Olympia is renowned for its freshly baked pastries and bread
Visit the Kalk Bay Breakwater Lighthouse
See the cool and charismatic Cape Fur Seals at the Kalk Bay Harbour. You can expect to see these playful ocean beings draped over the pier walls at the harbour. If you're eager to see these incredible Cape Fur Seals up close and personal – Kalk Bay Harbour is exactly where you need to be!
Go to the Kalk Bay Theatre & the Kalk Bay Modern Gallery
Visit the infamous Kalk Bay Expresso – A charming café housed inside a restored Blue Train carriage
Pop into the vibey beachside cocktail bar – Cape to Cuba
You can easily spend a whole day exploring the streets of Kalk Bay and still not discover everything it has to offer – that's the beauty and magic of this cool coastal town
**Extra Bonus: Kalk Bay is also home to one of the absolute BEST and highly sought-after local harbourfront fish and chips spots in the entire city – Kalky's!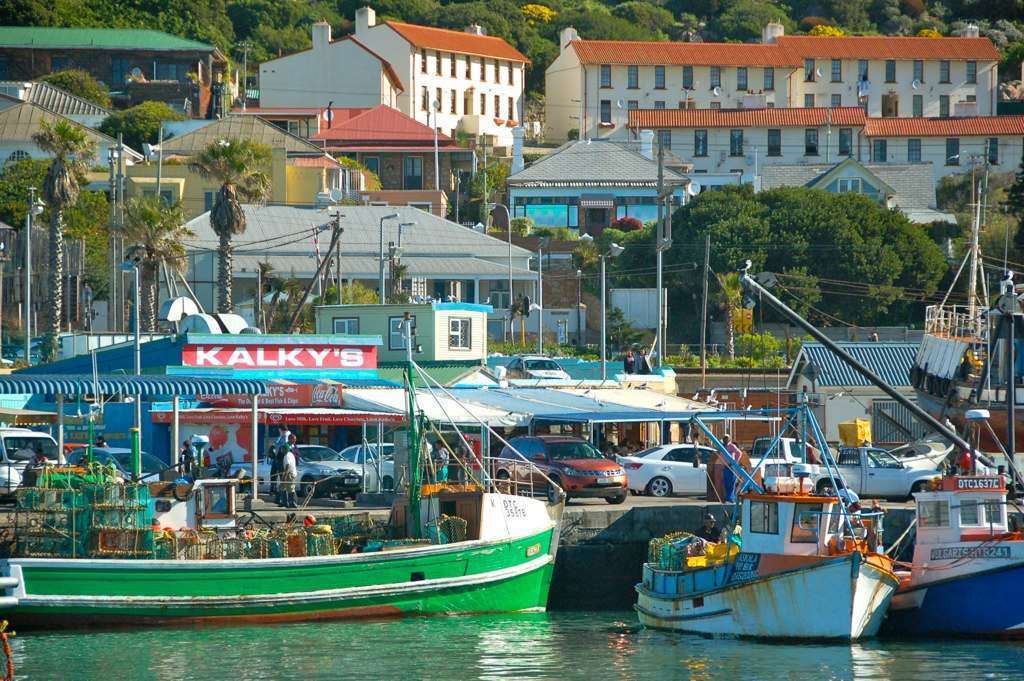 Kalky's is local fish and chips, made the real local way, by real Cape Town locals. Wrapped in a newspaper and served with a hefty dose of salt and vinegar (because that's the way we do it in the Cape), you will be savoring every single bite – trust us, we know! Paired with a beautiful False Bay and Kalk Bay harbourfront view, it's pure bliss!
Kalkys' cool harbourfront setting is every bit as authentic as its incredible fish and chips. No fancy trimmings. No experimental and inventive flavor combinations. Just a laid back, back-to-basics eating area with a big display menu on the wall listing all the fresh and tasty options for the day.
Where: Kalky's | Kalk Bay Harbour, Kalk Bay, Cape Town
Opening times: Monday – Sunday, 10am – 8pm
Contact details: 021 788 1726 | [email protected]
Go on the Ultimate Sunset Chasing Adventure
Going sunset chasing is by far my favorite thing to do in Cape Town all year-round! Maybe it will soon be yours too!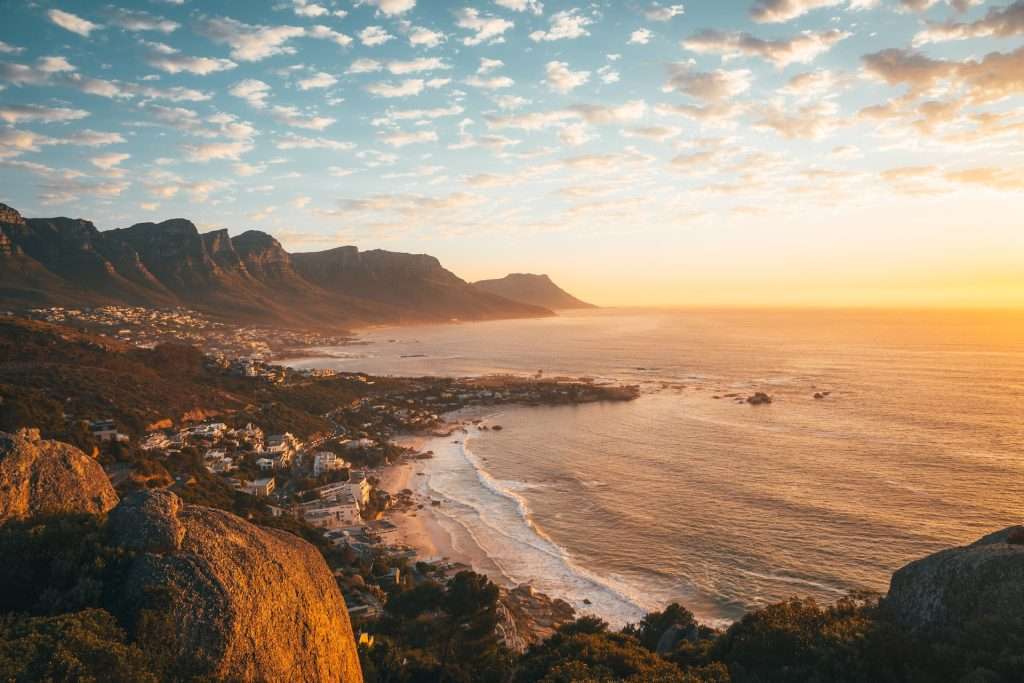 Its time to chase sunsets! There is no denying that the Mother City is pure sunset bliss. Known for her stunning sherbet-colored sunsets that set the sky alight in a beautiful celebration of colors, going on the ultimate sunset chasing adventure is without a doubt one of the best outdoor things to do in Cape Town all year-round.
To put the cherry on top of the Mother City's sunset chasing cake – or so to speak – Cape Town is home to some seriously sensational sunset spots – perhaps even the best in the world. However, sometimes you need to wander a little off the beaten path to find the real sunset hidden gems – That's when the real sunset adventure begins!
**Here are a few of our favorite secret sunset & overall best sunset spots in Cape Town, all of which deserve a prime spot on your sunset bucket-list:
Look-out Cave on Chapman's Peak Drive | *Secret Sunset Spot
The Clifton Ridge Rocks | *Secret Sunset Spot
Lions Head
Table Mountain
Signal Hill
Llandudno Beach
Kloof Corner
Bloubergstrand
The 'Sunset Rock' | *Secret Sunset Spot
Diaz Beach | Cape Point | *Secret Sunset Spot
Happy sunset chasing sunset lovers!
Go to Kirstenbosch Botanical Gardens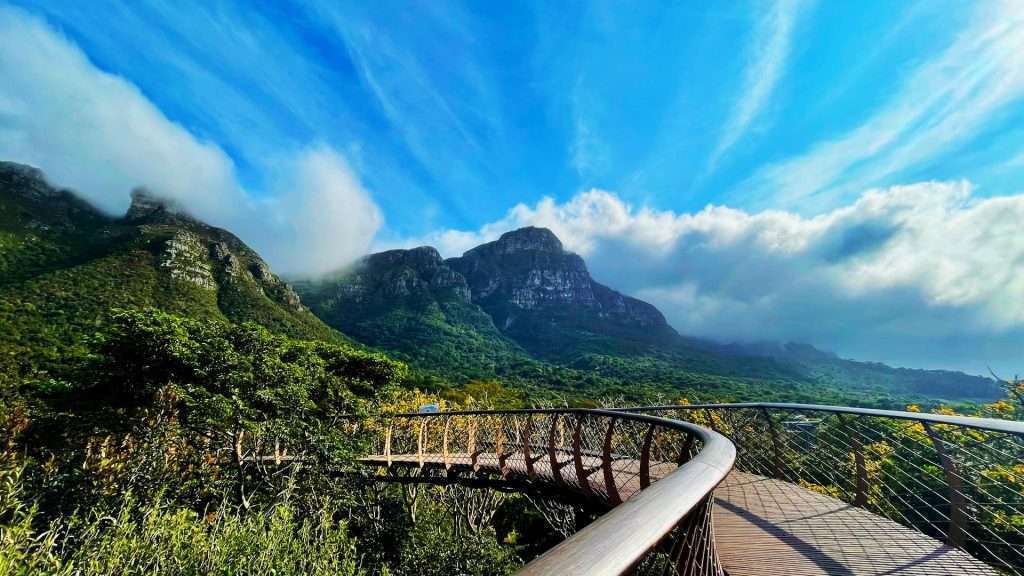 Located on the eastern slopes of the magnificent Table Mountain, Kirstenbosch Botanical Gardens is acclaimed one of the great Botanic Gardens of the World. Forming part of the Cape Floristic Region UNESCO World Heritage site, Kirstenbosch is home to more than 20,000 native South African plant species spread across a 528-hectare nature reserve of indigenous forest and fynbos, it truly is any nature lover's paradise.
Besides its vast natural beauty and top Cape Town garden status, Kirstenbosch offers visitors an endless variety of things to do and see. Not to mention some exciting adventure experiences.
Here is a sneak-peak of what you can expect on your visit to Kirstenbosch:
Calling all wildlife and bird lovers! Kirstenbosch is home to over 125 bird species, making it any bird enthusiast's dream come true. You will also encounter several reptiles, frogs, and invertebrates as well as amphibians such as the Chirping Frog, the Cape River Frog, and the critically endangered Table Mountain Ghost Frog.
Avid hikers can enjoy a variety of hiking trails and walking routes. The Kirstenbosch estate can be explored via five trails of differing levels of difficulty. All are well-maintained, logged footpaths or gravel roads and are sign-posted. The Braille Trailand Boekenhout Trail are ideal forest walks for those pressed for time and the not so fit. The Stinkwood Trail is a relatively short exploration of the oldest part of the forest with some of the largest trees. The Yellowwood Trail and Silvertree Trail are long hikes that take you up to the waterfall and around the estate, through both forest and fynbos. It is also possible to climb Table Mountain from Kirstenbosch, up Nursery Ravine or Skeleton Gorge.
Kirstenbosch boasts a variety of beautiful garden areas, including the Botanical Society Conservatory, art at the Sculpture Garden, and the Protea Garden, to mention just a few.
For avid adventurers and thrill seekers, there are tons of hidden gems, secret spots, caves, waterfalls and so much more to be discovered and explored – so get ready for an adventure!
Beautiful, lush lawns and large shaded trees perfect for picnics and kiddies ruuning around.
The famous Centenary Treetop Canopy Walk, also known as the 'Boomslang', has fast become a fan-favourite Kirstenbosch attraction for both the young and young at heart. The Centenary Tree Canopy Walkway is a curved steel and timber bridge that winds and dips its way through and over the trees of the Arboretum. The Walkway takes visitors from the forest floor into and through the trees and bursts out above the canopy, boasting spectacular panoramic views of the surrounding mountains and Garden.
The cyad amphitheatre which features life-size models of dinosaurs – this is a real winner with the kids!
Kirstenbosch also has a variety of restaurants to and curio shops.
Go for a scenic coastal drive at sunset, sunrise, or anywhere in between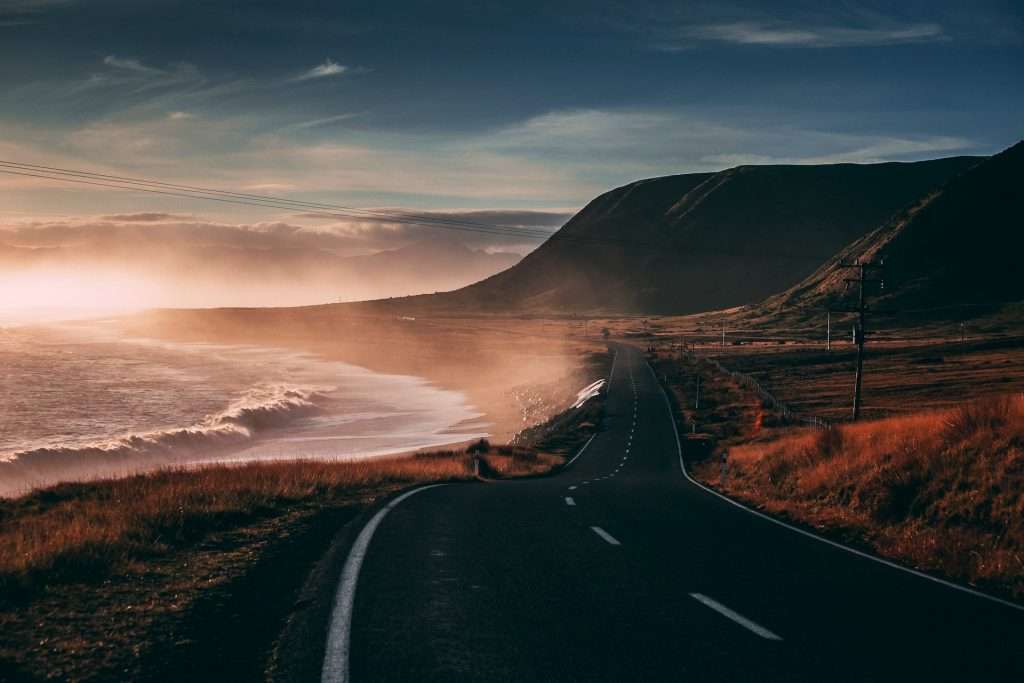 Watching the glorious Mother City sunset and/or sunrise is by far one of the best things to do in Cape Town in summer (or anytime of the year for that matter). However, seeing the sun set and/or rise while taking a drive along one of the Mother City's most magnificent coastal roads is a bucket-list worthy experience in its own right.
There is absolutely no denying that Cape Town is home to several of the most beautiful coastal drives in the world, some of which include:
Victoria Road: This road hugs the back of Table Mountain, passing quiet stretches of the coast as well as some of the most beautiful beaches in the world, including Camps Bay and Clifton Beach. This drive will take you approximately 35 minutes.
Boyes Drive: This stunning coastal drive traces mountains behind False Bay, boasting beautiful views over the harbour below, before finally winding down and ending at the lively Kalk Bay Harbour. During whale season, between June and November, you might be lucky enough to spot whales frolicking in the bay below, as well as other members of the Marine Big 5! This drive will take you approximately 12 minutes.
Signal Hill: Signal Hill is a quick drive and it's close to the city centre, which means you don't need to travel too far. Once you reach the top you will be able to enjoy magnificent panoramic views of the Mother City and beyond. It's no surprise Signal Hill is known as one of the best sunset spots in Cape Town. This drive will take you approximately 5 – 10 minutes from the city centre.
Simon's Town to Cape Point: This picturesque coastal road gives you the opportunity to wind your way along the quiet, largely untouched coastline all the way to the majestic natural wonder that is Cape Point. This drive will take you approximately 40 minutes.
R44 From Gordon's Bay to Somerset West: This scenic coastal drive will take you along the edge of the water through Strand with spectacular mountain range and ocean views all the view through. This drive will take you approximately 25 minutes.
And last, but most definitely not the least – The renowned Chapman's Peak Drive of course!
Chapman's Peak Drive: Named one of the most magnificent marine drives in the world, taking a drive along the picturesque Chapman's Peak Drive should be on everyone's Cape Town bucket-list. Affectionately known as 'Chappies' by Cape Town locals, this captivating coastal road ribbons along the Atlantic coastline between Hout Bay and Noordhoek.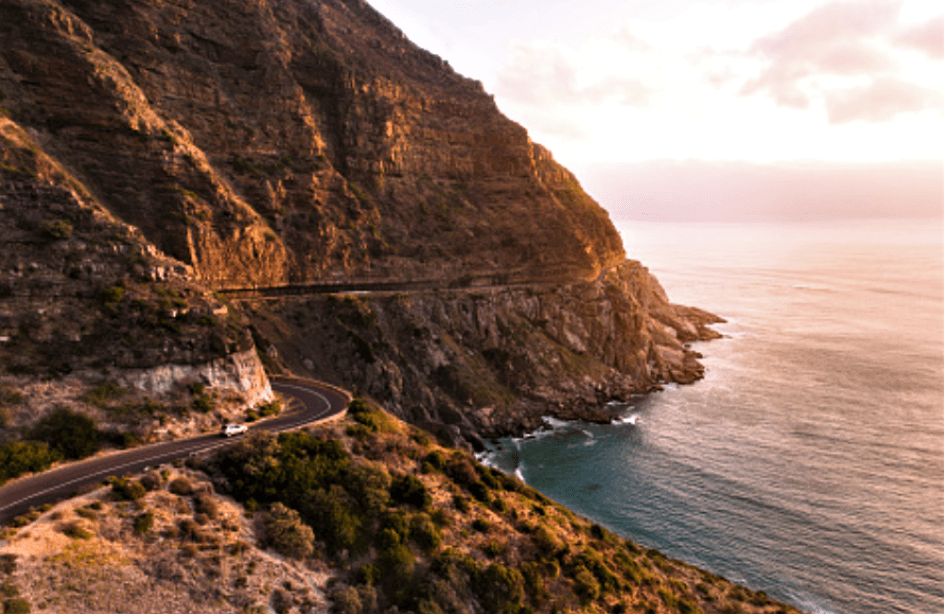 Showcasing some of the most sensational panoramic views over the Atlantic Ocean, you will pass rugged mountains, picturesque white-sand beaches, and vibrant fishing harbours on your drive along Chapman's Peak.
** Important note: Chapman's Peak Drive may be closed during severe weather conditions or due to road maintenance. Contact the customer service line (021 791 8220) or visit their Facebook page or website to check the current status.
Chapman's Peak Details:
Location: M6 | Chapmans Peak Drive, Atlantic Seaboard, Cape Town
Best time: Best during daylight hours | Particularly beautiful at sunset
Cost: Chapman's Peak Drive is a toll road, and as such requires as toll tariff fee. Each category of vehicle pays a different tariff and the tariff is applicable in each direction.
**Chapman's Peak Drive Hidden Gems
Wait, there's more! If you're eager to add some adventure and thrill to your Chapman's Peak Drive experience, here are a few things to look out for:
**Tip: Chapman's Peak Drive is known for its amazing hidden gems scattered along the route. Two of which include the waterfall walk and the secret Look-out Cave.
The waterfall walk is perfect for nature lovers and adventurers and is found just before you reach the toll gate on your way towards Noordhoek.
The Chapman's Peak Look-out Cave is not only one of its most beautiful hidden gems, but one of Cape Town's top secret caves and best sunset spots too. Like all of the Mother City's best kept secrets, you may need to wander a little off the beaten path to find it. Make your way along Chapman's Peak Drive until you reach the famous Chapman's Peak Lookout Point – This is where the real adventure begins!
Positioned just below the pass, you'll have to climb over the railing and carefully make your way down the mountainside to reach the Lookout Cave. Once you've reached this cool secret hideaway and stunning sunset spot, it's time to sit back, relax and soak it all in. The sheltered sand-stone cave boasts the perfect view over Hout Bay and Atlantic Ocean. An extra bonus is that it has enough space to enjoy a picnic and a few sundowners paired with one hell of a view.
Besides these two must-visit secret spots, there are a variety of look-out points and picnic sites located at various points along the drive. Chapman's Peak Drive is also known as one of the best places to spot the beloved members of Cape Town's Marine Big 5. Make sure to keep a look-out for Cape Fur Seals, Dolphins, Southern Right Whales, and African Penguins.
See the African Penguins at Boulders Beach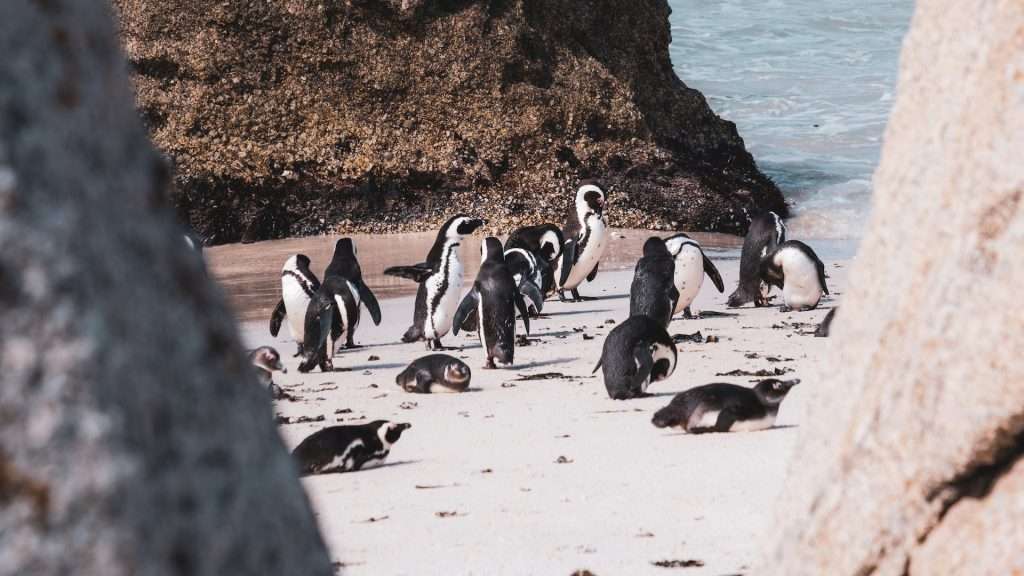 Seeing the African Penguins in their natural habitat is by far one of the top family friendly outdoor things to do in Cape Town all-year round. Home to a thriving population of African Penguins, Boulders Beach is one of the only places in the world where you can get up close and personal with these cool and charismatic ocean locals. This makes visiting the African Penguin colony at Boulders Beach a bucket-list worthy experience in every way.
Besides seeing the African Penguins from the African Penguin Viewing Site in Boulders Beach, you can enjoy a variety of other once-in-a-lifetime adventures such as swimming, kayaking or enjoying a laid-back beach day with them right by your side.
In addition to Boulders Beach, Stony Point Nature Reserve in Betty's Bay is home to an African Penguin viewing site as well as one of the largest successful breeding colonies of African Penguins in the world.
**Note: Visitors will need to pay an entrance fee (which forms part of a conservation project) to gain access to the African Penguin Viewing Site and Boulders Beach. Your ticket is valid for the entire day. You can choose to exit and re-enter as it suits you (this only applies to the day your ticket was purchased).**Visit the SANParks website for more information regarding Boulders Beach's Conservation Fees.
St James Tidal Pool & Coastal Walk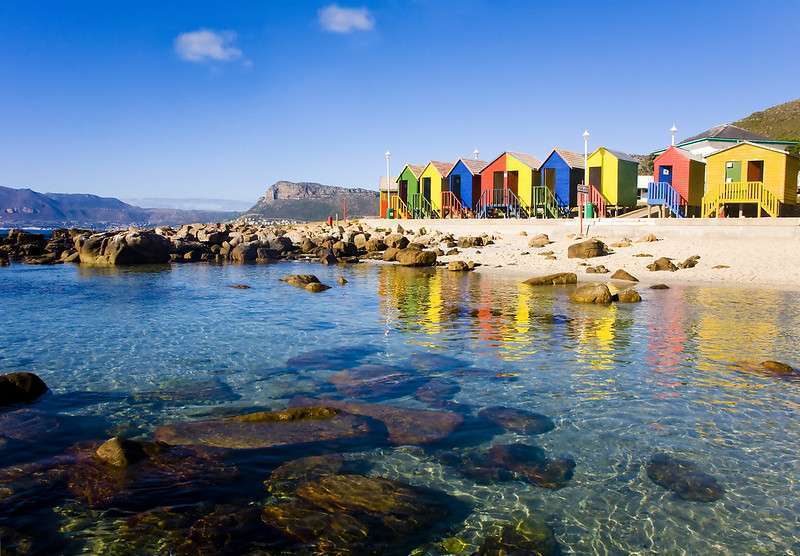 While Cape Town has no shortage of incredible tidal pools (read our post Cape Town's 19 Amazing Tidal Pools to make sure you visit them all), the St James Tidal Pool is undoubtedly one of the best. Not to mention a real fan-favourite among the young and young at heart.
How to get there: Situated close to the Muizenberg station, you will need to cross over the train tracks and follow the winding concrete path that meanders along the coast. Once you've reached your desired destination, a refreshing dip in the cool St James tidal pool waters is an absolute must! It really is the perfect Cape Town summer holiday activity for the whole family.
Besides the not-to-be-missed St James Tidal Pool, the St James coastal walk, which stretches between Muizenberg and St James, sure gives the Sea Point promenade a run for its money. Once known as Cape Town's Golden Mile, this stunning walkway boasts sensational views right throughout.
As the vibrant False Bay coastline is known for its plethora of thriving marine life, be sure to keep a look out for some thrilling sightings of Cape Town's beloved ocean locals – African Penguins, dolphins, whales, and of course the wonderful Cape Fur Seal!
The path is concreted the entire way and begins just behind Muizenberg's railway station (It is highly recommended that you park up that end, rather than at the beach).
Feel free to enjoy the St James coastal walk barefooted (if you so desire), but, as a word of warning, the fishermen tend to leave their tackle on the path whilst fishing just out in front of it, so make sure you're extra vigilant.
While taking a stroll along the ever-beautiful St James coastal walk is a fantastic and fun time for all regardless of the time of day, the very best time to do this walk is during low tide.
MORE TIDAL POOLS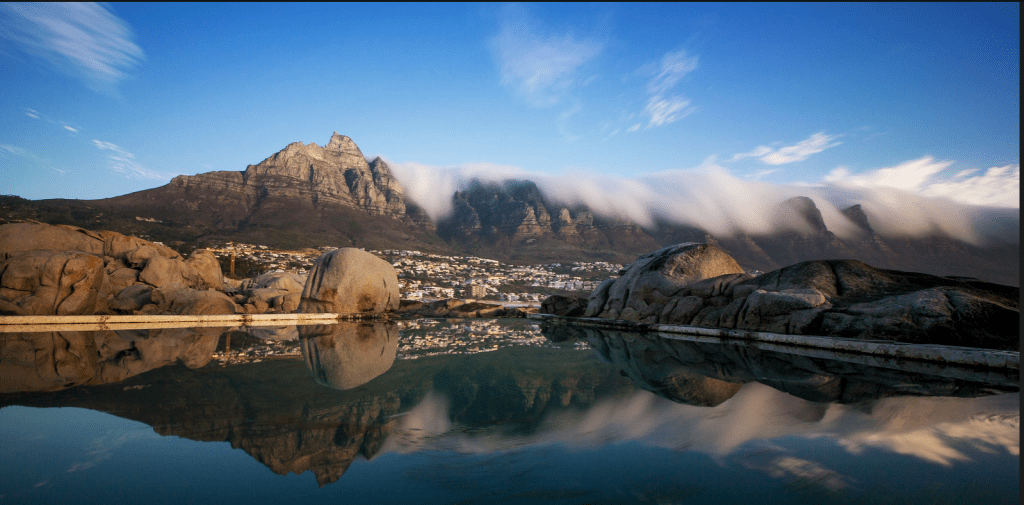 Because let's be honest, who doesn't love taking a cool refreshing dip in one of Cape Town's amazing tidal pools? Especially on a warm summer's day!
The Mother City is blessed with countless tidal pools built along the coastline, providing everyone with an incredible, safe and family-friendly space to swim, cool down, have fun, and enjoy the sunset. Get ready to embrace the icy waters of the Atlantic as you spot a few sea slugs or cuttlefish along the way. Not to mention one or all of the members of the Marine Big 5 if you're lucky!
In addition to the famous St James Tidal Pool situated between Muizenberg and Kalk Bay in the seaside suburb of St. James, here are a few more amazing tidal pools that you should add to your bucket-list right away.
Miller's Point | Simon's Town
Maiden's Cove | Between Glen Beach and Camps Bay Beach
Dalebrook | Kalk Bay
Camps Bay tidal pool | Camps Bay
Shelley's Point | Glencairn
Milton tidal pool | Milton Beach
Glencairn | Glencairn Beach
Buffel's Bay | Cape Point Nature Reserve
Soetwater | South of Kommetjie
Sparks tidal pool | Gordon's Bay
Kommetjie tidal pool | Kommetjie
Saunders | Saunders Beach, between Clifton and Sea Point in the suburb of Bantry Bay
Silwerstroom | Silwerstroom Resort, Meklbosstrand
Wooley's tidal pool | Between Kalk Bay and Clovelly
Monwabisi | Khayelitsha
Brass Bell | Brass Bell Restaurant | Kalk Bay
Harmony | Strand