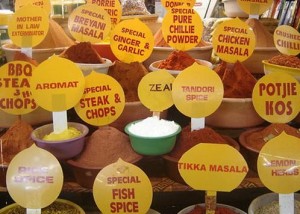 Not surprisingly when one considers the amazing cultural diversity of South Africa's Mother City, the choice of local foods to try in Cape Town is rather massive.
We have Cape Malay cuisine. We have Xhosa delicacies. We have Indian food. We also have Afrikaans dishes passed down over the generations, and everyday South African staples that foodies of all cultures adore.
Ultimately, we have a food lover's paradise, with something to satisfy any craving and something to please any taste bud. 
Discover all of this and more by doing some cuisine exploring during your trip to the Cape. 
Wondering What Foods to Try in Cape Town?  
While you will have no trouble finding global cuisine such as Chinese, Italian, Mexican, sushi, French and Middle Eastern at the many great restaurants across the province, experiencing the culinary delights of genuine 'local is lekker' dishes is highly recommended. Some foods to try in Cape Town include the following:
* Cape Malay Cuisine. Fragrant curries, bobotie (fruity curry with a crusty layer), samoosas (small triangle shaped pastries filled with spice vegetables or meat – also part of Indian cuisine), kebabs (bits of juicy meat, vegetables and even fruit, grilled on a stick) and other spicy dishes from the Bo Kaap area aka Malay Quarter. 
* Gatsbies. One of the most legendary – some may even say notorious – fast food dishes in Cape Town is the gatsby sandwich. The best way to describe this epic munch-down is that it's a little like the American steak roll. Hot chips (known as 'slap chips') and spicy sauces and other goodies are added to a meaty base, and placed on a large bread roll. Messy, probably not very healthy but one of the most delicious things you will ever taste!
* Braais. The local word for barbeque, braais are a very big part of South Africa – from the Cape to the tiniest villages well off the beaten path. The best thing to braai is boerewors, or 'boerie'. You can enjoy the finest boerie at hotspots such as Mzoli's in the township (an amazing experience in itself) or somewhere more fancy, such as Gourmet Boerie on Kloof Street in the City Centre. Better still – make friends with a local and you can braai Kaap-style, in a back yard, with a nice cold beer in hand. 
*
Walkie Talkies
. The name of this local snack is very endearing, even if the snack itself might seem like something straight out of Fear Factor. This is the name for chicken feet and heads, which are a traditional Xhosa dish that people of all cultures have tried too. Well, those willing to look past the idea. In reality, once cooked and seasoned,
walkie talkies
are rather tasty.
*
Sweet Treats
. Then there are the delicious desserts on offer. Koeksisters are popular in Afrikaans and Malay cuisine – these twisted pastries are syrupy and addictive, and are sold in just about every supermarket. Milk tart meanwhile is a traditional Afrikaans pie that has a subtle, creamy filling and a pastry base. In the small towns of the Western Cape, condensed milk is found in many things – including coffee. Fresh fruit such as
pomegranates
can also be enjoyed straight from the farms found throughout the provinces major fruit growing regions. 
While not an exclusive Cape food, it's also worth mentioning that we have incredible oysters and other freshly caught seafood on offer too. Some oysters are as big as your hand! A stroll along Hout Bay harbour will give you the chance to buy fish caught hours (even minutes, if you're quick on the draw) before you it. Crayfish (known as 'kreef') is equally abundant and tasty. 
Finally, don't forget that you can wash down your chosen dishes with fine wines straight from the
Cape Winelands
. How's that for truly sustainable, single source dining?! 
Have you had any of these dishes on your travels? Let us know what you would suggest for foods to try in Cape Town by leaving a comment below.