Table Mountain National Park stretches from Signal Hill and Table Mountain to Cape Point. This reserve offers a large variety of animals, including baboons, buck, the Cape Mountain Zebra, and over 250 bird species and indigenous flora. Many of these species are unique to the area and cannot be found anywhere else in the world!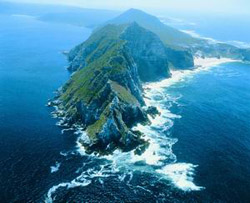 Here you can also find Cape Point, at the tip of the Cape peninsula. This great expansive area encompasses a beautiful sea and coastline, great for scenic trips. Some of the highest points in the world can be found within Cape Point with its treacherous cliffs. This point marks the spot where cold Beguela currents from the West coast merge with the warm Agulhus currents of the East coast.
You'll want to reserve at least an hour or two to take in all the sights and activities of this glorious park area. Breakfast, lunch and afternoon tea can be purchased at the Two Oceans Restaurant while you are there. Also stop by the curio shop, and a new visitor's center.
Some of the animals in the park can be aggressive, such as the baboons, so you should take care not to feed or try to touch these animals. Find more information at the South African National Parks website.