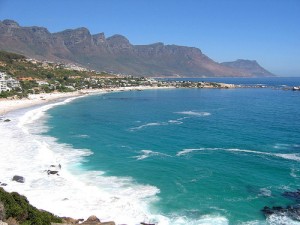 Recently voted as the Best Beach Destination in Africa at the prestigious 2012 World Travel Awards, it is no wonder that Cape Town's beaches have become almost as famous as Table Mountain.
This is not the first time the Mother City's beaches have led to awards and recognition either. Last year, leading travel guide The Lonely Planet placed Cape Town in second place for the World's Ten Best Beach Cities in 2011.
With summer on its way, the many beautiful beaches to be found from coast to coast are attracting locals and visitors in search of sun, sea and sand to their pristine shores and breath-taking waters. Cape Town has eight Blue Flag beaches, a status that is awarded annually to beaches that achieve high standards in environmental management, environmental education, safety and security and water quality. From the cold Atlantic Ocean on one side to the warm Indian Ocean and False Bay coast on the other side, what this means for beach-goers is a huge diversity of truly spectacular beaches.
Where to Find the Best Cape Town Beaches
You may want to find the perfect beach for hours of sunbathing and relaxation, or perhaps the best beach to have a refreshing dip in the ocean. You might be keen to find a good beach for water sports, or even the best one for kids and recreation. However you plan to enjoy the glorious hot days, here are our suggestions for the best Cape Town beaches.
Best Beaches for Sunbathing
Camps Bay is one of the most well-known beaches in the city, and for good reason. The beach is large, with numerous boulders that separate various sections while providing just the right amount of shade. Restaurants and sidewalk cafes are just over the road, while views are simply amazing.
Clifton 4th on the other hand is also great for sunbathing, and has much-needed shelter from the wind. This is where you will find the city's beautiful people, along with beautiful views and a fun vibe.
For a more relaxed ambience, Llandudno is also good for lazy days spent on the beach.
Best Beaches for Swimming
The False Bay coast is generally better for swimming, as the water is much warmer on this side. Boulders Bay offers the chance to swim with penguins, with small coves surrounded by boulders and nesting penguins.
Fish Hoek has a large beach that has tidal pools as well as warm water, along with rock pools and a beachfront that has plenty of facilities in easy access.
St James, near Muizenberg, has a large tidal pool that is great for kids wanting to enjoy a dip. It can get a bit crowded during the holiday season, but there are plenty of facilities nearby for a great day out with the family.
Best Beaches for Water Sports
Blouberg is very popular with windsurfers, while also offering iconic views of Table Mountain. Over the road lies The Blue Peter, where lunches and drinks can be enjoyed right near the beach.
Muizenberg and Kommetjie are both excellent for surfing, with surf schools offered at the former beach. Noordhoek's Long Beach is also good for surfing, along with horse rides and other activities.
Scuba divers can venture into the ocean at Miller's Point near Simons Town, or try an Atlantic Ocean shore dive from Oudekraal near Camps Bay. There are many dive schools in the city for those wanting to get PADI qualified too.
Hout Bay has a bustling harbour that offers a range of boat cruises, including a trip to Seal Island or along the Atlantic coast to Camps Bay. The beach is also perfect for long walks, fish and chips and other recreational activities.
Simons Town offers boat charters on the False Bay coast, including shark diving trips to see the famous breaching Great white sharks of this area.
Of course, there are still many, many other amazing Cape Town beaches that lie in wait for you this summer. Every beach has its own highlights, scenery and atmosphere, with plenty to see and do.
What is your favourite beach? Share your thoughts on the CometoCapeTown Facebook page and let us know where you plan to spend your days this summer.