Cape Town is lucky to enjoy a moderate Mediterranean climate most of the year. Weather can get rather warm during the summer months but are often cooled down with a swift sea breeze. In midwinter you can expect snow in the surrounding mountains and cold weather. Autumn and spring offer the most moderate temperatures. No matter when you plan to visit, however, be sure to expect anything – as anywhere, the weather tends to have a will of its own!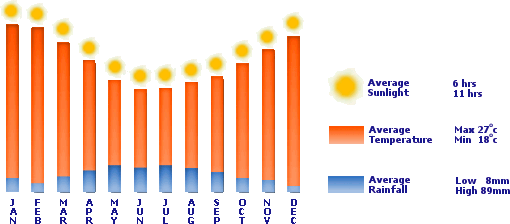 Summer
In the summer expect temperatures in the 20s and 30s, with very little rainfall. Winds from the southeast travel through Cape during these months; expect stronger winds in November and December. Summer months cover between mid October to March, with long days and beautiful evenings. Sundowners and beach sunsets are perfect this time of year, so evening entertainment is at its height during summer months.
Autumn and Spring
The autumn and spring seasons are typically "off-season" for tourist travel, but there is certainly nothing off about the scenic happenings during this period! The days are beautifully pleasant, with evenings becoming slightly cool but perfect for visitors not use to hot summer days.
Gorgeous flowers are the norm anywhere you travel in this area during the spring, putting on a dazzling display of color. Whale watching is also the best during this time of year.
In the autumn, the vineyards also display a vast array of beautiful colors, especially in Constantia Valley and Stellenbosch.
Winter
Recent years made the winter season in Cape Town a mild alternative to the high-traffic tourist seasons. Although winter often includes many long, rainy days, today rain is interrupted by days of mild weather and beautiful sunshine. This new change of events is known locally as "Cape's secret season".
Traveling during winter is more affordable than any other time, and even the activities, accommodations and events tend to be less expensive.
If you are willing to take a chance on the weather, this is a good time of year to make the journey to Cape Town. Cape Town Accommodation is also more affordable, and to most hotels & self catering apartments in Cape Town, it is known as the "green season."