In addition to the fabulous December events taking place in and around the city, we have some truly epic Christmas Events in Cape Town 2015 lined up. Featuring everything from carol evenings to Christmas Eve and Christmas Day meals, this list has something for everyone. Food, music, comedy, free shows, ballet, more food… whatever you're in the mood for this festive season, you are sure to find it right here in the Mother City.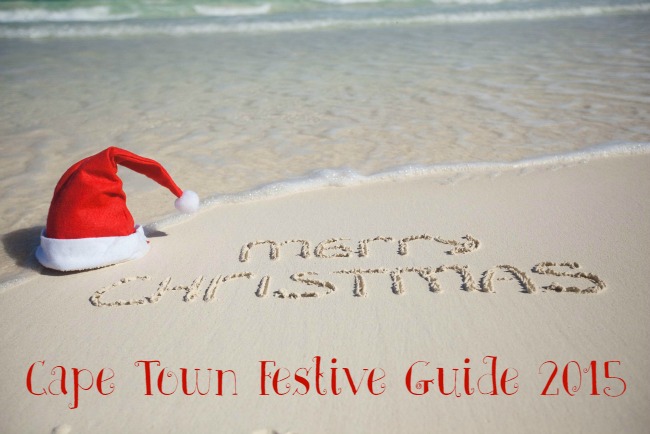 Please note that we do our best to include as many events as we can. Sometimes however, we don't hear of events and inadvertently miss out on great happenings that we could have otherwise told you about. If you know of an event that is not on this list, please let us know by leaving us a comment or getting in touch via our contact page. We love hearing from our readers, and will happily include your suggestions!
2015 Christmas Events in Cape Town
What sort of festive events are taking place in Cape Town this year? Let's have a look…
1 – 31 December and onwards – Christmas at the Cape Town Comedy Club @ The Pumphouse, Dock Road, Waterfront. Merriment and plenty of 'ho ho ho', Santa worthy laughs are par for the course at this legendary Cape Town comedy joint. While the club is closed on Christmas Day, there will be lots of shows taking place beforehand to get you warmed up for the festive season. Shows run at various times – visit www.capetowncomedy.com for details. Tickets cost R390 per person and are available via Computicket.
4 December – Christmas Carols at Laborie @ Laborie Wine Farm, Paarl. With tickets starting from R50 per child and R80 per adult, this event promises a Cape Winelands start to the holidays with plenty of fun for the whole family. Kids' activities such as face painting and a mini petting zoo are on offer along with fun stuff for the grown-ups, carols, wine and other good stuff. Tickets are available via webtickets.co.za.
6 December – Adderly Street Christmas Lights @ Adderly Street, City Centre. Watch the annual Adderly Streets lights switch on, as you get into the spirit of things with a massive street party that is all sorts of awesome. It is free to watch the lights go on, but for various parties taking place in the City Centre after the ceremony, costs may apply. Starts early eve, lights go on at 20h30.
10 & 11 December – Christmas Light Shows @ V&A Waterfront – The Vic Wharf and Flagpole Terrace will be lit up like, er, a Christmas tree, as the start to the festive shopping period kicks off at this popular mall. It's free to come and look – lights will start twinkling from 20h00 onwards.
15 December – Rocking Carols and Nativity Play @ V&A Amphitheatre, Waterfront. Another awesome free festive event in Cape Town, this one will take place from 20h00 to 21h00. Head on down to the Waterfront and join the holiday fun!
16 December – An African Christmas @ V&A Amphitheatre, Waterfront. Join the Christ Embassy Choir as they showcase the Nativity story… with an African twist. The show runs from 19h00 to 20h00 and is free to watch.
17 – 30 December – Kirstenbosch Carols by Candlelight @ Kirstenbosch Botanical Gardens, Newlands. What could be more lovely than carols under the stars? Carols in the beautiful setting of Cape Town's most scenic gardens, that's what! Tickets range in price for kids and adults, and can be purchased by contacting +27 (0) 83 270 9286 or carols@kirstenboschrotary.co.za.
24 December – The Nutcracker Ballet and Fairy Parade @ Artscape Theatre, Foreshore. With the beloved Christmas ballet, The Nutcracker, and a show afterwards for the little ones, entitled the Fairy Parade, this is sure to appeal to those with a love for this enchanting fairy tale. The show starts on 15 December, with the final show taking place on Christmas Ev. Tickets range from R130 to R160 and can be purchased via computicket.co.za. For enquries, call The Artscape on +27 (0)21 410 9800.
22 & 23 December – Festive Choirs @ V&A Amphitheatre, Waterfront. Various local choirs will be performing for free in the run up to Christmas. Shows will start from 18h00, running for about two hours. Included in the line-up: Mitchell's Plain Crusaders Christmas Band,  Apostle Choristers, Salvation Army Brass Band and Cape Town Gospel Choir. 
24 December – Christmas Eve Dinner at African Pride 15 on Orange Hotel @ Orange Street, Gardens. At R650 per person, this Christmas Eve dinner provides a full course of delicious meals, along with drinks and entertainment. Booking is an absulte must, and can be done via phone on +27 (0) 21 469 8000 or email at reservations@15onorangehotel.com.
24 & 25 December – Christmas at Spier @ Spier Wine Farm, Stellenbosch. Christmas Eve dinner is available for hotel guests, while a delicious Christmas Lunch will be served at their Eight Restaurant as well. Prices vary and bookings are absolutely essential. Contact +27 (0)21 809 1100 to find out more about booking.
24 & 25 December – Christmas at the Azure Restaurant @ Twelve Apostles Hotel & Spa, Camps Bay. Delight the senses with delectable Christmas Eve Dinner and Christmas Day Lunch at one of Cape Town's most renowned establishments, the Twelve Apostles Hotel & Spa. Dining packages vary in price. For further details and bookings, contact +27 (0)21 437 9000.
24 & 25 December Christmas on Table Mountain @ Table Mountain Cableway, City Bowl. Head up the mountain over the holidays, for a magical adventure that appeals to kids, grown ups and  grown up kids. Tickets can be bought online via Webtickets.co.za on selected dates or at the cableway ticket office. Prices range from R60 to R350.
25 December – Christmas Day at The Galileo Open Air Cinema at Meerendal Wine Estate @ Vissershok Road, Durbanville. Enjoy classic holiday movies such as Miracle on 34th Street, as you picnic under the stars in a unique open-air cinema situated in the beautiful Durbanville Winelands. For details, call +27 (0)21 975 1655 or visit thegalileo.co.za. Tickets start from R79 per person.
25 December – Christmas Day Buffet at the Mount Nelson Hotel @ Orange Street, Gardens. Delightful dining does not get any better at this world-class restaurant and hotel. Enjoy a full festive spread along with drinks and entertainment. Tickets for this exclusive dining affair cost R950 per person. Booking is essential and can be via email at restaurantreservations.mnh@belmond.com or phone on +27 (0) 21 483 1000.
25 December – Christmas Day Lunch Buffet at Hazendal Wine Estate @ Bottelary Road, Stellenbosch. Featuring menu highlights such as hummingbird cake, a chocolate fountain and juicy roasts, this buffet is sure to be festive and downright scrumptious. Lunch is available at R385 per adult and R192 per child under 12 years. For bookings, which are, of course, essential, contact +27(0)21 903 5034 or info@hazendal.co.za.
25 December – Christmas at Radisson Blu @ Beach Road, Granger Bay. One of my all-time favourite places (and for good reason), Raddisson Blu is ideally situated near the water, with lovely views, excellent service, delicious menu treats, good bubbly and an all round good vibe. For Christmas Lunch, a special menu promises to make it even more inviting. Bookings as a must. Call +27(0)21 441 3000 or email capetown.reservations@radissonblu.com to find out more.
25 December – Christmas at Richard's Supper Stage and Bistro @ Main Road, Sea Point. Enjoy a truly entertaining festive lunch, complete with a full menu of yummy treats and performances from the Khayelitsha Gospel Choir. Lunch and entertainment tickets are on offer for R400 per person.Emailing bookings@richardscapetown.co.za or phone +27(0)76 144 4809 for details.
…
Looking for more festive slash summery inspiration? Check out our list of Cape Town Christmas Markets 2015 for a list of seasonal markets taking place. We also have a great guide to Year End Office Parties in Cape Town, list of Places to Swim in Cape Town this summer and a guide to the Best Villas With Swimming Pools to keep you cool during the hot months.