The festive season is just around the corner, and for all of you early bird organised types who want to get a head start on gift shopping, we bring you a great list of Christmas Markets in Cape Town 2015. Featuring markets situated across the peninsula, day markets, night markets, trendy markets, tiny rural markets and all sorts of other markets, this list has you covered from coast to coast.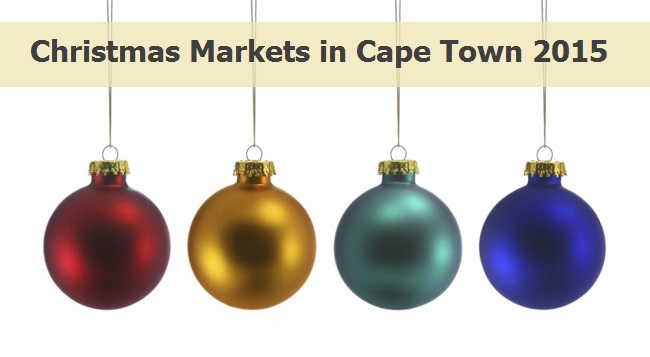 Please note that all information is correct at the time of publishing. If details should change, we are not responsible. Some market times will only be confirmed closer to December but we will do our best to keep you updated as and when new info is received.
Ready to get started? Let's see what the Mother City has in store for us this year as far as Cape Town festive markets go…
Cape Town Christmas Markets 2015
Getting right down to business, here is a list of festive themed markets taking place from November to December.
21 November 2015
Rondebosch Potters Market @ Rondebosch Park, Corner of Sandown and Campground Roads, Rondebosch
08h00 – 14h00
24 November – 6 December 2015
Cape Gift Market @ Sea Point City Hall, Sea Point
Weekdays 09h00 -19h00; Weekends 09h00 – 17h00 (includes Sundays)
25 November – 5 December 2015
Stellenbosch Kersmark @ Martinsonstreet, Uniepark, Stellenbosch
Monday – Friday 10h00 – 20h00; Saturday 10h00 – 17h00
1 – 6 December 2015
Made in the Cape Festive Fair @ Cavendish Square, Claremont
Daily 09h00 – 19h00 (closes 17h00 on Sunday 6 December)
2 – 5 December 2015
Paarl Christmas Market @  Tea Under The Trees, Main Road, Paarl
Wednesday – Friday 9h00 – 18h00; Saturday 09h00 – 14h00
4 – 6 December 2015
Lourensford Christmas Market @ Lourensford Estate, Somerset West
4 & 5 December 16h00 – 22h00; 6 December 10h00 – 15h00
4 – 20 December 2015
Edgemead Christmas Market @ Edgemead
Times TBC
4 & 11 December 2015 (TBC)
Durbanville Craft Market Night Market @ Rust-en-Vrede, Wellington Road, Durbanville
17h00 – 22h00
5 December 2015 (TBC)
Noel French Christmas Market @ The French School, Kings Road, Sea Point
09h30 – 14h30
5 December 2015
Kloovenburg Christmas Market @ Kloovenburg Estate, Riebeek Kasteel
09h30am – 15h00
6 December 2015
Camphill Village Christmas Market @ Camphill Village West Coast, Kleindassenberg Road, off the N7, near Atlantis
10h00 -14h00
7 – 22 December 2015
Pinelands Craft & Gift Fair @ Pinelands
Times TBC
7 December – 22 December 2015
Simply South Gift and Craft Fair @ NG Kerk, Constantia, Corner of Ladies Mile and Firgrove Roads, Bergvliet
Times TBC
11 & 12 December 2015
Gabrielskloof 'Favourite Things' Market @ Gabrielskloof Estate, Botrivier
Times TBC
11 – 16 December 2015
Fab Ideas Christmas Market @ Kommetjie Community Hall, Teubes Road, Kommetjie
Friday – Tuesday 09h00 – 19h00; Wednesday 09h00 – 17h00
15 – 19 December 2015
Blaauwklippen Twilight Christmas Market @ Blaauwklippen Estate, Stellenbosch
17h00 – 22h00
13 & 20 December 2015
Kirstenbosch Craft Market @ Kirstenbosch Botanical Gardens, Newlands
…
I don't know about you, but I love a good market and can happily spend an entire day walking around, browsing stalls and enjoying the vibe. Festive markets are even more special – especially as they make gift shopping easier. After all, it is way better to do your shopping out in the fresh air, with unique, hand made gifts and goodies, rather than risk overcrowded shopping centres.
If you're looking for some more year end seasonal info, be sure to check out our Year End Office Party Ideas 2015 and stay tuned for upcoming posts on Christmas and NYE events in Cape Town 2015.
Be sure to add these to your calendar so that you can head on down to one (or more) of these Cape Town Christmas markets this year!