December 2015 in Cape Town is almost here, and for most of us, it means looking forward to some time off, and getting lots of gift shopping done. It's also a rather fun time of year, with lots of events to suit any mood. In our December events guide for 2015, we have a good mixture of general events.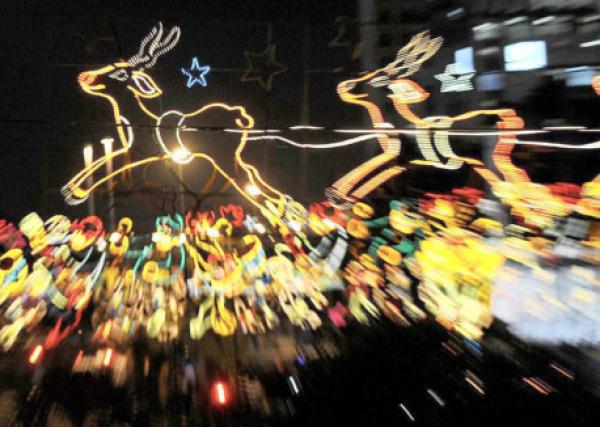 We have some music and dance festivals, bubbly festivals, and a few other parties on the cards… BUT… for now, we are focusing only on general events. This is important, so listen up closely – for parties and general events, keep reading. You can find our Christmas Markets in Cape Town for 2015 for tips on annual and regular festive markets. We also have some great tips for 2015 Year End Parties in Cape Town. Check back again in the next week or two for our 2015 Cape Town Festive Guides, which will include all things holiday related with a festive spin.
Things for do to in Cape Town – December  2015
Now that we've cleared that up, let's get onto the events, shall we? Here's a taste of what you can expect this month…
1 December – Community Chest Twilight Team Run, City Centre. While entries for teams has officially closed earlier in November, you can still head on down to the route start (or finish) to enjoy plenty of entertainment. Watch costume-bedecked teams as they walk or jog to claim first place, and partake in the colourful parade of characters. Added to the fun – bars, food, live music and a fantastic vibe.
3 – 7 December – Open Source Vortex Trance Party, Circle of Dreams Campsite in Riviersonderend, Western Cape. Taking place an hour and a bit away from the city, this popular annual trance party is all about peace, love, unity and world-class electronic dance music. Full festival passes for a 5 day camping and party experience are offered along with weekend and day passes. Passes range in price from R510 upward, and can be purchased beforehand at various outlets or at the gate for a slightly higher cost.
5 December – Wavescape Surf Film Festival, Clifton Fourth in Clifton. We previously featured the Wavescape Festival on our blog – this particular event delivers a combination of films, food, fun and community. Head on down to Clifton Fourth to join the good vibes at no cost whatsoever.
5 December – Table Mountain Blues Summit, Hillcrest Quarry in Durbanville.  Featuring local blues musos, such as Albert Frost, Black Cat Bones and more, this event is a must for anyone with a love for the sultry sounds of trumpet, bass and toe-tapping tunes. Along with live blues, there'll also be food, drinks and other entertainment. Tickets cost from R195 per person and are available through Computicket.co.za.
5 – 6 December – Franschhoek Cap Classique and Champagne Festival, Huguenot Monument in Franschhoek. Calling all who love their bubbly MCC and fine wines… this one is for you! Savour local MCC as well as French champagne as you enjoy delicious cuisine and all the other good things in life. Tickets range from R200 per person and are available via Webtickets.co.za.
6 December – Adderly Street Christmas Lights Switch On, City Centre. The annual turning on of Adderly Street's spectacular lights is a great start to the festive season, but it's also a good party, as well. Join the mayor and assorted locals and visitors as the official start to Christmas kicks off! The fun starts in the late afternoon, at no cost whatsoever. Also in the city on this night is the Summer Block Party, so head on down to Old Marine Drive in the City Centre after the lights go on, for an epic street party. Entry to this party is R80 per person.
17 – 20 December – Kirstenbosch Carols by Candlelight, Kirstenbosch Botanical Gardens in Newlands.  Featuring Cape Town Concert Brass and the Male Voice Choir, these carols are a great way to get into the spirit of the holidays in the beautiful scenic setting of these iconic gardens. Entry is around R90-100 per person for adults and tickets are available through Computicket. You can also look out for Kirstenbosch Summer Concerts for the rest of the summer season.
19 December – Mother City Queer Project aka MCQP, Grand Parade in City Centre. The biggest annual pink party in town, MCQP is an experience all unto itself, attracting hoards of gays, straights and everything in between. This year's theme is Candyland. Think Katy Perry slash Willy Wonka with loads of bright, juicy, colourful costumes. Ticket costs vary – head to www.mcqp.co.za for details.
28 December –  Festival of Chariots, Sea Point. A beautiful Hindu festival that is celebrated all over the world, this event is free for all. Religious deity statues will be pulled by chariot, in a parade that is festive, happy and bright, with plenty of singing and dancing. The parades will kick off at 10h00 from the Sea Point Promenade.
…
Please note – this is a general list of events taking place in December 2015 in Cape Town. We will be releasing a special Christmas themed events guide that focuses exclusively on festive happenings, along with a NYE 2015 guide dedicated to New Year's Eve parties. We will also feature a guide to summer school holidays that is just for kids. So if you don't see any festive events in this list, don't panic – you can check back soon for our exclusive holiday guides to get all the info you need.
Do you have any plans for spending December 2015 in Cape Town? Share your tips below in the comments and let us know!