It's the second last month of the year, and that means it is time to start planning Cape Town year end office parties for 2015! It seems like just the other day that I was putting together ideas for our 2014 office bash ideas post. Yet, here we are, in November once again. Time really does fly, doesn't it? This year has certainly been interesting, but like many other locals, I am starting to get that dreaded year end fatigue. The holidays are just around the corner, the work year has been hectic (and productive), and after a busy few months of working hard, nothing is better than a jolly old office party to end things off on a festive note.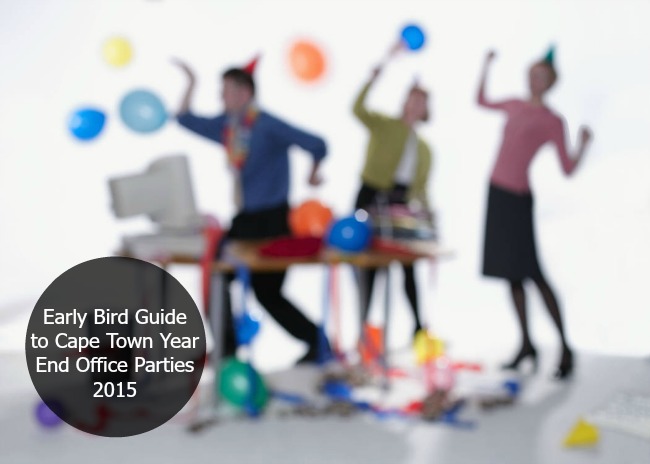 Getting right down to brass tacks, here are some all new, super cool ideas for getting your plans for end of year office party in Cape Town underway!
Awesome Year End Office Party Ideas in Cape Town 2015
To see our 2014, 2013 and 2012 guides, click the links respectively. There are lots of great venue ideas here that will likely still be worth considering this year – for daytime and evening events. This year, I thought I would do things a little differently, to mix things up a bit. Instead of giving you a big list of venues, I will be giving you some fun ideas that will add plenty of entertainment and fun to just about any party (wherever it is held).
If you prefer things to be more on the dinner-and-drinks side of things, then be sure to have a look at our dining category to get ideas on places that we have written about in the past. Our previous Cape Town office party guides also have plenty of venues to try. If however you would like this year's bash to be one for the history books, read on to get some fresh inspiration.
1. Hire a magician… for grown-ups. No, really. When was the last time you watched a magic show? Did you know that you get corporate magicians that specialise in shows for adults? Well, you do now. These shows do not have to be cheesy or lame if you take a bit of time to hire someone suitably amusing and entertaining. After a year of slogging away, your employees could do with some magic, too. To get you started, try www.entertainment-online.co.za to view their directory of magicians under 'shows'.
2. Get creative with paint. Artjamming isn't only a kids' thing either, it has to be said. And you don't have to limit yourself to Artjam, either, but they are one of the best ways to embrace the artist inside. There are studios in Cape Quarter (De Waterkant) and V&A Waterfront. You may also want to look at pottery classes at a local art school, or getting in an art company to come to your premises and help you get started with your very own office art exhibit.
3. Do the Community Chest Twilight Team Run. Held in early December (usually on the first Tuesday), this annual dress up fun run/walk is all sorts of epic fun. And I can say that from experience! Each team gets to pick their very own costume and represent the company on a meander through the City Centre. At the end, there's a big party with music and entertainment. To learn more, visit www.comchest.org.za or call +27 (0) 21 424 3344.
4. Inject a little bit of rhythm. Do something different this year, and hire a salsa teacher, go to a local Latin or swing dance club or try ball room with a black tie dress code. Dancing is fun, but it also involves team work and other skills. It's a great ice breaker, a fun way to let loose and if partners are also invited, it's a great way to mingle. There are a number of dance teachers and clubs in the Cape Town area – do an online search to find one closest to your office.
5. Host a casino or games night. Either at your premises or at a hired venue, set up a mini casino area, put up a poker or Blackjack table, or opt for something less formal, such as Clue, Mad Magazine or 30 Seconds (or all of the above). You'd be surprised how entertaining this can be – especially when pitting teams against one another. I've personally put this idea to the test as well, so can say with absolutely certainty that it everyone quickly gets into the spirit of things. LAN computer games work equally well, it has to be said.
6. Take a ghost tour. What could be better than a bus that collects everyone, takes them around to all sorts of haunted spots all over Cape Town and then delivers them back to a chosen venue? Add in scary stories, Cape Town's rich history and a good dose of giggles, and you have a memorable office party that is sure to hit the spot. Choose to end back at a restaurant for lunch or dinner to wind things off and share your spooky experiences!
…
As a freelance writer, I have worked in many, many different office environments. In-house, agency, solo and otherwise have all given me some great office party ideas and memories over the years. While ultimately, what makes an office bash truly spectacular is the people, the parties that were a bit different to the norm were ones that I remember the most.
This year, get creative and plan an end of year office party in Cape Town that will be remembered by all who attend. I promise, your employees will love you for it!
What is your favourite office party memory so far? Share your thoughts below and let us know!