When the weather warms up, you know it is time to start looking for the best places to go swimming in Cape Town, so that you can cool down with a dip in the ocean, pool or even a dam or river. Luckily, there are quite a variety of swimming options in and around the city. Depending on your preferences, how much (or how little) you're prepared to pay, how far you wish to venture and what sort of mood you're in, finding somewhere to enjoy a nice swim is a lot easier than you'd think.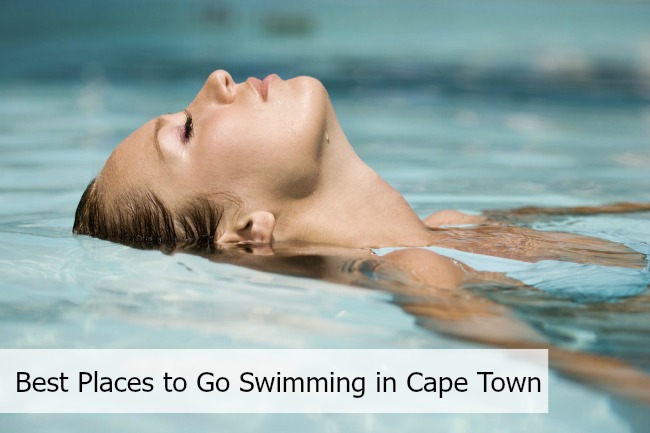 Jumping right into the proverbial cool water, here are some our top picks on where to enjoy swimming in Cape Town in the midst of a heatwave (or at least a nice hot day).
Where to Go Swimming in Cape Town
To keep thing nice and organised, I've broken down your Cape Town swimming options into three different categories: swimming pools, beaches and other bodies of water. The other bodies of water include rivers, dams and other swimming spots that are always good for a dip.
Recommended Accommodation
1. Swimming Pools in Cape Town
This is a basic list of pools open to the public, but please note that costs will vary according to each pool, as well as the season. Opening hours also vary – public pools are generally open daily in the week and over Saturdays, but may not be open on Sundays. Hotel pools may require you to purchase beverages to use their pools.
Sea Point Public Pools – Lower Beach Road, Sea Point Long Street Baths – Long Street, CBD Observatory Swimming Pool – Willow Road, Observatory Newlands Swimming Pool – Main Road, Newlands Batstone Pool – Cape Quarter Square (Fourth Floor), Somerset Road, De Waterkant Park Inn by Radisson Cape Town Foreshore – Heerengracht Street, Foreshore Muizenberg Pool & Water Park – Beach Road, Muizenberg Romney Park All Suite Hotel and Spa – Hill Road, Green Point The Glen Boutique Hotel – Glen Road, Sea Point Trafalgar Swimming Pool – Searle Street, Woodstock
2. Swimming Beaches & Tidal Pools in Cape Town
All Cape Town beaches are technically suitable for swimming. With that said, some beaches are a lot better for swimming than others. The chilly waters on the Atlantic Ocean side (Camps Bay, Llandudno and Hout Bay) can get pretty chilly indeed. This is great on hot days, but if you're looking for something warmer, the False Bay/Indian Ocean side (Muizenberg, Fish Hoek, Boulders) is your best bet. A list of some great swimming spots in the ocean include the following:
Llandudno Beach, Llandudno – while the water is cold, the beach is sheltered and scenic, making it great for lazy beach outings Camps Bay & Maiden's Cove Tidal Pools, Camps Bay – both of these offer sheltered tidal pools that are great for a chilly dip Clifton, 1, 2, 3 and 4 – all of Clifton's beaches are lovely, with cool waters, beautiful people and equally pretty scenery St James Tidal Pool, St James – on the False Bay side, this beloved old pool is always great for a dip Kalk Bay Tidal Pool – situated near Brass Bell in Kalk Bay, this is a great sheltered ocean pool Millers Point, Simons Town – there is a large tidal pool here near the harbour that is great for fishing and swimming Boulders Beach, Simons Town – swim with penguins at this amazing nature reserve!
3. Rivers & Dams in Cape Town
Rivers, dams and various other swimming spots include some that are free, and others that are not. Many dams and lakes are found within nature reserves, so you may have to pay a cover charge to enter the reserve. Others however are free. We recommend doing a bit of homework before you head out to swim, to ensure that you don't get into any trouble.
Silvermine Nature Reserve – on the False Bay side, the beautiful dam of Silvermine is lovely for picnics, and perhaps a dip Solms Delta Delta Wine Estate – in Franschhoek, there is a lovely private river that you can swim in at a cost Berg River Resort – near Franschhoek, the epic Berg River is a fairly major river within the Western Cape Breede River – this huge river runs through a number of small towns, including Bonnievale and Swellendam Crystal Pools – near Gordon's Bay, this popular spot can get busy, but is quite beautiful for swimming Jonkersoek – near Swellendam, this river, braai area and wooded area has a small entry fee (totally worth it) Kwaggaskloof Dam (also spelled Quaggaskloof) – in Worcester, this dam is ideal for swimming and water sports
…
Once again, we recommend taking time to do your homework when choosing a place to swim. Beaches and many public pools, larger rivers and established swimming areas should all be fine with little to no notice, but some hotel pools, private estates and paid swimming options might require more planning.
Now it's your turn. Do you have any great swimming spots in Cape Town that you're willing to share? Let us know in the comments below!