If you've been feeling as hot and bothered as I have lately, you will certainly love this chance to daydream away a summer's day as you check out these amazing Cape Town villas with swimming pools that are far, far beyond the ordinary. From rim flow ocean overlooking beauties to pool patios bedecked with beach bars and hot tubs, and plenty more besides, these pools are nothing short of spectacular!
Join ComeToCapeTown.com on a virtual tour, as we take you to some of our top ranking villas and their beyond-glorious swimming pools. We promise, it's a dip that is sure to refresh and revive, as you daydream about taking that much-needed holiday in the Cape.
Stunning Cape Villas With Swimming Pools
Without further ado, let's leap right into the proverbial waters with these top ten villa swimming pools in Cape Town…
This gorgeous villa is situated in Camps Bay, overlooking the Atlantic Ocean. It takes its name from its ocean and mountain views. With an exotic beach bar, infinity pool, outdoor shower and a palm tree, you can see how easy it would be to while away a few hours at this pool! You can also see why this property is a favourite for photographers and film makers – especially for fashion industry shoots that require a stylish oasis backdrop for summer swimsuit spreads.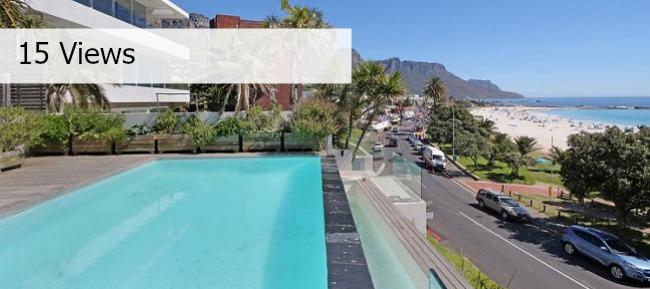 With sweeping views across Camps Bay and the 12 Apostles, it's easy to know why this five-star villa has become one of the most sought-after accommodation options in the area. But is it top pool list worthy, you may be wondering? With features such as Balau Deck and rim flow feature pool, along with a Jacuzzi and outstanding views, we're going to go ahead and say YES.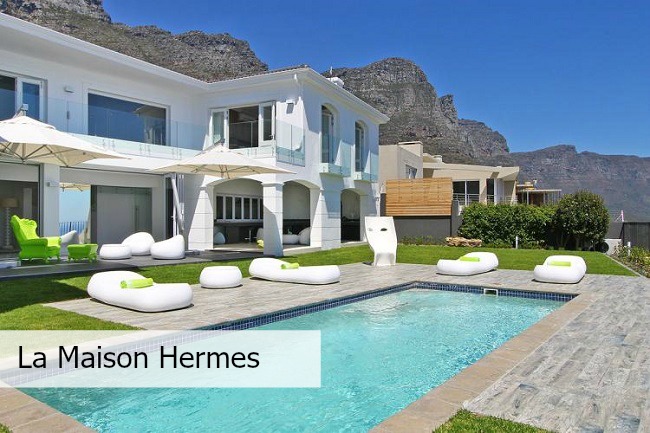 This four-star abode is gracious and elegant, with a huge pool surrounded by designer sun loungers, green lawn and breath-taking views of the mountain. The pool is big enough to swim a few laps, or just float around in the sun as you feel the cool water below. Failing that, you can always chill out pool side with a cocktail as you ponder life's great mysteries from your lounger.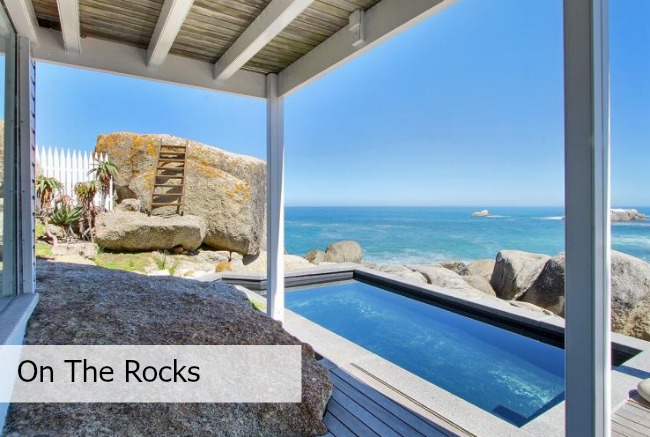 In Bakoven meanwhile, we have this oh-so-cool four-star villa that is named rather aptly, from what the picture shows us. Imagine taking a dip in that pool, flanked by boulders on one side and the glorious ocean on the other, all your cares forgotten… sigh. The rest of the villa looks pretty good too, but that pool is without a doubt the cherry on top.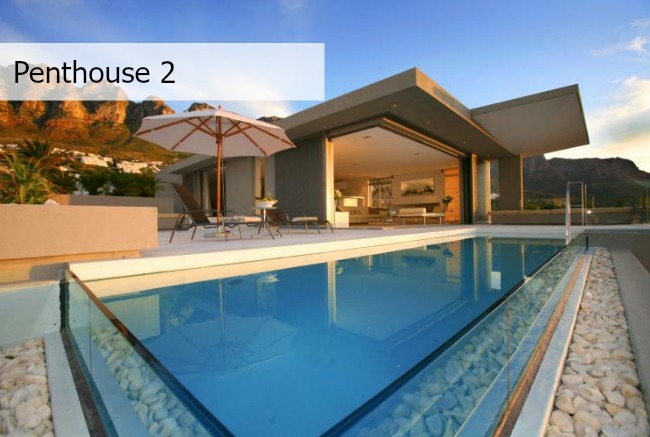 Another four-star stunner, this incredible villa has an equally impressive pool. The 100m2 outside entertainment area has an 8 metre glass fronted pool that looks so inviting, I wish I could jump through my laptop screen right into those cool, refreshing waters. The villa also has five en-suite double bedrooms and all sorts of other ah-mah-zing features, too, it has to be said.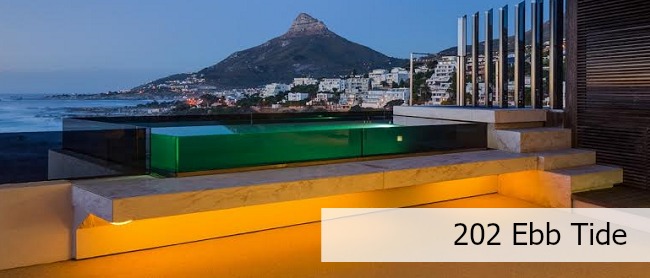 This modern Camps Bay pick has four-star luxury coming out of every feature. In the pool department, we have a glass fronted pool that overlooks the beach and ocean, as well as the mountain. Floor to ceiling stacked glass walls offer indoor-outdoor living at its best, while a host of other sumptuous features add to the dreaminess of this abode.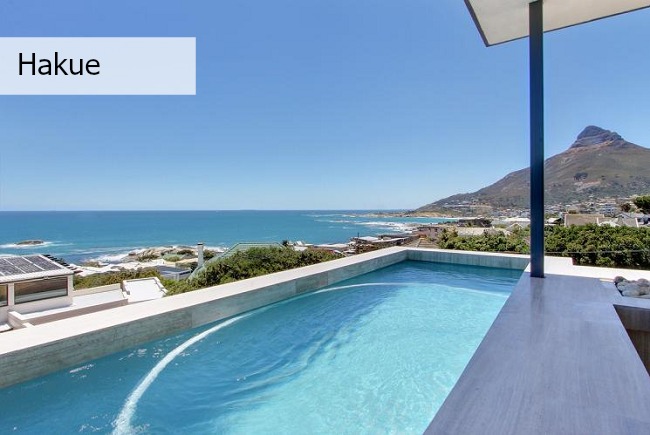 Yet another five-star Camps Bay beauty, this spot has it all – good looks, prime location and views to die for. On the outside, an infinity pool adds plenty of serenity and peace, while indoors, a zen water feature, glass floating staircase and all sorts of contemporary luxuries add to the sense of calm and tranquillity.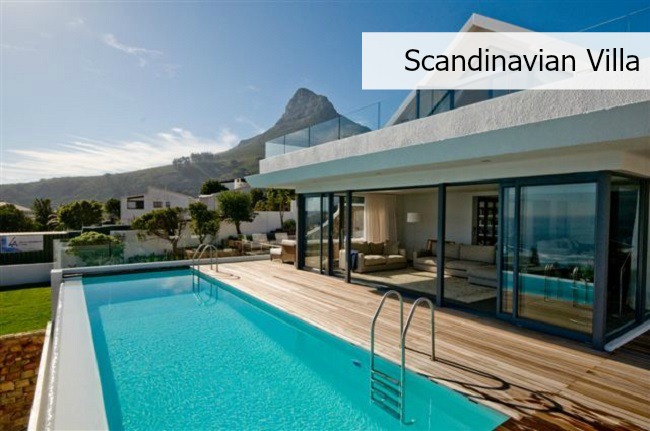 Set on a double plot, and boasting a modern look and feel, this four-star villa lies in Camps Bay. It's open, spacious atmosphere is carried out both indoors and out, with a large deck, swimming pool with views (and heating, for those who prefer warmer water), sun loungers, gas barbecue and even an on-site basketball court offered.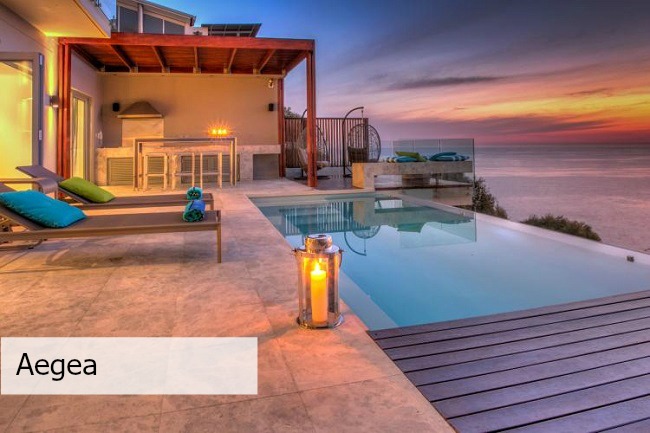 This five-star Bantry Bay abode is everything that a villa should be, and then some. Unobstructed ocean views, a large patio area, rim flow pool, sun loungers, designer egg chairs, gas barbecue and a six-seater outdoor dining table add to the sense of opulence, while lavish showers, beautiful bedrooms and other indoor features will make you feel like you're staying in a palace.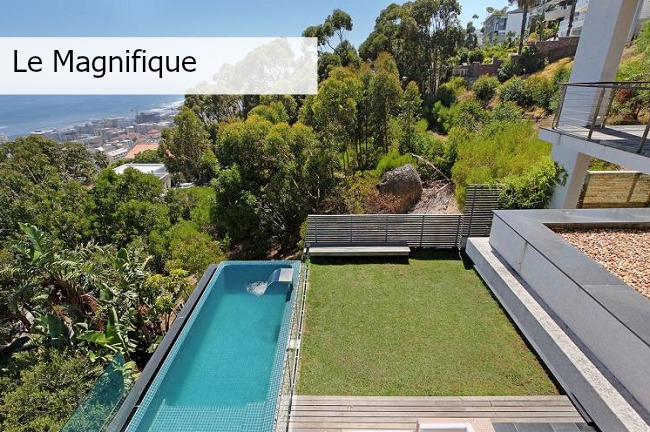 Also in Bantry Bay, this four-star villa is, as the name implies, truly magnificent. A lush garden setting features a swimming pool that overlooks amazing views of garden and sea, with a spacious lawn and patio area that is perfect for a cocktail or two, or an afternoon with a good book. Inside, features are no less exquisite, with plenty to offer in the way of modern luxuries.
…
I don't know about you, but I could totally do with a swim right about now. Aren't these villas stunning, and wouldn't you love to take a dip in one of these villas in Cape Town with pools?  Oh yes, and while we're at it, be sure to check out our list of places to swim in Cape Town, too!