Our guide to the best restaurants in Cape Town takes us across the Mother City on a journey of flavours, aromas and fresh ingredients. In this series, we will be showcasing some of the finest restaurants that the city has to offer, from fine dining establishments to cheerful breakfast haunts and local favourites.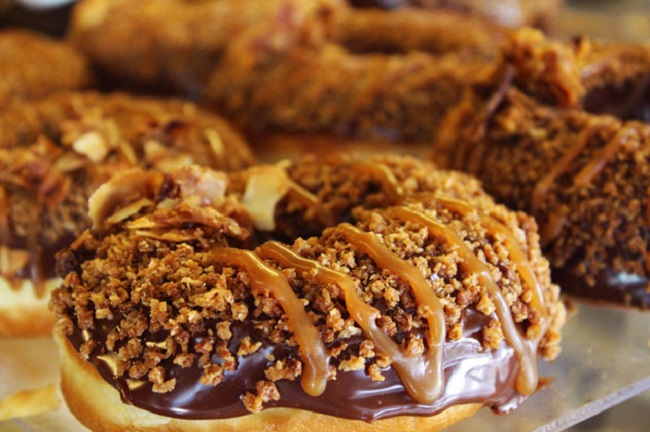 In this installment of our dining guide, we take a look at some of the best restaurants to cater for a sugar craving. Whether you have a major sweet tooth that needs to be filled on the regular, or you are in the mood for something sinfully delicious, these restaurants offer the very best treats. From bakeries to chocolatiers, this list gives you a good variety.
The Best Restaurants in Cape Town… For Dessert
In no particular order, our favourite dessert restaurants in Cape Town include the following:
My Sugar
La Rhone Building, Regent Road, Sea Point / +27 (0)21 433 2335 / Breakfast, Lunch & Dinner
Situated in Sea Point along the beautiful Atlantic Seaboard, My Sugar's name says it all. This chocolate and coffee bar is open from 10h00 until 20h00 daily, making it ideal for breakfast, lunch or dinner. Needless to say, chocolate plays a vital part of their offering. Their milkshakes are legendary, while their cake in a jar is also delightful. Other menu highlights include Chocolate Buddhas filled with caramel, miso and crushed peanut; bonbons; dessert-filled donuts; cruffins (muffin-shaped croissants); chocolate chip cookie brownies and many other heavenly goodies.
Crumbs & Cream
Regent Road, Sea Point / +27 (0)81 591 4974 / Breakfast, Lunch & Dinner
We have shared the wonders of this ice cream sandwich shop before. Crumbs & Cream is relatively new. They have various pop-up shops in malls across the city, including the V&A Waterfront and Cavendish Square. Their flagship store however is in Sea Point, not too far from My Sugar. The simplicity of these treats make for a memorable experience. You have a choice of yummy cookies, and a choice of equally divine ice cream flavours. Purchase two cookies and a scoop of ice cream, and voila – you have an ice cream sandwich. Flavours range from classics such as chocolate, mint and fudge all the way to modern options such as milk tart, churros and red velvet cookies, or Turkish Delight, Nutella, apple pie and lemon meringue ice cream.
The Velvet Cake Company
Loop Street, City Centre / +27 (0)21 286 1082 / Breakfast, Lunch & Dinner
With a brand in Bellville and one in the CBD, The Velvet Cake Co is the ultimate choice for any cake lover. They are open Monday to Friday from 09h00 until 17h00, and on Saturdays from 09h00 to 14h00. They are however closed at certain times of the year (be sure to call ahead on public holidays). With a motto boasting that they have 'cakes for every occasion', it goes without saying that they do cakes really well here. Look out for favourites such as chocolate, carrot, hummingbird and sprinkles to name just a few, or try their colourful velvet cakes. They also offer cake cups and various other sweet and savoury treats.
The Creamery
Beach Road, Mouille Point / +27 (0)21 434 2455 / Breakfast, Lunch & Dinner
The original Creamery is located in Newlands, in the southern suburbs. They have since opened a branch on the Atlantic Seaboard, just a few minutes from the City Centre. This branch is open from 10h00 until 23h00. What makes this an excellent choice of dessert restaurants in Cape Town is its wholesome ingredients and droolicious menu. By focusing their skill on one dish (ice cream), they have managed to create an outstanding experience. Look out for seasonal flavour such as blackberry cheesecake, nectarine and apricot, or try their classics such as sea salt caramel, peanut butter and dark chocolate.
La Petit Tarte
Cape Quarter Lifestyle Village, Dixon Street, De Waterkant / +27 (0)21 425 9077 / Breakfast, Lunch & Dinner
In the heart of De Waterkant meanwhile, lies the French inspired delights of La Petit Tarte. This cafe is open from 08h30 until 22h00 (perfect for late night treats). While they also serve a wide range of savoury dishes, from quiches to pies and mains, their cake menu is what makes this spot worth a visit. Highlights include their Lindt chocolate brownie, carrot cake, pear and almond tart, lemon meringue pie, flourless dark chocolate and Brazil nut cake and baked cheesecake.
_____________________________________________________
In the next guide to the best restaurants in Cape Town, we will take a look at some of the best breakfast restaurants in the city. You can find fine dining restaurants in the first part of this guide, seafood restaurants in the second part, and pizza restaurants in the third part of our dining guide. Stay posted to view the next installment! Looking for additional help? Contact us if you need help planning the ultimate holiday in Cape Town!
Image: My Sugar, via EatOut.co.za