Our guide to the best restaurants in Cape Town takes us across the Mother City on a journey of flavours, aromas and fresh ingredients. In this series, we will be showcasing some of the finest restaurants that the city has to offer, from fine dining establishments to cheerful breakfast haunts and local favourites.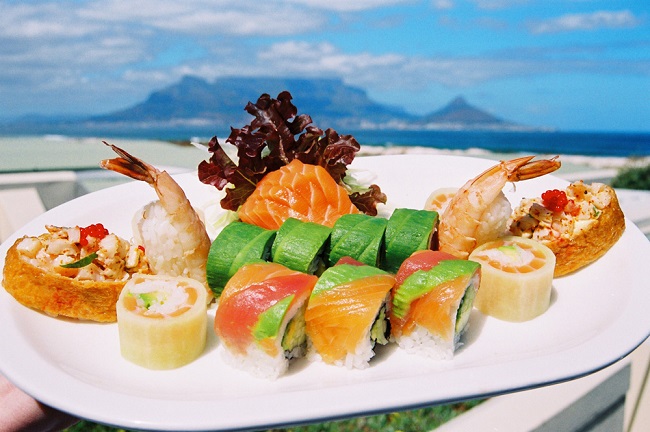 Following on in our guide to the best restaurants in Cape Town, this week we are showcasing some of the city's top seafood restaurants. Whether you're having a major sushi craving, or you simply feel like heading out to enjoy some fresh seafood near the ocean, it goes without saying that the Mother City does seafood well. This makes a lot of sense, considering that we have not one but two oceans on our doorsteps!
The Best Restaurants in Cape Town… For Seafood
In no particular order, our favourite seafood restaurants in Cape Town include the following:
Codfather
The Drive, Camps Bay / +27 (0)21 438 0782/3 / Lunch & Dinner
Situated in Camps Bay, Codfather is an outstanding seafood hotspot that specialises in fresh fish, shell fish and sushi. The atmosphere is laid-back but stylish, with a large open fireplace in the winter months and a team of highly trained staff on call to cater to the needs of each guest. Menu highlights include fresh seafood platters, along with sushi. Be sure to try their spectacular set menu to get the full Codfather experience!
Willoughby & Co
Victoria Wharf, V&A Waterfront / +27 (0)21 418 6116 / Lunch & Dinner
Ideal for… sushi cravings
It may be in the middle of a mall (even if it is the renowned V&A Waterfront!) but Willoughby & Co is still one of the best places to enjoy top notch sushi. This spot has been around since 1996. Head Chef Sam and his team work tirelessly to create a premium experience, with a menu that is sure to appeal to every sushi lover. Look out for highlights such as volcano sandwiches (seared tuna with chilli mayo) and spider roll (soft shell crab wrapped with soya bean paper, served with ponzu sauce and sprinkled with sesame seed) along with the cucumber rolls, tempura and many other heavenly dishes.
Baia
Victoria Wharf, V&A Waterfront / +27 (0)21 421 0935 / Lunch & Dinner
Ideal for… Portuguese style dining
Also in the V&A, you will find Baia – a fabulous spot to enjoy a wide range of seafood dishes. Baia (pronounced Ba-hia and meaning the Bay) is situated on the upper level, overlooking the harbour. Patricio Cumaio, chef de cuisine, has created a menu inspired by a combination of fine continental cuisine and Portuguese specialities. The result is a menu that features dishes such as black mussels in Riesling, squid plate, oysters thermidor, carpaccio, ceviche and many other delights.
Beluga
The Foundry, Prestwich Street, Green Point / +27 (0)21 418 2948 / Lunch & Dinner
Ideal for… cocktails and oysters
With its trendy open courtyard in the heart of Green Point, Beluga offers a wide variety of seafood dishes along with dimsum and sushi. The service is good, the atmosphere is classy and the drinks list is every bit as good as their main menu. While some may call it overrated, this is still one of the best places to enjoy a yummy cocktail or a glass of bubbly, and some fresh oysters or dishes such as prawn tian, pepper-crusted tuna, miso-marinated kingklip and crustacean plate.
Blowfish
Marine Drive, Dolphin Beach, Table View / +27 (0)21 556 5464 / Lunch & Dinner
Ideal for… iconic mountain views
A bit further out of the Cape Town CBD, on the Northern Atlantic Seaboard, you will find Blowfish. This restaurant offers a premium seafood experience, with a menu that caters to all tastes. Better still, it is near Dolphin Beach, so you can head out for a walk on the sand after you've had lunch here. Look out for menu highlight such as bamboo roll, halo roll, queen roll, zebra roll and their delicious kite boarder salad. If you (or your dining partner) crave something other than seafood, there are many other dishes also served here.
__________________________________________________
In the third part of our guide to the best restaurants in Cape Town, we will take a look at some of the best pizza restaurants in the city. You will find fine dining restaurants in the first part of this guide. Stay posted to view the next installment! Looking for additional help? Contact us if you need help planning the ultimate holiday in Cape Town!
Image: blowfishrestaurant.co.za