Our guide to the best restaurants in Cape Town takes us across the Mother City on a journey of flavours, aromas and fresh ingredients. In this series, we will be showcasing some of the finest restaurants that the city has to offer, from fine dining establishments to cheerful breakfast haunts and local favourites.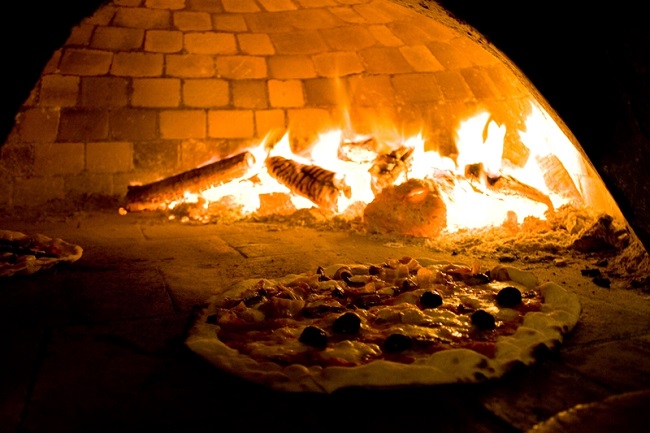 Nothing satisfies quite as well as a seriously yummy, hot pizza that is loaded with plenty of goodness. Whether you are a traditionalist who prefers classic combinations, or someone who likes to experiment with flavours, there are a number of excellent pizza restaurants in Cape Town worth exploring. In this mini guide, we take a look at some of our top picks for pizza in Cape Town.
The Best Restaurants in Cape Town… For Pizza
In no particular order, our favourite pizza restaurants in Cape Town include the following:
Massimo's
Oakhurst Farm Park, Main Road, Hout Bay / +27 (0)21 7905648 / Lunch & Dinner
A much-loved institution in the Mother City, Massimo's has a fantastic pizza menu that is enhanced by a laid-back vibe, friendly service, a good drinks menu and a tranquil location in Hout Bay. Look out for yummy pizza options such as Genovese (garlic butter, fresh herbs, mozzarella and basil pesto), Hot Latina (tomato, mozzarella, chorizo, smoked Portugese salame, red onions and fresh chili), and Pancetta (tomato, mozzarella, Italian pancetta and pan-fried mushrooms) to name just a few. Proceeds from many of their pizzas go towards local charities.
Da Vinci's on Kloof
Kloof Street, Gardens / +27 (0)21 424 7504 / Lunch & Dinner
Branching off from their original restaurant in Harfield Village, the Kloof Street Da Vinci's is central and welcoming. The menu includes a variety of dishes, but their pizza is truly legendary. Every pizza is named after a famous artist, with pizza highlights that include Michelangelo (Camembert, cherry tomato and cranberry jelly), Picasso (bacon, banana and garlic), Pavarotti (Italian meatballs and peppers) along with many other scrumptious options.
Dizzy's
The Drive, Camps Bay / +27 (0)21 438 2686 / Lunch & Dinner
Dizzy's is a popular local haunt famous for its karaoke nights and its incredible wood fired pizza. Look out for classics such as Pork u Pine (bacon and pineapple) and Vegetariana (olive, onion, green pepper, feta and sundried tomato) along with innovative options such as Impi (chicken, mushroom, feta, onion marmalade and avo), The Warrior (Bolognaise, onion, pepper and chili) and Kiara (salami, feta and olive). They also offer pizza wraps with a few of their top rated pizzas.
Bardelli
Kloof Street, Gardens / +27 (0) 21 423 1502 / Lunch & Dinner
While Bardelli specialise in many Italian dishes done to perfection, their wood fired pizza is a must-try. This restaurant has a cosy courtyard garden with an even more welcoming inside dining area. On the menu are delicious pizzas such as Mediterranea (feta, olive, spinach, sundried tomato and sesame seeds), Pablo (tomato, bacon, feta and rosemary), Donatell0 (ground beef, onion and tomato) to name just a few of the drool-worthy picks.
Gino's
De Kelder, Dorp Street, Stellenbosch / +27 (0)21 887 9786 / Lunch & Dinner
In the heart of the Cape Winelands, you will find Gino's – an authentic Italian eatery that specialises in pizza. Menu highlights include Campagnola (salami, mushroom and olives), Fegato (chicken livers diavolo and mozzarella), L'Africana (biltong and chilli), Marinara (seafood mix) and Salsiccia (Italian sausage), along with many other innovative options.
_________________________________________
In the next guide to the best restaurants in Cape Town, we will take a look at some of the best dessert restaurants in the city. You will find fine dining restaurants in the first part of this guide, and seafood restaurants in the second part. Stay posted to view the next installment! Looking for additional help? Contact us if you need help planning the ultimate holiday in Cape Town!
Image: Massimo's (www.pizzaclub.co.za)