Our guide to the best restaurants in Cape Town takes us across the Mother City on a journey of flavours, aromas and fresh ingredients. In this series, we will be showcasing some of the finest restaurants that the city has to offer, from fine dining establishments to cheerful breakfast haunts and local favourites.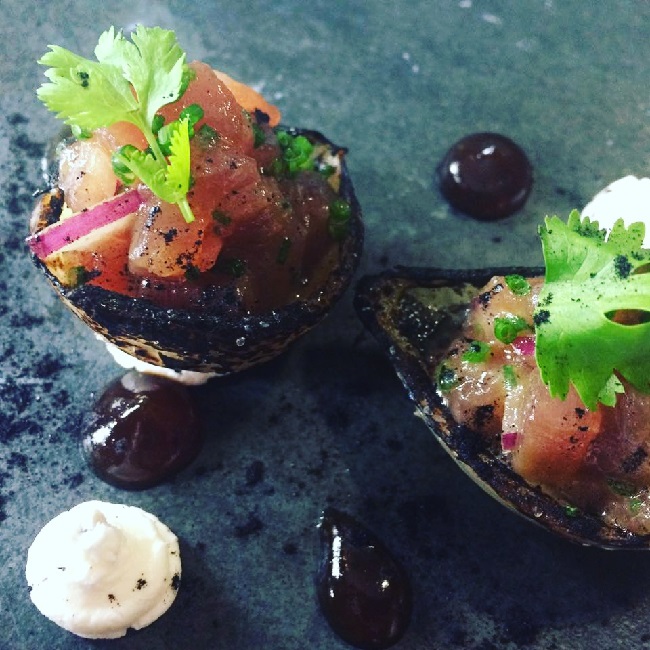 In the first part of our Cape Town restaurant guide, we are focusing on fine dining. Not surprisingly from a city famous for its winelands and cuisine, fine dining plays a vital role in the Cape. The city is home to a number of five-star establishments across the peninsula. From trendy city eateries to award-winning wine estate restaurants, you will never have to travel too far to enjoy a flawless meal.
The Best Restaurants in Cape Town… For Fine Dining
Our top five picks for best restaurants in Cape Town include these fine dining hotspots…
1. La Colombe
Ideal for.. fine dining in a vineyard setting
Silvermist Wine Estate, Constantia Main Road, Constantia / +27 (0)21 795 0125  / Lunch & Dinner
Open Monday to Sunday for lunch (12h30 – 14h00) and dinner (19h00 – 21h30), La Colombe is one of the top-rated restaurants in Cape Town. This restaurant lies in the heart of the Constantia Winelands, serving a seasonal menu that combines unexpected flavours for maximum effect. Cuisine has a French flair with a contemporary Asian twist. Menu highlights include seafood, meats and vegetarian options, along with decadent sweet treats. Wine pairing is also offered.
2. Chef's Warehouse & Canteen
Ideal for… foodies looking for a sophisticated dining choice
92 Bree Street, City Centre / +27 (0)21 422 0128 / Lunch & Dinner
Located in the Cape Town CBD Chef's Warehouse & Canteen is open from Monday to Saturday for lunch (12h00 – 14h30) and dinner (16h30 – 20h00). This trendy CBD eatery is the brain-child of chef Liam Tomlin. Look out for heavenly menu highlights such as Vietnamese rice paper rolls and duck confit with lentil du puy, along with roasted bone marrow, saffron risotto and barbeque pork pancakes to name just a few of the world-class dishes available here. This spot is a must-visit for foodies who want a superior dining experience.
3. The Test Kitchen
Ideal for… a truly creative fine dining experience
The Old Biscuit Mill, 375 Albert Road, Woodstock / +27 (0)21 447 2337 / Dinner
Luke Dale-Roberts' The Test Kitchen is open from Tuesday to Saturday for for dinner. The restaurant comprises two sections – Dark Room and Light Room and caters to a maximum of 40 guests per evening. Bookings are, needless to say, essential. It is well worth planning for an evening here. The menu changes frequently, with contemporary dishes ranging from liquorice cured Wagyu biltong to pork scratching, quail sandwich, vegetarian menus and their legendary Millionaires Shortbread.
4. La Mouette
Ideal for… serious foodies who like to sample delicious flavours
78 Regent Road, Sea Point / +27 (0)21 433 0856 / Lunch & Dinner
La Mouette is open Monday to Sunday for dinner, from 18h00 until 22h30 (kitchen closes at 22h00), and Saturdays and Sundays for lunch from 12h00 to 15h00. Their tasting menu is famous, offering a spectacular six course seasonal menu for summer and winter. The menus change frequently, with highlights such as tuna tartare taco, crispy lamb shoulder, croquettes, Tandoori cauliflower, line fish, Cape Malay dessert and many other yummy offerings. They also offer wine pairings.
5. The Shortmarket Club
Ideal for… trendy foodies who appreciate wholesome dishes
88 Shortmarket Street, City Centre / +27 (0)21 447 2874 / Breakfast, Lunch & Dinner
The Shortmarket Club is open Monday to Saturday for lunch (12h30-14h00) and dinner (19h00-22h00), and Friday to Saturday for breakfast (08h00-10h30). With its stylish vintage theme and heavenly menu, which includes a host of superb dishes such as organic boiled egg and toast soldiers, crispy pig cheek, local sustainable fish, pan-friend duck breast, potato churros, chocolate fondant and other delights, this is the ideal spot to indulge in some serious food worshiping.
____________________________________________
In the second part of our guide to the best restaurants in Cape Town, we will take a look at some of the best seafood restaurants in the city. Stay posted to view the next installment! Looking for additional help? Contact us if you need help planning the ultimate holiday in Cape Town!
Image: lamouette-restaurant.co.za