You may have heard the buzz recently about the brand new ice cream sandwich shop in Cape Town. Called Crumbs & Cream, this little slice of heaven brings a fun touch to the fine art of ice cream enjoyment. The concept is simple enough – there are a variety of cookies, and there are a variety of ice cream flavours. All you need to do is take your pick of cookies and ice cream, and voila… you have a super delicious ice cream sandwich.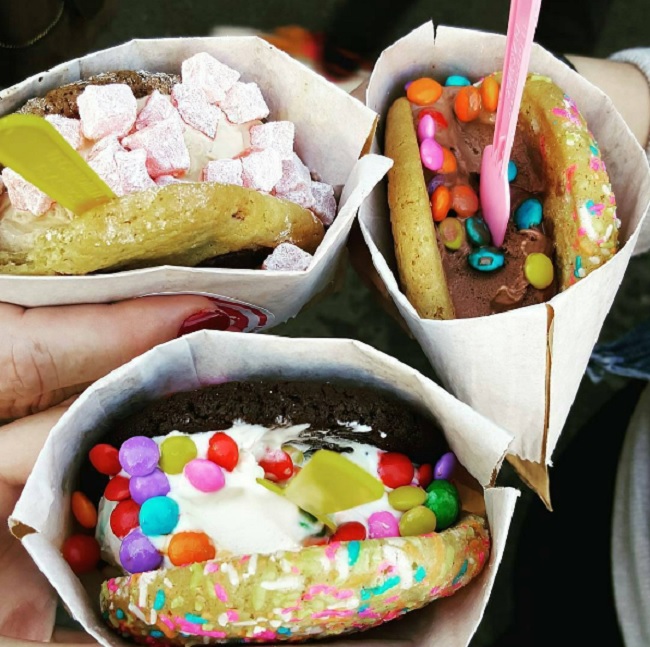 With summer on its way, we could certainly do with more places to enjoy ice cream in Cape Town. And, the quirky style, delicious flavour combinations and simplicity of this fresh spin on frozen dessert is something that every ice cream lover will adore.
Why You Really Should Check Out Crumbs & Cream in Cape Town
Here are a few important need-to-knows about Crumbs & Cream in Cape Town:
Where to find them…
There are a few branches across the city. You can find them at 16 Regent Road in Sea Point, and there's also a truck based at the V&A Waterfront (Watershed), as well as a pop-up cart in Cavendish Square (lower ground level). The Sea Point shop is open daily from 09h30 until late (23h00 on weekends; 22h00 from Monday to Thursday). The Waterfront truck is open daily from 10h00 to 18h00, with the Cavendish one open from 09h00 t0 19h00 from Monday to Saturday and 09h00 to 17h00 on Sunday.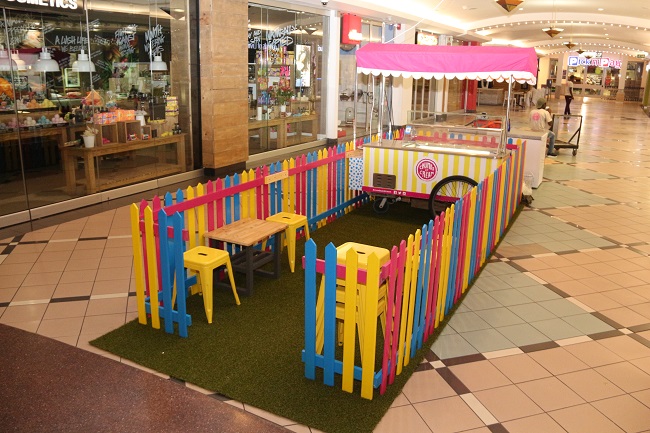 What flavours are offered…
At the Sea Point shop, you will find a massive selection of flavours. The trucks have a small but excellent selection. The ice cream is high quality gelato, made from real cream and fresh ingredients. Flavours for the ice cream include chocolate, mint, vanilla, caramel, coconut, strawberry cheesecake, tiramisu, rum raisin, Turkish delight, caffe latte and even more exotic options. They also offer sorbet, vegan and sugar free options. For the cookies, there are an equally huge variety of flavours. About 12-16 cookie options are available at the Sea Point shop, while 5-7 options are available at the trucks. Flavours range from chocolate, peanut butter, red velvet and white chocolate to health cookies, vegan cookies and plenty of other options.
How it works…
You pay per scoop of ice cream and per cookie. Ice cream scoops cost between R25 and R60 for up to three scoops, while cookies cost R12 each. For a Crumbs & Cream ice cream sandwich (two cookies and a scoop of ice cream), it costs R35. You can add toppings as well (these range in price). There are also special deals on bulk orders, and cookies and coffee combos. Sandwiches are placed into a grease-proof bag, you're given a small spoon and you then get to devour your ice cream sandwich.
Why you'll love it…
If you like ice cream, you will love this concept. The Cape Town food scene is blossoming, as new and original food experiences continue to be offered. From craft beer to tea bars; street food trucks to tapas, what this means for all of us is a chance to enjoy good food in unusual ways. With spring in full swing and summer nearly here, we could all benefit from finding new ways to enjoy frozen treats. Pop-up stores at major malls meanwhile make it easier to enjoy something yummy on the go.
_____________________________________________________
All in all, the Crumbs & Cream ice cream sandwich shop in Cape Town should certainly be something to add to your 'to-visit' list. Trust me… you'll be glad you went! For more details, you can visit www.crumbsandcream.co.za or contact +27(0)83 659 4439 or [email protected]