In a city blessed with beautiful beaches, cosy restaurants, outdoor wonders and plenty of world-class attractions, there is no shortage of things to do on Valentine's Day in Cape Town… if you know what to look for, that is! Whether your beloved is the kind who loves expensive champagne, good dinners and elegant entertainment, or someone who prefers to be doing something laid-back or unusual, or you both want to try something different this year, our list of Valentine's Day ideas for 2016 are sure to offer some inspiration.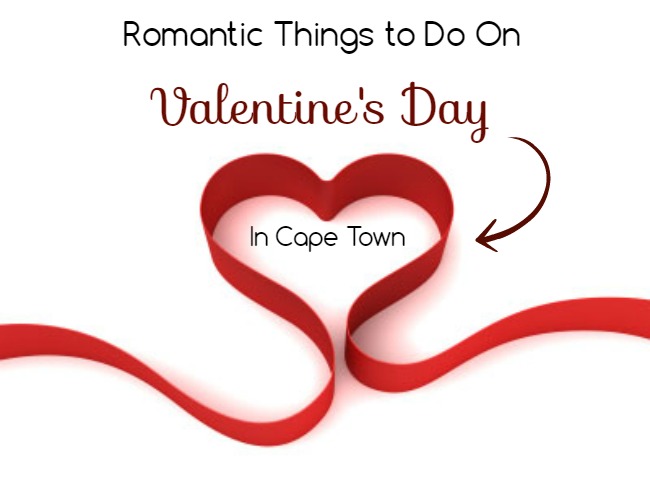 Catering to all tastes and budgets, our V Day list has something for everyone… making sure that this coming 14 February is a date to remember.
Wondering What to do on Valentine's Day in Cape Town? Try One of These Ideas…
Tired of doing the same old chocolates-dinner-and-movie date? Stuck for fun ideas that won't break the bank? Here are some of our top picks for romantic Valentine's Day date ideas in Cape Town.
1. Watch Casablanca at the Galileo Open Air Cinema – Nooitgedacht Wine Estate, Stellenbosch. In the picturesque setting of the Cape Winelands, you can watch one of the most beloved movies of all times under the stars, as you also enjoy a picnic, fine wines and warm summer breezes. Tickets are R190 per person (available via TheGalileo.co.za) – for details contact The Galileo on +27 (0)71 471 8728.
2. Visit the Love Market at D'Aria – D'Aria Wine Farm, Durbanville. On the Durbanville Wine Route meanwhile, the lovely setting of D'Aria is where a special market will be held. The market takes place on Saturday 13 February 2016, so is technically part of a Valentine's Weekend more than the actual day itself, but with gifts, food, wine, picnics and other treats, this is a great way to begin a weekend of love. Entry tickets start at R30 per person with packages offered via Webtickets. For details contact + 27 (0)836025119 or [email protected].
3. Watch Valentine Under the Stars at Century City – The Square, Century City Conference Centre, Milnerton. Featuring the Cape Town Philharmonic Orchestra, soprano Magdalene Minnaar, soprano Lynelle Kenned, tenor Jonathan Roxmouth and the Gugulethu Tenors, and hosted by Katlego Maboe, this event is a joyous celebration of passionate music. Tickets cost R290 per person (available via Computicket) with special VIP packages also offered at R1500 per person (includes food, drinks and access to VIP area). For details, contact  [email protected] or visit valentinestars.co.za.
4. Enjoy Valentine's Day at Cape Town Comedy Club – The Pumphouse, V&A Waterfront. A three-course menu, cash bar and plenty of belly laughs offer a taste of what you can expect from this leading comedy venue on the day of love. The show kicks off at 18h00. Tickets start at R120 per person (comedy show only) with dinner and comedy show prices to be confirmed. Tickets are available via Computicket. For more info, contact [email protected] or +27(0)21 418 8888.
5. Celebrate Valentine's Day at Spier – Spier Wine Estate, Stellenbosch. With a screening of Sleepless in Seattle, along with delicious bubbly and a yummy picnic basket, Spier is where you can spend a relaxing pre-Valentine's evening with your beloved on Saturday 13 February. The picnic begins at 1800, with movie screening at 20h00. Packages cost R500 per couple, and bookings can be made via Webtickets.com. Contact +27 (0)21 809 1100 or  [email protected] for details.
6. Savour a Secret Valentine's with [spasie] – Top Secret Location, Cape Town. Join executive chef Nicolas Charalambous, and savour his signature a la carte [spasie] menu at an intimate, top secret dining affair in the city. The venue will only be disclosed to those who have secured their places, but with delectable treats on offer and fine bubbly to enjoy, this is sure to an unforgeable event. The four-course menu R450 per person (excludes wine pairings). To book, contact +27(0)21 422 1492 or [email protected].
7. Indulge in a Valentine's Dinner at Savour Restaurant – African Pride, 15 on Orange, Gardens. Enjoy a world-class dining experience at one of the city's top restaurants, along with drinks, entertainment and plenty of glamour. This is a great choice for those with a love for good food! Dinner packages cost R495 per person (includes complimentary glass of bubbly). Contact +27(0)21 469 8000 or [email protected] to book.
8. Enjoy a Valentine's Picnic at Boschendal – Boschendal Wine Estate, Franschhoek. In the Cape Winelands town of Franschhoek, a leisurely picnic awaits. Between 12h00 and 15h00, picnic-goers can listen to the Palm Strings duo, with delicious picnic baskets and good bubbly also on the cards. Baskets cost R520 to share. There are other treats to enjoy, including the shop and gardens, and even a food garden tour (R150 per person). For more info and bookings, contact [email protected] or +27(0)21 870 4274.
9. Experience a Month of Love at Twelve Apostles – Twelve Apostles Hotel & Spa, Camps Bay. One of our favourite places to indulge the senses, Twelve Apostles has a great line up this February. From the Amour at Azure Restaurant five-course menu (lunch or dinner) to an I Love You themed Tea by the Sea menu and a special Valentine's lunch buffet on 14 February, packages range from various prices. The February Valentine's menu is set at R695 per person, the I Love You Tea by the Sea menu costs R215 per person (R240 on 12, 13 & 14 February), the Valentine's lunch buffet is R340 per person and the five-course dinner is R955 per person. To book, contact +27(0)21 437 9029 or [email protected].
10. Unwind at The Piano Bar – Napier Street, De Waterkant. Take it down a notch with some laid back music, tapas and dessert at The Piano Bar. This venue is intimate, cosy and ideal for a chilled night out with someone special. The tapas offer costs R155 per person and includes strawberries and a glass of bubbly. Booking is recommended – contact +27(0)21 418 1096 or [email protected].
…
Looking for more things to do on Valentine's Day in Cape Town? Check out our list of budget friendly Valentine's ideas, plan the ultimate romantic escape, plan a Valentine's escape, find things for couples to do in Cape Town or celebrate a month of love for even more ways bring on the romance this February 2016.
Now it's over to you. How do you plan to spend your Cape Town Valentine's Day this year? Leave your ideas in the comments below!