If you are thinking of surprising your beloved with a special Valentine's Day holiday in Cape Town, now is the time to start putting some plans into motion. While every day should be romantic and filled with giving and receiving of love and gifts (in our book, anyway), February 14th is an extra special day where romance is concerned. This year, instead of cheesy flowers and candy or generic teddy bears in cups covered in hearts, surprise the person in your life with a carefully planned retreat in the beautiful Mother City!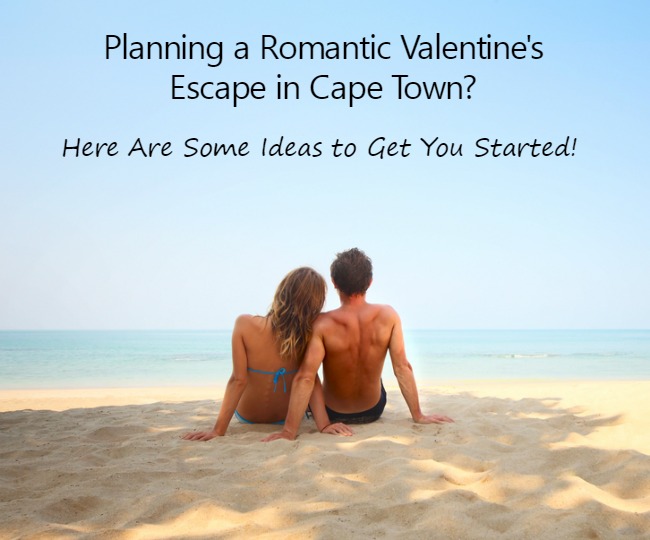 Whether you are a local residing in the city, or you are living abroad and aiming to visit over February, you can take advantage of the many romantic attractions, blissful beaches and luxurious villas found from coast to coast to plan the best Valentine's Day in Cape Town ever.
Plan a Romantic Escape for Valentine's Day in Cape Town
Ready to get rolling? Here are some of our top picks on the most romantic things to do on Valentine's Day in Cape Town and surrounds…
1. Hire a luxury villa for the weekend.
Valentine's Day 2016 falls on a Sunday, which gives you an entire weekend of luxury, pampering and quality time with your love. What matter way to max out every possible moment than hiring a villa all to yourselves? With so many outstanding options to choose from across the city, you could opt for an ocean facing villa in the suburb of Camps Bay, a quiet and tranquil villa overlooking the beaches of Clifton, a peaceful villa tucked away in a garden setting in Constantia or even something in the Cape Winelands. Whether you prefer the beaches of Atlantic Seaboard or the warm waters of False Bay, the quiet privacy of the southern suburbs or anything in between, you are sure to find your ideal choice in our selection of world-class accommodation.
2. Hire a personal chef and/or butler.
If you really want to go all out, consider hiring your own private chef or a personal butler during your stay. This will allow you to focus on enjoying your stay without having to do any cooking at all. Meals will be made to your preferences by an expert chef, who can make all of your favourite things to eat. A private butler meanwhile may seem a bit over the top, but just imagine how amazing it would be to have cocktails and meals delivered by hand and your every need met with efficient service.
3. Plan a rewarding itinerary for you and your partner.
Even if you only decide to focus on planning a romantic day or two for you and your partner, you are sure to find a good selection of activities that put you both in the mood for loving. Horse back riding on Noordhoek's Long Beach, wine tasting in the Cape Winelands, cooking lessons in the City Centre, long walks on any of the world-renowned beaches in Cape Town, wining and dining at the many outstanding restaurants in the city, vintage car wine tours (preferably with an included chauffeur!), hot air balloon rides, helicopter rides, shark cage diving, safari game drives, golfing, boat trips and so much more awaits! Choose as many activities as you like, and start planning a day or two filled with learning, fun and enjoyment.
…
Now that you have some idea on how to celebrate Valentine's Day in the Cape, it's time to get those plans made, pronto. If you need any further input as far as activities, accommodation and entertainment go, let us know how we can help you plan a V Day weekend to remember!
How will you be spending the day of romance in Cape Town? Share your ideas below and let us know!