Earlier this year, we brought you some ideas on how to Plan the Ultimate Romantic Escape in Cape Town, and today, we have even more romance in store with a list of fun and romantic things for couples to do in Cape Town. While spoiling your significant other is something that should be done all year round, sometimes you may find yourselves doing the same thing every date night. Of course, simply being in your loved one's presence makes for a memorable date, planning something special will give both of you even more reasons to grin like crazy teenagers about to sneak that first kiss.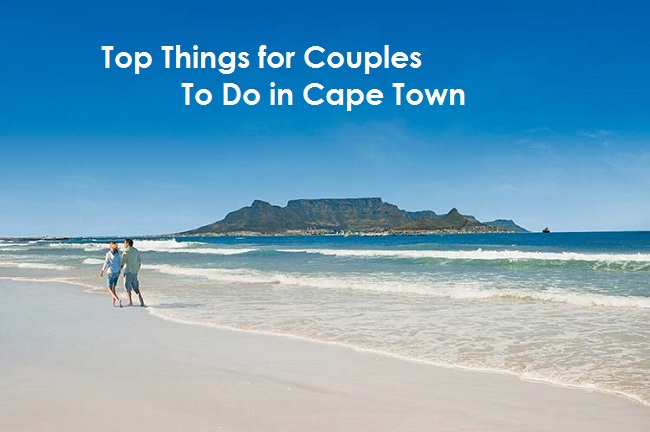 Really want to go all out? Why not encompass all of these ideas into a romantic holiday for two in the beautiful Mother City, as you escape the hum drum of everyday life and head out to enjoy time together that is uninterrupted by things like work, obligations and other demands. Leave the kids at home with the grandparents (or leave the cats at home with someone who is willing to cat sit), and enjoy your time as a couple. Whether you have a week or more to spend, or you can only get away for a few hours, you are sure to love these bonding activities for couples in the beautiful city of Cape Town.
Fun & Romantic Things to Do in Cape Town… As a Couple
Perfect to enjoy just about any time of year, our top picks for romantic date ideas include the following:
1. Boat Cruises. From the Waterfront, you can enjoy a huge variety of boat cruises that range from champagne breakfast cruises all the way to sunset cruises, whale watching cruises, fishing cruises, scenic cruises and many others besides. We suggest stopping past the Waterfront Boat Company that is based within the V&A Waterfront to get an idea of which cruises will appeal to your preferences, so that you can do a bit of planning before booking. For last-minute cruises however, a sunset cruise is without a doubt your first choice!
2. Private Picnics. There are a good number of picnic spots to be found across the peninsula. These include well-known gardens such as Kirstenbosch Botanical Gardens and Green Point Urban Park as well as private wine estates in the Constantia Winelands and the Cape Winelands. Many wine estates such as Groot Constantia and Zevenwacht Estate in Stellenbosch offer special picnic basket meals, that can be enjoyed on a grassy lawn overlooking the vineyards. Other public areas such as parks, gardens and nature reserves have the option to bring a picnic along with you when you visit. This even applies to the beautiful penguin colony of Boulders Beach in Simons Town – please note however that no alcohol is permitted on designated nature reserves; including this beach.
3. Peaceful Beaches. While we're on the topic of beaches, there are many to choose from in this city – not all of them busy and noisy, either. Your best bets for quieter beaches include Llandudno, Cape Point, Noordhoek (you can ride horse on the beach here too!) and Blouberg. Camps Bay and Clifton's four beaches are equally beautiful, but can be busier if you are looking for something more peaceful and secluded. You may also want to think about heading out of the city itself to explore the gorgeous coastal areas that lie within the greater Western Cape Province. These include popular whale watching town Hermanus as well as the more low-key Betty's Bay, plus Gordon's Bay and Rooi Els.
4. Shark Cage Diving. Keen to get your hearts racing in another way? Shark diving is just the way to do so! There are a number of excellent operators in the city, but whomever you select, be sure to check that they are licensed and fully regulated. We also advise choosing operators who adhere to environmental best practices. One of the best places to see Great white sharks is Gansbaai, which is home to the infamous Shark Alley – a noted shark 'hang out'. A dive tour takes much of a full day, leaving early in the morning and returning in the late afternoon. Lunch, beverages and snacks are provided along with wet suits, masks and other gear and you do not have to have a scuba qualification to enjoy this activity.
5. Spa Pampering. Whoever said that real men can't enjoy a good pampering clearly have never been to a spa in the Cape. Man or woman, there is something sensual, indulgent and infinitely restful about enjoying a couples spa day together. And, with a huge number of world-class spas on offer, you can get on to the massage, facials, saunas and other good stuff as fast as you can say 'make us a booking'. One of the top spas in the city is found at the Twelve Apostles Spa & Hotel in Camps Bay – we recommend trying them out for starters.
 6. Acro Yoga. If you have not ever heard of or seen this incredibly beautiful partner yoga style, you will be mesmerised at its ballet-like grace and fluidity. Working in teams of two, this partner yoga is based on traditional practices but involves plenty of fun moves such as flying. A fair amount of trust is involved, and it is certainly a bit of a challenge. For yoga lovers as well as other active couples who like to try new things, this is sure to be a rewarding way to spend time together. Many studios are starting to offer acro yoga classes, including Air Yoga in Woodstock.
…
Still looking for romantic date ideas? Never fear – we have you covered. While our full list of activities may not be totally focused on romance and dates, you can easily adapt these things to do in Cape Town to suit your needs. Want to really plan something special? Take a look at our fantastic selection of luxurious accommodation in and around the city and surprise your loved one with a stay at a villa overlooking the ocean, a trendy apartment in the coolest part of town or a garden-facing cottage in the Constantia Winelands. If you need any help planning a romantic holiday, let us know and we will do everything in our power to help you get started!
P.S. We'd love to know what you think… what are your top ideas for romantic things for couples to do in Cape Town? Share your ideas and let us know how you like to spend your "couple time"!