Love it or hate it, Cape Town summer is all about sizzling hot days of sunshine, blue skies and warm evenings. While the early summer months from October to December are warm enough, temperatures really start to rise from January to March. For many visitors (especially those from the far cooler northern hemisphere), surviving the hottest of hot days in Cape Town can seem like a big challenge, but luckily, as most locals know, there are a number of ways to stay as cool as a cucumber even when the temperatures hit past the 30 degree Celsius mark.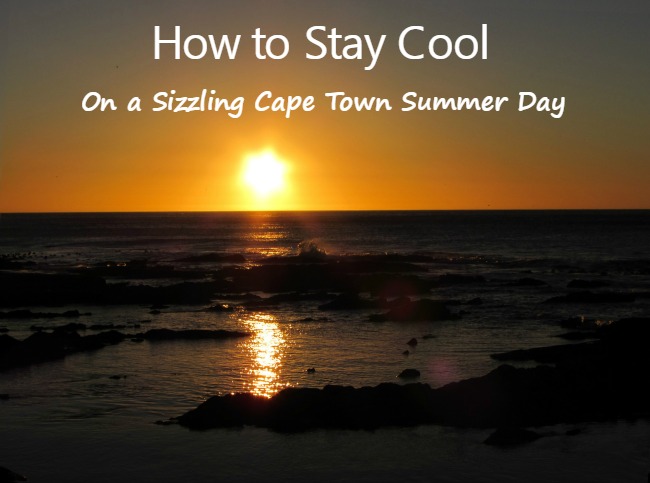 If the heat is starting to get to you, read on to find out how you can keep cool and comfortable during the hot summer days (and nights)!
Staying Cool During Sizzling Cape Town Summers
Luckily, most accommodation venues in the city offer air-conditioned rooms that are designed to keep visitors as comfortable as possible. In fact, almost every villa, apartment or self-catering unit you will find here at ComeToCapeTown.com provides you with super airy, cool lodging that ensures welcome relief from the hot rays of the sun. If you're heading out and about, or you are looking for ideas on beating the heat, here are some of our top tips for surviving a heatwave in Cape Town.
1. Dress the part. You don't have to bare all to stay cool, but wearing jeans and long sleeved shirts or fabrics that do not allow air to circulate is a sure way to feel the heat. Wear loose, comfortable clothing made of light-weight fabrics. Shorts, tee shirts, sandals (make sure that they are comfortable enough for walking though – the last thing you want to deal with on a hot day is blisters!), sun hats, sun glasses and other clothing that is suitable for hot temperatures is ideal. Don't forget your sunscreen either!
2. Stay hydrated. Drink plenty of water so that you stay refreshed. Cool drinks, artificial fruit juice and fizzy drinks do not count, as they contain sugar and other chemicals, but small amounts of fruit juice will also help quench your thirst. Alcohol should be consumed in moderation however. In hot weather, alcohol is absorbed into the blood stream a lot faster than usual, which means that your usual two drink limit might have you feeling a lot tipsier than it would on a cooler day. Invest in a decent quality water bottle (the bigger, the better) and keep it with you at all times. Bottled water is also readily available at every corner cafe, restaurant, bar and grocery store.
3. Avoid being out in the sun at peak hours. If you are used to hot temperatures, you will likely not find it too uncomfortable to be outside during the hottest part of the day. If you are used to cooler temperatures though, you may want to stay out of the sun between the hours of 12h00 and 14h00. Try to plan your day so that you are indoors or under shade, or at least somewhere that offers some sort of ventilation, fan or air-conditioner.
4. Wait until late afternoon to visit the beach. Once the sun has started to drop a bit, temperatures also start to cool down. Late afternoon is an ideal time of day to head to the beach, as this time is far more pleasant. You will be able to relax and enjoy the beauty of Cape Town's top beaches without having to risk the harsh sun beating down onto the hot sand. As an added bonus, you'll also get to watch a spectacular sunset over the water.
5. Go for a swim. We recently published a great list of places to swim in Cape Town. The list includes everything from swimming beaches, rivers, pools and other ideas that help you find out where to take a dip to cool off. You should also check out our equally useful post on villas with swimming pools, which highlights some of our most epic villas with swimming pools that are simply out of this world.
…
However you plan to cool down this summer in Cape Town, I hope you enjoy the warm weather while it lasts. Before we know it, winter will be around the corner again and we'll all be longing for these endless summer days!
How do you cool off in summer? Share your ideas below and let me know!