Cape Town summer holidays 2015 are officially here, with many schools closing for the year. Families planning a holiday here may be wondering how on earth to keep little ones busy during the holidays. But even local parents might need some tips to stay sane over the crazy season. So, with that in mind, I thought it would be a good time to find some fun ideas such as holiday programmes, shows, activities and other interesting kid-friendly things to do in Cape Town.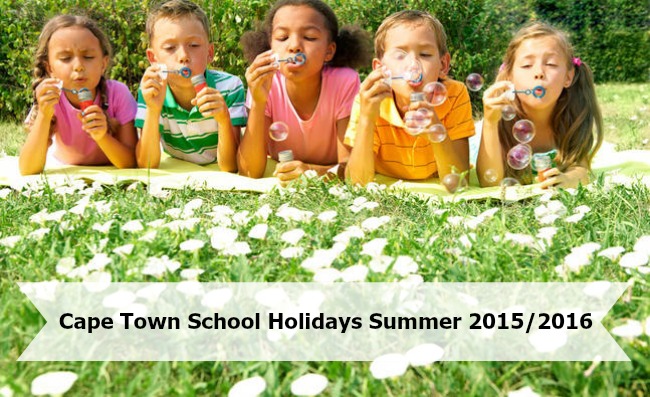 Please note that we do our best to bring you information that is accurate. All info is correct at the time of publishing, but please take the time to contact any of the providers or venues below if you want any info that is not provided. You are also more than welcome to send us any tips or pointers – either for cool ideas that are not listed or for any listings that have changed.
Cape Town School Holidays 2015/2016 – Keeping Kids Busy This Festive Season
Ready to rock and roll? Here are our top picks for Cape Town school holidays 2015/2016. Enjoy!
22 November 2015 – 6 March 2016 – Titanic: The Artifact Exhibition @ V&A Watershed, Waterfront. This international exhibit showcases one of history's greatest ship wrecks and is fascinating for all ages. 09h00 – 18h00 daily (excluding Christmas). Various packages available for adults, kids and families, from R85 to R125 per person/group. Contact  +27 (0)78 236 3780 or info@exporsa.co.za.
28 November 2015 – first week of January 2016 – Cherry Picking @ Klondyke Farm, Ceres. 08h30 – 16h30 daily (closed on Christmas Day). R20 per person to enter (children under five years enter for free); R50 per kg of cherries picked. For more info, contact Klondyke Cherry Farm on +27 (0)23 312 1521 or  info@klondyke.co.za.
9 December 2015 – 9 January 2016 – Bangalory's Back @ Baxter Theatre, Rondebosch. Ideal for kids aged between five and 12 years, this magical family puppet/music/comedy show is highly entertaining. 10h00 – 13h00 on selected days. R95 per person, with tickets available via various Computicket outlets. For more info on the show and its scheduled dates, contact +27 (0)861 915 8000 or visit www.computicket.com.
9 December 2015 – 13 January 2016 @ various libraries across Cape Town. Local libraries will be running all sorts of programmes that encourage a love of reading. You can learn more about these programmes by contacting Ethney Waters at ethney.waters@westerncape.gov.za or +27(0)21 483 2234.
10 – 15 December 2015 – Iziko December Sustainability Holiday Programme for Kids @  Iziko South African Museum, City Centre. 10h30 – 12h00. Free to join the programme, but entry to the museum may be charged at a small price (totally worth it however and the museum is lovely to explore!). For details on which days the programme runs and what activities are lined up each day of the programme, contact +27 (0)21 481 3800 or info@iziko.org.za.
10 – 23 December 2015 – Winnie the Pooh @ Artscape Theatre, City Centre. Join Pooh, Piglet, Tigger, Eyeore and the rest of the 100 acre wood gang in this adorably entertaining show. 10h30 – 11h30 (no interval) on selected dates. Tickets cost R70 per person and are available via Computicket. Contact +27(0)861 915 8000 for more info.
10 December 2015 – 12 January 2016 – Holiday Programme @ Cape Town Science Centre, Observatory. 09h00 – 16h30 daily (10h00 – 16h30 on public holidays; closed Christmas Day and New Year's Day). Head on down to the incredible science world of CTSC for a bunch of cool experiments, exhibits and interactive features for the whole family. Costs vary – visit ctsc.org.za for details.
11 – 16 December 2015 – Pop Up Tales Children's Show @ Galloway Theatre, Waterfront. Interactive story telling and entertainment for kids, involving the audience in each uniquely woven tale. 11h30 shows and 14h00 shows – for a full schedule, www.waterfronttheatreschool.co.za. Tickets range from R70 – R80 per person.
16 – 27 December  2015 – Peach Picking @ De Krans, Cape Winelands. 08h00 – 16h00 daily (closed over Christmas). R5.50 per kg of fruit picked; free entry to De Krans Wine Estate in Calitzdorp. For more info, contact +27 (0)44 213 3314 or dekrans@mweb.co.za.
19 December 2015 – Grand Parade Cape Guineas Day @ Kenilworth Race Course, Kenilworth. 11h00 until late. This family friendly horse racing event is packed full of fun, with food, drinks, horses and entertainment especially for kids all on the cards. Entry to the racecourse is free, but assorted kid's activity areas cost between R20 and R100 depending on the type of activity. Contact +27 (0) 21 700 1600 or visit www.itsarush.co.za to learn more.
For more info on children's activities in Cape Town, check out our posts on fun things for kids to do in Cape Town.  Other useful posts include our community parks guide, our post on the best places to go swimming, kid-friendly restaurant list, guide to Christmas Events 2015 and best beaches for fun in the sun.
…
How will you be enjoying the December school holidays in Cape Town this year? Share your ideas below and let us know!