Looking for kid friendly restaurants in Cape Town that are not a) designed to drive adults mad, and b) Spur or another boring chain? We have put together some of our top picks for child friendly dining in Cape Town. Because we know that dining with children is not always as idyllic as it should be,  we have looked at a range of features that include activities and options specifically for kids, price ranges and overall food quality.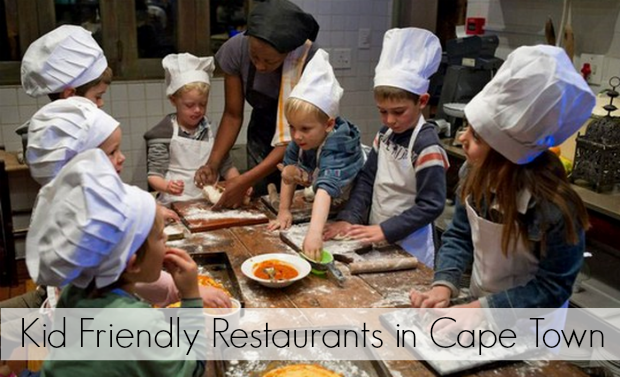 Whether you are planning a family outing for the weekend, or you are tired of going to the same old "family restaurant" that you always go to when you don't feel like cooking, we hope these choices offer somewhere that does the trick.
Family Friendly Restaurants in Cape Town
Without further ado, our best choices for Cape Town family friendly restaurant include the following:
Café Paradiso – 110 Kloof Street, Gardens. On Kloof Street in the trendy City Bowl, this gem of an eatery does only welcome kids, but invites parents to bring along the kids. On top of offering a good kids' menu, the restaurant has a host of 'kids' projects' that vary from pizza making to cookie dough mixing. These activities are offered until 20h00, and cost R45 per kid. Kiddie menu starts at R30, and adult menus start from around R70. For bookings, call +27 (0)21 423 8653.
Deer Park Café – 2 Deer Park Avenue, Vredehoek. Closer to the City Centre, this neighbourhood cafe is always a treat. The prices are not too bad, and you can be sure of enjoying delicious meals that are suitable for adults and kids. As the cafe sits right on the slopes of Table Mountain National Park, there is ample space for kids to run around here too. For info, call + 27(0)21 462-6311.
Primi Piatti – citywide (Atlantic Seaboard, City Bowl, Northern and Southern Suburbs). This franchise restaurant caters to adults and kids alike, and is known for its speedy service (never a bad thing – especially for those with very young kids or babies), tasty pizzas and child-friendly meals.
Da Vinci's Harfield – Second Avenue, Harfield Village, Claremont. The original Da Vinci's branch in the neighbourhood of Harfield has an old-school vibe that is relaxed and easy-going. One of the best things about this place is their paper table cloths, which are an open canvas when paired with a tub of crayons. Kids can draw and doodle away, without getting bored too quickly. Prices are reasonable too. Contact +27(0)2 1683 5453 for bookings.
V&A Waterfront – various restaurants and eateries. The food court and neighbouring Red Shed both offer takeaway meals that include healthy and less healthy options. There is a large outdoor area that has picnic tables where meals can be eaten, with much to see, plenty of entertainment and ample bins nearby. This option is especially good on those days where you have no idea where to take the kids – at the Waterfront, there is almost always something happening!
Café Roux – Cnr. Main Road and Village Lane,  Noordhoek Farm Village, Noordhoek. The lovely Noordhoek Farm Village is another place where parents can go and relax while kids play in visible sight. The playground is situated next to the restaurant, which has lots of outdoor seating areas. Their scones are particularly good, while their breakfasts, lunches and coffee also deserve a mention. Prices are good, and best of all, they can arrange kiddies parties as well, with face painting, pony rides, food and entertainment.
rides. Call +(0)21 789 2538 for details.
Blue Water Café – Imhoff Farm, Kommetjie. This entire estate is fantastic for kids, with a large playground area, camel rides and even a jungle gym and swing. Nearby there is the petting farm of Higgeldy Piggeldy Animal Farm, so there is even more to do after a meal. Prices are affordable too (always good when feeding a large, hungry brood). For more info and bookings, call +27 (0)21 783 2007.
It is also worth mentioning that there are a number of child friendly places that are not dedicated restaurants per se, but do have facilities for picnics, or some type of cafe or coffee shop. Kirstenbosch Botanical Gardens is perfect for a full day of activity, with two restaurants on-site and more space than even the most hyper of three year olds can snub their nose at. Rhodes Memorial in Newlands has a tea room that is quite lovely, along with some forest walking paths that help to let off some steam before, during and after meals (they also provide a good kid's menu as well as high chairs). Ferndale Nurseries in Constantia has picnic tables and allows you to take some snacks – there is a duck pond there as well as a play area and lots of interesting paths to explore. Simons Town is full of kid friendly places to explore, including Boulders Beach Penguin Colony, the Toy Museum and a scattering of cafes near the waterfront.
…
And of course, if you are absolutely and totally in a pinch, you can usually rely on good old Spur to at least provide quick, cheap and not altogether awful service. But hopefully, these child friendly restaurants in Cape Town will be more than enough to keep your family dining experience from falling flat.
Where is your favourite place to take the kids for a meal? Share your thoughts below – we'd love to hear what you suggest.