With so many fun things for kids to do in Cape Town, this guide started out as what was meant to be a definitive round-up of the best places to take kids during holidays, but ending up being what will certainly be an ongoing series. Simply put, there are just far too many great ideas on how to keep kids busy in the Mother City – too many to squash into a single post at any rate.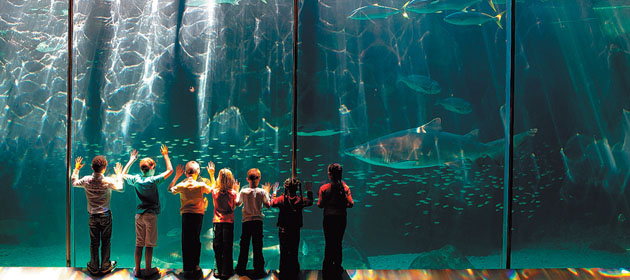 But to get you started, we have selected some of the old favourites that almost always ensure a fun day out. Whether you are a local looking for new ideas to survive the school holidays, or you are planning a family holiday in Cape Town with kids in tow, you are sure to find some inspiration in the list below.
And if you don't, never fear… we will be back with another list of rewarding activities, attractions and other things to do for little ones in this part of the world.
Best Kids Activities in Cape Town
Let's face it – children do not make the easiest travelers. Attention spans are not designed to last very long in little people after all, and after a while of doing what the adults want to do, those epic meltdowns are not too far from becoming a reality. Finding things that are safe, enriching and rewarding for children is not always as easy as it ought to be. This is especially true when you are don't have time to search for ideas all over the place. To help you keep your little ones happy and entertained, we have selected some of the best ideas for kids in Cape Town. From physical activities that get them tired out for a peaceful sleep, to educational activities that encourage learning and participation, these places are sure to be just what you need.
Two Oceans Aquarium – Dock Road, Waterfront > year-round fun
One of my all-time favourite places in Cape Town, I adore the Two Oceans Aquarium. I may not be a kid (maybe at heart though, if that counts?), but having volunteered there a few years ago and spent a great deal of time there, I can say with absolute certainty that visitors of all ages will enjoy this educational yet fascinating marine destination. The penguin feeds are a highlight, but the shark feeds that happen on Monday, Wednesday and Sunday afternoons (usually around 15h00) are a must-see! Tickets cost a fair amount – they are worth every cent however. Becoming a member is a good way to enjoy regular visits at lower costs if you are local or staying for an extended time. The aquarium is open daily from 09h30 until 18h00. For information on costs and specials, contact  +27 (0)21 418 3823.
Let's Go Bowling – Main Road, Claremont > great for rainy days
A modern take on traditional bowling alleys, this venue has bowling as well as arcade games, and is situated in the Stadium on Main shopping centre in the southern suburbs. The facilities also include a restaurant and bar (perfect for the adults after a few hours of bowling), with bowling shoes that can be rented also offered. Having been bowling here a few times, I can personally say that this place is always a lot of fun. For more info, contact +27 (0)21 671 1893 or [email protected].
Waterworld Strand – Beach Road, Strand > best for warm weather
Just over half an hour away from Cape Town, this water park offers wet and dry fun for all ages. It is ideally located close to the beach, with five water slides, a putt-putt course, playground and eateries that serve light meals. As no alcohol or braais are permitted on the premises, this venue is truly family-friendly and safe to enjoy. For more info on entry costs, contact +27 (0)21 584 4702 or [email protected].
Spier Wine Estate – R310, Stellenbosch > best for clear weather
By far one of the most beloved estates in the Cape Winelands, Spier is a destination all in itself. Comprising wine farm, lake, restaurants, vineyards and plenty of space, the whole family will enjoy a day out at this beautiful venue. The large lawn that surrounds the lake is ideal for supervised play (just be sure that little ones do not get too close to the water), while a selection of child orientated activities that run much of the year round will keep even the most restless of young visitors entertained. For more info, contact +27 (0)21 809 1100 or [email protected].
The Scratch Patch – Dido Valley Road, Simon's Town > year-round fun
The original scratch patch lies in the False Bay town of Simon's Town. Here, you pay a set cost for a small, medium or larger sized bag, which can then be filled with as many semi-precious stones as you can collect. It is open from Monday to Friday from 08h30 until 16h45, and on the weekends and public holidays it is open from 09h00 until 17h30. True story: I went just once to this amazing place when I was about 10 years old… I still remember the experience vividly, which says a lot about the impression it left on my young, gem collecting self. For details on current costs, call +27 (0)21 786 2020.
Kenilworth Karting – Myhoff Road, Claremont > year-round fun
With a circuit for the littlies as well as circuits for older children, this go karting track is just right for those rainy days when you can't think of anything to do. It costs R70 for kids of under 16 to ride 10 laps, up to R100 for 20 laps and R25 for the younger ones to ride for five minutes. The track is open daily from 10h30 until 23h00, with the junior track closing at 17h00. For details, contact +27 (0)21 683 2670 | [email protected].
Cape Town Science Centre – Main Road, Observatory > year-round fun
Get them hooked on the marvels of science at this one-of-a-kind science centre. It's open from 09h00 to 16h30 from Monday to Saturday, and 10h00 to 16h30 on Sundays and holidays. And it is cheap too – kids pay around R38 for a full day of science magic. Group bookings made in advance for 10 or more kids will drop the price down to R33 per child. Get the lowdown by contacting +27 (0)21 300 3200 or [email protected]
The Ice Station at Grand West Casino – Grand West, Goodwood > year-round fun
Ideal in hot weather and even on colder days, this indoor activity for kids in Cape Town is affordable and fun. Costs start at R30 per person during half rink skating to R35 during full rink, R40 at peak times on weekends or R15 for smaller kids to access the dedicated mini-arena. Costs include ice skate rental too. Adult supervision is required for younger kids, but the complex has plenty of entertainment and dining options to suit every taste, so the whole family can enjoy a day or evening out. Call +27 (0) 21 535 2260 for more information.
The Springbok Experience Rugby Museum – Dock Road, Waterfront > year-round fun
ComeToCapeTown.com's Sarah went to the this unique museum, and shares her thoughts in her Springbok Experience post. Based in the heart of the Waterfront, the museum takes you on a journey through the ages of rugby. Interactive displays keep things interesting, while budding rugby fans of all ages are sure to enjoy learning more about their favourite game. It costs just R30 per child, with pre-schoolers and under getting in for free. There are also family packages that cost R140 for a family of two adults and two children. For details, call +27 (0) 21 418 4741.
Butterfly World – R44, Klapmuts > year-round fun
Situated in the scenic Cape Winelands, Butterfly World is an amazing year-round destination that is home to large numbers of butterflies. A unique ecosystem is created to mimic habitats ranging from Costa Rica to South East Asia, resulting in an oasis for these awe-inspiring winged creatures. Kids of all ages will enjoy this outing, but nature lovers will be especially blown away. Butterfly World is open all year around from 09h00 to 17h00. It costs R48 per adult and R28 per child to enter, which is super affordable. For details, contact +27 (0)21 875 5628.
Iziko Museum & Planetarium – Queen Victoria Street, City Centre > great for rainy days
Another one of my favourite places (as a kid and as an adult), this museum is truly a treat to visit. Here, kids can discover a world of natural and cultural history, through beautiful exhibits, mammal halls, marine replicas, the amazing life-sized whale skeleton, the bird room, the dinosaur room and plenty more besides. The planetarium costs extra and is well-worth visiting too, giving kids an incredible insight into the galaxy above us. After you're done, if the weather is nice, you can take a stroll through the Company Gardens too, to feed a squirrel, visit the bird aviary or enjoy a picnic on the lawn. For details, contact +27 (0)21 481 3900.
…
Please note that all prices were correct at time of publishing. For updated info, use the contact info listed above. If you have any ideas to add to this list so long, share them in the comments below and let us know! You can also check out our list of kid-friendly restaurants in Cape Town for ideas on where to grab a bite to eat.