Proving that Cape Town restaurants really do take the proverbial cake, Conde Nast Traveler recently named us the 'best food city in the world'. Based on the magazine's latest Reader's Choice Awards survey, which asks traveller's from all over the world to name their favourite places and destinations, the city took top honours as a foodie haven. And, we have to say, we are not surprised in the slightest.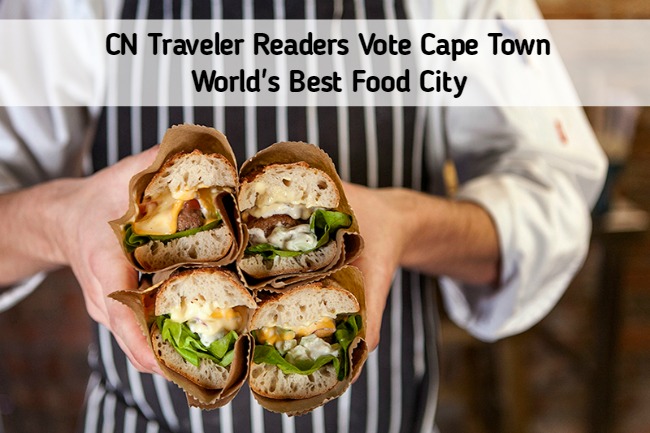 Cape Town beat Dubai (which came in as a close second) and Hong Kong (which came in third) for the top spot as reader's favourite city for wining and dining. Excluding US cities that had a list all to themselves, the list included numerous Asian cities in the top 10. No stranger to travel awards, the Mother City racked up yet another accolade by coming in tops for its wide selection of dining options.
Why Cape Town Restaurants Are the Best of the Best
If you're interested to know which restaurants in Cape Town were mentioned in this survey, hotspots include Kalk Bay fish 'n chip shop Kalky's, along with The Test Kitchen, The Pot Luck Club, the Neighbourgoods Market and The Gin Bar. Whether or not you have eaten at any of these establishments though, the reasoning that puts Cape Town ahead of the foodie map goes far beyond popular eateries.
Here are some of the reasons that we think this city is tops when it comes to food…
1. We have an incredible street food scene. So much so in fact that there has even been a Street Food Festival. From made-on-the-fly hotdogs (and, while we mention it, Hotdog Friday – an institution in itself!) to gourmet burgers, health food, fish and chips, samoosas, falafel and other delicious treats, we have it all. Grabbing a quick bite to eat puts you in prime position to experience new flavours and exotic culinary influences, and that is pretty awesome.
2. We have a diversity of cuisine influences. Not surprisingly in a culturally diverse city such as this, we have everything from Afrikaans boer kos (farmer food) to spicy Indian treats, African staples, Cape Malay taste sensations and uniquely South African specialities. We also have all the other cuisine you'd expect from a cosmopolitan city – Italian, Sushi, French, Middle Eastern, Greek, Chinese… even generic fast food. Whatever you're in the mood for, finding it is not hard to do.
3. We have tons of 5-star dining establishments. Head down to the Constantia Wine Route, and you will find a handful of premier eateries. Venture into the CBD and you will be able to enjoy haute cuisine with outrageously priced wines and menus that are to die for. Take a cruise to the Cape Winelands, and you will find more 5-star restaurants than street signs.
4. We have the best ambiance and atmosphere. Yes, we know that food is the main star of any meal. But in Cape Town dining spots, it's the only star. Enjoying a meal that comes with epic scenery, jaw-dropping views and a vibrant atmosphere makes everything taste better. Don't believe me? Have lunch at a coastal restaurant, such as Harbour House in Kalk Bay or Harvey's in Sea Point. Eat oysters at Brass Bell as you watch waves crash into the rocks below. Nibble sushi at Wakame as you watch the sun set over the Atlantic Ocean. Trust me, you will enjoy your meal in ways that you could not imagine.
5. We have healthy options (and less healthy options, too). Trying to stay healthy? No problem. The city has its share of healthy dining options as well. Banting restaurants are becoming par for the course, healthy, organic restaurants and cafes are also popping up everywhere. The majority of regular restaurants have various options to suit your eating preferences – vegetarian, vegan, low carb, gluten-free and otherwise. You won't ever have to go hungry because there's nothing suitable on a menu. Yay!
__________________
Wondering what foods to try in Cape Town? There are so many good dishes to start with, but perhaps your best bet is to go with something yummy and simple, like a sweet melk tert (milk tart) dusted with cinnamon and baked to smooth, silky perfection. Delicious!
What is your favourite restaurant in Cape Town? Share your thoughts and let us know!