If you are a fan of the LCHF diet that has been sweeping through the world at a rapid pace, then you are almost certainly always on the look out for good banting restaurants in Cape Town. Visitors who are travelling from out of town or abroad may also be wondering where they can find suitable food and dining options for this low carb high fat eating plan. To help you get sorted, we've put together a handy guide on restaurants, stores and other banting friendly options in the Mother City.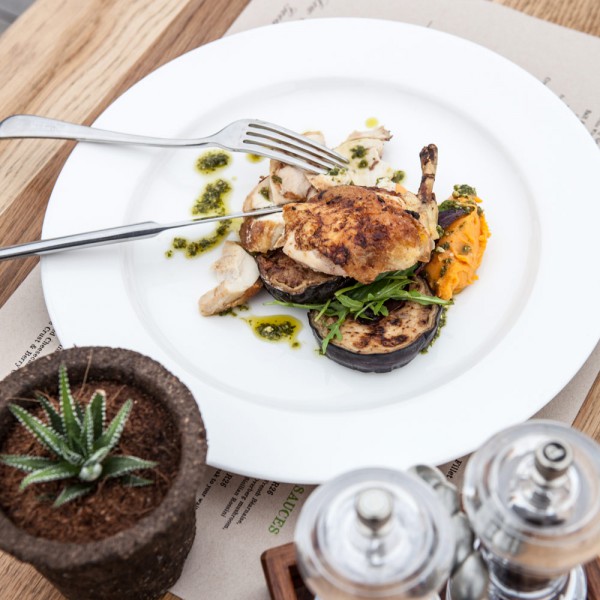 Please note however that the ComeToCapeTown.com team is neither endorsing or critiquing this eating plan. The primary goal of this guide is to provide a list of restaurants, cafes and stores that provide meals and food suitable for an eating plan that is becoming rapidly popular. As such, we are not going to be making any comment about the diet's effectiveness or lack thereof in any way. There is plenty of information on the web if you are looking to learn more about eating plans, along with various discussions for and against the diet too. If you are looking for info on where to find banting meals in Cape Town however, you've come to the right place!
Looking for Banting Meals in Cape Town? Check Out These Ideas…
Let's face it – sticking to any type of eating plan or healthy lifestyle is not always as simple as it should be. When you are travelling, it becomes harder than ever to eat the type of foods that you are trying to consume, but even if you are going about everyday life right here in your hometown, it can get tricky trying to find restaurants that serve food that you can happily devour without any worry. This is true whatever type of eating routine you have – and not just for banting. I know this from personal experience as a life-long vegetarian… and trust me… back in the 90s, going to a restaurant and finding anything other than salad, toasted cheese sandwiches and hot chips to eat was almost impossible. These days, there are entire vegetarian restaurants, along with an abundance of healthy, tasty options that don't include meat! Even steakhouses have menu items that I can enjoy… a far cry from the frustrating days of my youth.
So I really do get it. Going to a regular restaurant, you may have a fair chance of getting your meal "banting ready", but it gets way easier when you know that there are places to go that are devoted to serving this type of food. Some of the best banting restaurants in Cape Town (and general eateries that offer banting menus and/or options) include the following:
1. The Banting Kitchen – Main Road, Green Point. The first well-known banting diner to hit the city, this eatery is located at the Cape Royale Hotel in Green Point. Breakfast, lunch and dinner menus are available along with light meals, drinks and specials. All meals are geared towards a low carb, high protein and high fat eating style, with emphasis on healthy fruit and vegetables as well. For bookings and more information, contact +27 (0) 21 430 0506 or [email protected].
2. Kauai – Nationwide. Our favourite healthy fast-food spot has teamed up with Professor Tim Noakes (aka SA's LCHF guru) to offer their Original Eating menu that is full of meals suited to this low-carb diet. Menu highlights include curries with cauli rice, biltong snack packs and plenty more besides. You will find branches in Kloof Street, City Bowl as well as various other locations across the country.
3. Dear Me – Longmarket Street, City Centre. Set in a beautiful historical building, this brasserie and bar caters to those who prefer things on the lower carb side of life with a wide range of meals that can be adjusted according to your dietary needs. The menu is changed daily, ensuring fresh seasonal ingredients all the time. It's also a nice spot for post-work drinks or a quick meal too. For more info, contact +27 (0)21 422 4920.
4. Spur – Nationwide. Believe it not, even family steakhouses like Spur are getting in on the action. Look out for menu variations such as carb-conscious breakfast with three rashers of bacon, three fried eggs, 125g of boerewors or two pork sausages. You can also swap out hot chips for salad at no extra cost when ordering rump, chicken breast, steak or burger. In the City Centre, there is a Spur on Strand Street. There are also branches scattered all over the country in various suburbs, cities and towns.
5. 65 on Main – Main Road, Green Point. Menu choices here range from carb-free muffins, to cauli-base breakfast pizza cauli-wrap, banting brownies and even carb-free cheesecake. Healthy cocktails and 'bulletproof' coffee are also offered. The menu is always changing, which ensures variety and seasonal ingredients. They are also planning on introducing a Banting High Tea in the future. For details and bookings, contact +27 (0)21 439 9559 or [email protected].
7. Chalk and Cork – Kloof Street, Gardens. Look out for this trendy new restaurant's cauliflower base pizzas, which are free of carbs and full of yummy flavour options to suit your tastes. This is also a great spot for a quick coffee, morning meeting or lunchtime hangout too. For more information on bookings and menu options, contact +27 (0)21 422 5822.
8. Den Anker – V&A Waterfront. With three banting-friendly dishes available on the menu, you can choose from options such as Norwegian salmon with cauli mash, seared wasabi tuna and Wagyo steak tartare. These items are listed with #LCHF on the menu, so keep a look out for that when eating here. For booking and other info, contact +27 (0)21 419 0249.
Other notable mentions for places that offer low carb menus and means include Rcaffee on Long Street in the City Centre, Knead (branches city-wide), which offers low carb bread and low carb pizza bases and Starlings coffee shop in Claremont. Many restaurants may have alternatives that may not be listed but can still be arranged, so don't feel shy about asking whether there are low-carb variations on meals.
There are a number of good health stores in the city that are worth noting too – Wellness Warehouse in the Lifestyles on Kloof Centre in Gardens is especially good for finding grain and carb alternatives and other healthy, organic food. In supermarkets, look for brands such as Nature's Choice, but also check the deli aisles to see what is in stock. You'd be surprised how often I see cauli mash available at my local Spar! With an abundance of fresh produce, fruit and vegetables are always in good supply in Cape Town. Shops such as Fruit & Veg City (branches all over the peninsula) sell good quality fresh produce, while markets such as the City Bowl Market sell 'slow food' and fresh farmers' produce on a weekly basis as well.
As you can see, the Mother City is a place that understands your dietary needs and is more than able to meet them. If you are following this eating plan, I hope that gives you some inspiration on where to grab a meal.
Know of any other good banting restaurants in Cape Town? Share your tips in the comments below and let us know. Remember though – we are focusing on useful info, not debate on diets so please restrict your comments to info relating to restaurants and diners that offer banting menus in Cape Town.