Our guide to the best restaurants in Cape Town takes us across the Mother City on a journey of flavours, aromas and fresh ingredients. In this series, we will be showcasing some of the finest restaurants that the city has to offer, from fine dining establishments to cheerful breakfast haunts and local favourites.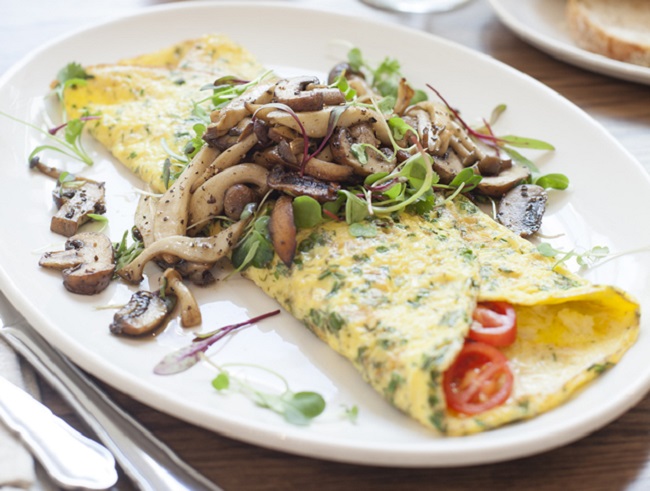 The most important meal of the day can be enjoyed at one of the many excellent breakfast restaurants in Cape Town. Whether you're in the mood for a slap up breakfast that includes everything from sausages to toast, bacon, eggs and grilled tomato, or you prefer something closer to cereal or porridge to start your day, you are sure to find the best meal to start your day on the right note with this list of Cape Town breakfast restaurants.
The Best Restaurants in Cape Town… For Breakfast
In no particular order, our favourite breakfast restaurants in Cape Town include the following:
Hemelhuijs
Waterkant Street, City Centre / +27 (0)21 418 2042 / Breakfast & Lunch
In the heart of the CBD lies Hemelhuijs, a laid-back yet chic eatery that is open Monday to Saturday from 09h00 until 16h00. They are also open for dinner on Wednesdays, opening between 19h00 and 22h00. The service is excellent, the menus are seasonal and the breakfasts include a variety of freshly pressed juices, farm eggs, 'mosbolletjie' toast, smoked trout, homemade potato rösti, French toast, old fashioned cinnamon dumplings with homemade custard and other yummy offerings.
Arnold's
Kloof Street, Gardens / +27 (0)21 424 4344 / Breakfast, Lunch & Dinner
While Arnold's is open until 22h00 every day of the week, it's their breakfasts that have made them something of an institution in the City Bowl. From Monday to Friday, they are open from 06h45, while they open a bit later at 08h00 on the weekend. The menu is not fancy or unique, but the atmosphere and courtyard garden make for a chilled spot to enjoy classics such as poached eggs, omelettes, fruit salad and breakfast plates. The prices are pretty good, too. As an added perk, breakfasts are served until 17h00.
Dear Me
Longmarket Street, City Centre / +27 (0)21 422 4920 / Breakfast & Lunch
Open Monday to Friday from 07h00 until 15h00, Dear Me is a charming eatery tucked away in the heart of the CBD. Their breakfast menu is extensive, with plenty of healthy options to suit just about diet and preference. Highlights include three delightful muesli blends, a variety of hot porridge options, seasonal fruit plates, French toast, and a huge range of egg choices. Various toppings are also offered, or you can make your own breakfast from the selection of dishes available.
The Company's Garden Restaurant
Queen Victoria Street, City Centre / +27 (0)21 423 2919 / Breakfast, Lunch & Tea
Open from 07h00 until 18h00 every day of the week, this is a great spot to enjoy breakfast in the beautiful VOC Company's Garden. One of the city's family-friendly restaurants, there is a large play area for kids. The breakfast menu is offered until 11h30. Highlights include home-roasted muesli, yogurt and berries, toasted banana bread, bacon, strawberries and maple syrup, three egg omelette, bacon, grilled tomato and fried egg on rye, scrambled egg, thyme roasted tomatoes and rye toast and other delicious dishes.
Tashas
Breakwater Boulevard, V&A Waterfront / +27 (0)21 421 4350 / Breakfast, Lunch & Dinner
In the heart of the V&A Waterfront in Cape Town lies Tashas – a stylish restaurant that is open from 07h30 Monday to Sunday. Although Tashas also serves lunch and dinner, their breakfasts are superb. Dishes are inspired by Spain, with plenty of healthy tapas that can be enjoyed any time of day. Highlights include  free range eggs, steak stack, polenta porridge, baby burger rolls filled with fried eggs, cheddar, streaky bacon, rocket, grilled onion and inova potatoes, and plenty of other scrumptious dishes.
____________________________________________________
In the next guide to the best restaurants in Cape Town, we will take a look at some of the best grill restaurants in the city. You can find fine dining restaurants in the first part of this guide, seafood restaurants in the second part, pizza restaurants in the third part, and dessert restaurants in the fourth part of our dining guide. Stay posted to view the next installment! Looking for additional help? Contact us if you need help planning the ultimate holiday in Cape Town!
Image: Tashas, via EatOut.co.za