The Cape Wine Route is arguably one of the Mother City's best known regions. Comprising the wine-growing towns of Stellenbosch, Paarl and Franschhoek, this lush valley lies a little way outside of the CBD. This is where you will find some of the world's top wine estates, along with some of the most dazzling scenery imaginable.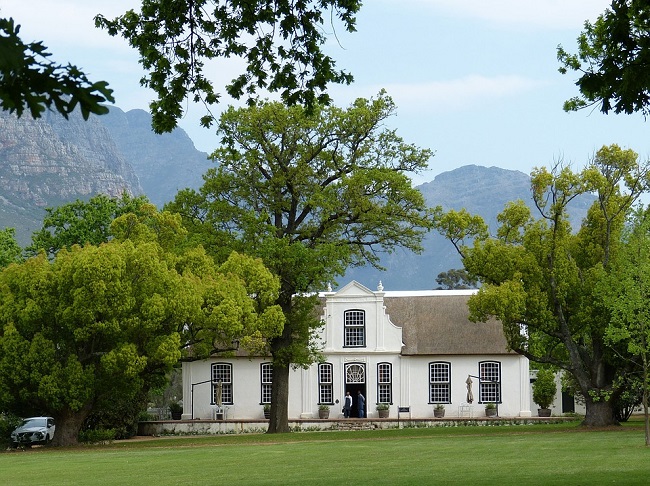 In Part 1 of this series, we will be heading off to the sleepy town of Stellenbosch, often fondly referred to as Eikestad (Oak City) for its large volumes of oak trees. Join us as we set forth on a virtual tour to see what this area has to offer!
Cape Wine Route Spotlight: Stellenbosch
Founded in 1679, Stellenbosch is the second oldest European settlement in the province, after Cape Town. Established by Simon van der Stel, who planted the oak trees still seen throughout the city today, the town lies on banks of the Eerste River. Its fertile soil and relative shelter quickly helped to establish the region as a key agricultural region, and by the late 1600s, wine became its chief export.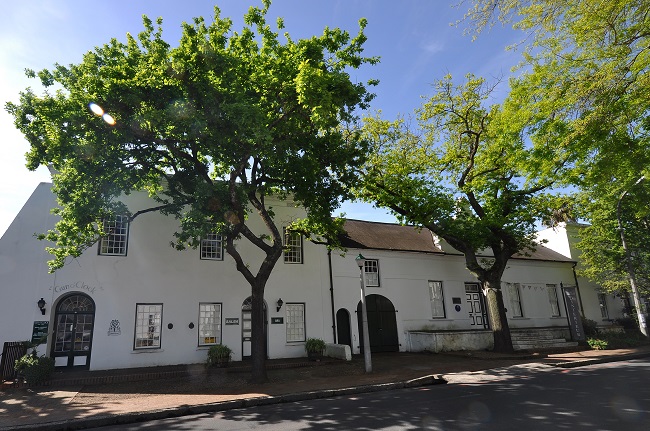 [Image: Dorp Street – Steven Morrow, Wikimedia Commons]
In addition to housing some of the country's best loved wine estates, the town of Stellenbosch offers plenty for visitors to see and do. This is always a popular stop on any wine tasting tour… and for good reason! With its blend of towering oak trees, pretty historical houses and lush vineyards, the town is magical. Some of the top highlights to enjoy here include:
* Historical architecture. Church Street, Dorp Street and Ryneveld Street are where you can see some of South Africa's oldest houses. The majority of houses here were built in the 1700s, 1800s and 1900s, showcasing the beautiful architectural style and stature of each era. Look out for gables, incredible wooden floors and doors, yellowwood beams, Cape revival style buildings, German style buildings and many other architectural wonders as you stroll through the historic town centre.
* Galleries and museums. D-Street Gallery on Dorp Street showcases contemporary art, with frequently changed exhibitions. SMAC Art Gallery on Church Street blends South African and international art, with many amazing artworks to be seen. The Rupert Museum on Stellentia Avenue houses some 350 contemporary South African artworks, dating from 1940 to 1970. The Village Museum on Ryneveld Street takes you back through history, with themed rooms boasting many fascinating relics, while the Toy and Miniature Museum on Market Street is also well worth a visit.
* Outdoor and kids attractions. Some of the most notable outdoor spots and other attractions that are family-friendly include Spier – a wine estate on the R310 /Baden Powell Road that offer segway tours and many other attractions. Ludwig's Roses is found at Klein Joostenberg, and is great for rose picking. Then there is Giraffe House – an incredible centre on the corner of R304 and R101 that provides a wildlife encounter for kids, the gorgeous Stellenbosch Botanical Gardens on the corner of Van Riebeeck and Neethling Streets, Pete's Adventure Farm on the R304, many excellent golf courses and natural hotspots such as Jonkershoek Nature Reserve.
* Markets. The town of oaks is home to a number of markets that are held throughout the year. Root44 Market takes place on the corner of R44 and Annandale Road, and is held every Saturday and Sunday from 10h00 to 16h00. This market specialises in food, produce and live entertainment. The Slow Market is held at Oude Libertas Estate on Saturdays – this is a must for foodies! The Blaauwklippen Family Market is held at the estate of the same name on Sundays between 10h00 and 15h00, while the Woodmill Lifestyle Market on Vredenburg Road takes place on the last Friday of every month between 17h30 and 22h00.
* Wine. Ok, we can't write about Stellenbosch without mentioning at least some of the amazing wine estates found here! There are so many to choose from, and in all honesty, you will never get time to try them all in a single day. From MCC (Methode Cap Classique – the Cape's answer to Champagne) to whites, reds and roses, there is a wine varietal for just about every taste. A guided tour such as our Full Day Wine Tasting Tour is the best way to visit the best farms in the area. If you're stretched for time, we also offer a shorter Half Day Wine Tasting Tour that is equally interesting (even on limited time).
_______________________________________________
That concludes the first part in our guide to the Cape Winelands… stay tuned for Part 2, where we will take you on a virual tour of Paarl! To learn more about our wine tour options, contact us today.