If you're planning to hire a car in Cape Town for a self drive adventure, you might be wondering where to start exploring. The Mother City is an absolute paradise for explorers, with a diversity of routes, landscapes and places of interest. From the wild West Coast to the gorgeous coastal roads of False Bay, wine-growing regions, quaint historical towns, vibrant urban centres, lush forests and wind-swept beaches, you will certainly not run out of ideas on what to see and where to go… that's for sure!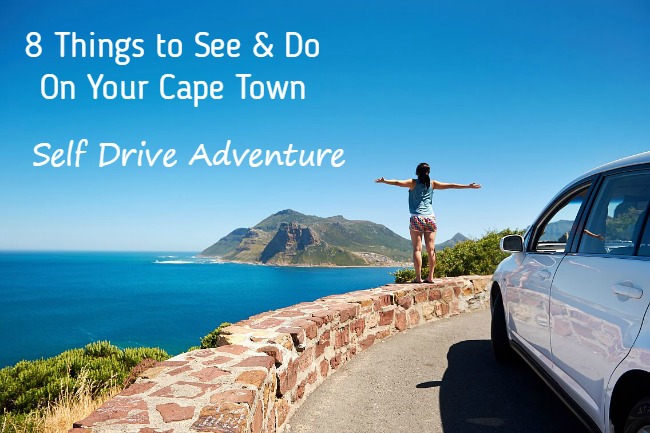 Today, we invite you to join us on a virtual self guided tour of Cape Town, to get some inspiration on how to best put your car hire to use in and around the city. Ready to go? Let's get on the road…
Hiring a Car in Cape Town? Here's What to See & Where to Go…
There is a good reason that many visitors choose to hire a car in Cape Town. Self drive offers an ideal blend of convenience, comfort and cost-effectiveness. It is often a lot simpler (and cheaper) to hire a car for the duration of your stay than have to fork out constantly for taxis and shuttles. Better still, it also means that you can come and go as you wish, without having to rely on tour groups, drivers or anyone else.
Some of the best places to start exploring once you've picked up your rented ride include the following:
1. The Atlantic Seaboard. Spanning from Mouille Point to Hout Bay, the glamorous Atlantic Seaboard is home to some of the city's most affluent areas. Camps Bay, Clifton, Llandudno, Bantry Bay, Sea Point, Green Point and The Waterfront are some of the best-known suburbs. Lying on the Atlantic Ocean side, this stretch of coastline is also home to a huge number of world class beaches, including some of the city's Blue Flag beaches. Take a drive on Beach Road, cruise along Camps Bay's Victoria Road, take the winding roads that lead into Hout Bay and marvel at the sheer beauty of the ocean below.
2. Chapman's Peak. Once you're in Hout Bay, another magical route can be found. Chapman's Peak connects Hout Bay to Noordhoek, taking you along one of the world's most incredible mountain passes. This route is popular for tourists and locals alike, featuring in the annual Cape Argus Cycle Tour and other events. It's also the very best place for sundowners – be sure to get there in time for a legendary sunset!
3. Kirstenbosch Gardens and Constantia Green Belt. Another alternative from Hout Bay is to travel through the lush Constantia Green Belt, venturing along winding roads flanked by thick trees, forest and valleys. You will soon come to the renowned Kirstenbosch Botanical Gardens, which lies in Newlands, at the end of the Green Belt. Situated on Rhodes Drive, this garden is one of the finest in the country and is well-worth a visit.
4. The Constantia Wine Route. Also in Constantia is the small but outstanding Constantia Wine Route. Comprised of notable farms such as Uitsig, Buitenverwachting , Steenberg and Klein Constantia to name a few, the route is as pretty as it is historic and interesting. Stop for lunch at Groot Constantia, look out for baboons and birds on the huge lawns and enjoy quaint roads fringed with vineyards and roses.
5. Kalk Bay Main Road. Heading back towards False Bay, Kalk Bay is always a delight. This fishing village lies on the warm Indian Ocean and is famous for its cute little art galleries, curio shops, restaurants and bars that have plenty of quirky charm. Many restaurants are sea-facing, including the iconic Brass Bell, which is a great spot for oysters and local beer.
6. Simon's Town Main Road & Harbour. After Kalk Bay, also along the coastal main road, you will find the naval town of Simon's Town. This quiet town has epic views of mountain and ocean, along with attractions such as a Navy Museum, Toy Museum and working harbour. There are also antique shops, restaurants and other interesting things to see.
7. Boulders Beach. Getting back onto the Main Road, you can travel a little bit further until you reach Boulder's Beach. This beach is best-known for its penguin colony. Featuring the black and white African penguins, who build nests in a protected area and play and swim on beaches that are shared with visitors, this nature reserve is worth the small entry fee.
8. Cape Point. Of course, we can't do any posts about self drive without mentioning Cape Point. This amazing reserve and landmark is situated near the tip of the peninsula. While it is not exactly the point where the Indian and Atlantic Oceans meet (that honour goes to the nearby Cape Agulhas), it is none the less a fantastic place to explore by car. Stop and explore beaches, enjoy the wide open spaces and look out for birds, marine life and mammals such as dassie.
 ______________________________________
These ideas may be possible to see within a day (or two), but if you want to get the most out of your car hire in Cape Town, it is best to take your time about it and aim to tick off one route at a time. Our advice? Check out our Cape Town maps so that you get a solid idea of where everything is and how to get from A to B.
Got any Cape Town self drive adventures or tips to share? We'd love to hear 'em! Share your stories over here.