Not sure what to do in Cape Town during the week when it's pouring outside? We've got you covered. When the weather is wet, it can certainly make it harder to plan your week. Luckily, there are many amazing things to do throughout the week that don't require sunshine or umbrellas. From grown-up play parks to fascinating cultural attractions, the variety of indoor activities in Cape Town caters to almost everyone.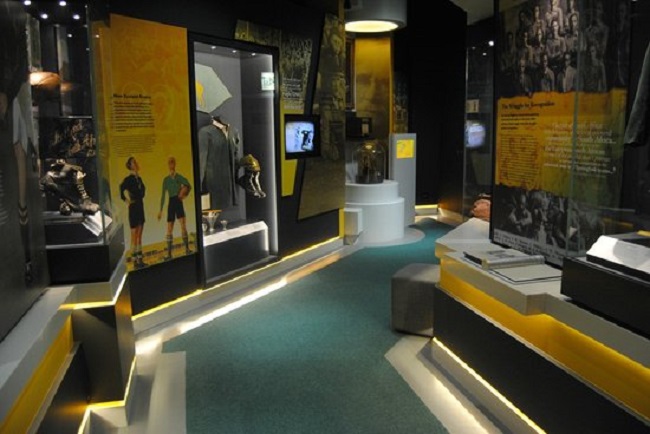 Whether you're running out of ways to keep the kids busy on school holidays, or you're visiting the Mother City and need some fresh inspiration on what to do in the middle of the week, we have some ideas that are just right for rainy week days.
Mid-Week Activities in Cape Town That are Perfect for Rainy Days
Ready to get started? Well then, without further ado, here are our top picks for mid-week activities in Cape Town that can be enjoyed even when the weather is miserable.
Rush Indoor Trampoline Park
Stadium on Main, 104 Main Road, Claremont | +27 (0)21 683 3841
Rush is an indoor trampoline park that is fun for the whole family. There are numerous pricing packages available, ranging from an hour long  jump at R115 for adults to special jump options for kids and packages for parents and toddlers. You can also hire non-slip socks for R25. This park is full of massive trampolines, with assorted obstacle courses that are designed to encourage lots of jumping and balancing. Cross fit and other classes are also offered for those wanting a seriously challenging workout. During the week it is often quieter than it is over weekends, making this a great thing to do mid-week.
Gold of Africa Museum
Martin Melck House, 96 Strand Street, City Centre | +27 (0)21 405 1540
This unusual museum takes you on a visual journey through the history of gold in Africa. A variety of interesting exhibits can be seen here, with many artefacts and rare finds that will amaze visitors of all ages. The biggest highlight of the museum is the collection of roughly 350 West African gold artefacts that were once held at the Barbier-Muller Museum in Geneva. The rare art of African wrought gold is beautiful to behold, and at the museum, the focus lies on preservation as well as education.
The Springbok Experience Rugby Museum
Portswood Road, V&A Waterfront | +27 (0)21 418 4741
Rugby fans will love the Springbok Experience Rugby Museum, which pays homage to the country's beloved game. The exhibits here are interactive, making it entertaining as well as informative. Take a walk through the history of the game, learn more about the country's most famous players (and its World Cup victories) and come away with even more love for this sport.
Bo Kaap Spice Market aka Atlas Trading Co.
104 Wale Street, Bo Kaap | +27 (0)21 423 4361
Foodies should certainly include a trip to this oasis of spicy goodness. Atlas Trading, fondly known as the Bo Kaap Spice Market, is based in the heart of the Cape Malay Quarter, in a vibrant pink building. With a long history dating back to 1946, this family-owned and run market sells a massive variety of spices. You are sure to come away with plenty of delightful flavours!
Clay Cafe
Old Oakhurst Dairy Farm, Main Road, Hout Bay | +27 (0)21 790 3318
Unleash your inner artist at Clay Cafe, where you will be given ceramic bisque blanks for painting. Paints are provided, and your completed art will be glazed and baked while you enjoy a bite to eat. Kids will love this place, but adults will enjoy the chance to get creative as well. It's nice and cosy inside, too.
V&A Waterfront
Dock Road, Waterfront | +27 (0)21 408 7600
We know the V&A is not exactly off the beaten path. With that said, the variety of things to see and do within this shopping centre is mammoth. From restaurants and coffee shops to retail outlets, cinema, quirky concept stores, the Blue Shed, Red Shed, galleries and surrounding attractions such as the aquarium and scratch patch, you will find it hard to stay bored even if you spend the entire day exploring.
______________________________________________
So there you have it… we hope you have enjoyed these rainy day activities in Cape Town to enjoy in the middle of the week. What do you love doing when it's raining outside?