If you are looking for things to do when it's raining in Cape Town, you may have ticked off a few of the more obvious ideas… you've been to the museum, you've enjoyed the many excellent restaurants, done some shopping… perhaps you have visited an art gallery as well. While there is no doubt that the city is an outdoor paradise, there are many indoor attractions in Cape Town that are just as enticing. These attractions cater to adults, kids, nature lovers, indulgence seekers and everyone else in between.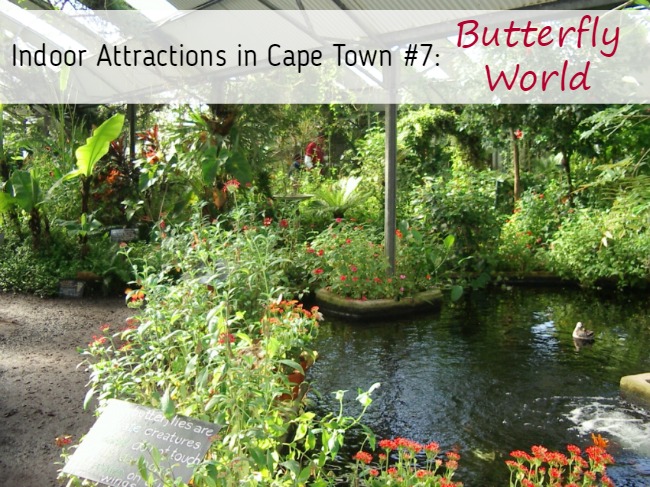 Whether it is pouring down for the second day in a row, or you're looking for a list of 'rainy day' ideas to save for the upcoming winter months, we have you covered.
Indoor Attractions in Cape Town to Visit When it Rains
Getting right down to business, here are some ideas on how to enjoy Cape Town indoors when it's wet and chilly outside…
1. Cape Town Diamond Museum
The Clock Tower, V&A Waterfront | +27 (0)21 421 2488 / [email protected]
Situated in the historic Clock Tower section of the Waterfront, this museum takes you on a fascinating trip through the history of all things sparkly. Sponsored and created by Shimansky (who, I might add, also offer incredible tours of their diamond making facility nearby!), the museum features a replica mine shaft and many other interesting exhibits. Entry is R50 per person (pensioners and kids under 14 get in for free) and the museum is open daily from 09h00 to 21h00.
2. Two Oceans Aquarium
Dock Road, V&A Waterfront | +27 (0)21 418 3823 / [email protected]
Also in the Waterfront is the iconic Two Oceans Aquarium. This beautiful aquarium is home to a huge variety of species from both the Indian and Atlantic Oceans. Highlights include their epic predator exhibit that has ragged tooth sharks, rays and turtles (feeds are done daily at 15h00, with a shark feed on Sundays at 15h00), a penguin ecosystem (these lovely creatures are fed daily at 11h45 and 14h30), the mesmerising Kelp Forest (feeds of these fish are done at 12h00 on Wednesdays and Saturdays) along with many other wonders to see and learn. Entry ranges from R60 for small kids to R138 for adults. The aquarium is open daily from 09h00 to 18h00.
3. Artscape Theatre Centre
DF Malan Street, Foreshore, City Centre | +27 (0)21 410 9800
The Artscape is a premier theatre, opera and performance venue that plays host to many shows throughout the year. From opera to ballet, modern dance, magic, plays, concerts and many other live art performances, there is always an excellent line-up on offer. Shows vary depending on the season and month, so it is best to check what is coming up on any given week by visiting the website at www.artscape.co.za. Here, you can search for shows by type, view news, show reviews and other info. Show prices vary according to each production, and times also depend on the individual production.
4. Twelve Apostles Spa
Victoria Road, Camps Bay | +27 (0)21 437 9000 / [email protected]
In the mood for something more indulgent? One of our all-time favourite places to enjoy pampering in a warm, cosy environment is the luxurious Twelve Apostles Spa. Situated in Camps Bay, this spa and hotel offer a wide range of treatments. Whether you're in the mood for an hour long massage, hot stone treatment, a mani-pedi, facial, sauna or body treatment to suit your mood, you are sure to enjoy spending a rainy afternoon here. Prices vary on treatments – call or email the spa for details.
5. The Planetarium
Queen Victoria Street, Gardens | +27 (0)21 481 3900
Often overlooked, The Planetarium is located next to the famous South African National Museum and Company Gardens. While most visitors know about its neighbour, not as many are aware of the magic that can be found underneath The Planetariums round dome roof. To quote the Isiko Museum website, this facility is a "celestial theatre in the round, utilising the complex Minolta star machine and multiple projectors to transport the audience through the wonders of the universe. The ultimate in armchair travel." Shows are run Monday to Friday at 13h00 and 14h00; on Tuesday evenings at 20h00 and on weekends at 13h00 and 14h30. Adults pay R40; pensioners and kids under 19 pay R20.
6. Cape Town Science Centre
Main Road, Observatory | +27 (0)21 300 3200 / [email protected]
Featuring over 250 mind-boggling exhibits, the Science Centre is a paradise for anyone with an appreciation for the world's wonders. Holiday programmes for kids are held often, with various shows also taking place for young visitors and those who are young at heart. While it will appeal to children, there are enough interesting things to see to appeal to grown-ups as well! Puzzles and interactive exhibits help make this truly interesting – instead of simply observing, you get to be a part of the experience. The centre is open Monday to Saturday between 09h00 and 16h30 and on Sunday from 10h00 to 16h30. Entry costs about R45 per person – there are also group packages available.
7. Butterfly World Tropical Garden
Route 44, Klapmuts, Cape Winelands | +27 (0)21 875 5628 / [email protected]
When the weather gets wet, head out of the city and into the tropical jungle environment of Butterfly World. Home to a staggering array of butterflies, along with monkeys, insects, birds and other natural wonders, this place is a peaceful oasis in the Cape Winelands. The garden spans across a massive 1000 square metre greenhouse that is teeming with fluttery, colourful, winged creatures. Watch them feed, fly and flutter, as you enjoy the beauty of a lush tropical garden. Butterfly World is open from 09h00 to 17h00, seven days a week and is open on all public holidays aside from 25 December. Entry ranges from R41 per kid to R75 per adult. Year tickets and group deals are also on offer.
____________________
Any indoor activities in Cape Town that you think we should add? Leave your suggestions below and let us know!