Backpacking is one of the best ways to explore a city without having to spend too much cash. Luckily, South Africa's Mother City offers some of the most budget-friendly vacations in the world. Surrounded by mountains and forests, Cape Town also boasts a vibrant nightlife with plenty of entertainment options to choose from. From hiking trails and free walking tours to happy hour drinks and shark cage diving, here is our round-up of the best backpacking experiences in Cape Town.
1 Spend a Day at the Beach
There is an abundance of beaches in and around Cape Town and most of them offer ideal conditions for having a good time. The best ways to learn how to surf or just admire the giant rolling waves is at Muizenberg, while Fish Hoek Beach is one of the safest beaches in the Western Cape for swimming. Some of the other beaches worth visiting include Clifton and Camps Bay beach.
2 Free Walking Tours
Take advantage of the free walking tours in Cape Town and discover the city's most notable historical landmarks and other attractions for free. Although these walking tours don't require any fees, the guides work on a tip basis. Guides are very knowledgeable and always more than happy to give answers to all of your questions. Free walking tours include Bo-Kaap Walking Tour, District Six Tour, V&A Waterfront Tour, and Historical City Tour.
3 Take photographs of the Lovely Bo-Kaap Neighborhood
Located within walking distance from the center of Cape Town, Bo-Kaap is a picturesque neighborhood where you will have a chance to see many colorful houses and snap some cool photos for your Instagram feed. In case you wish to learn how to prepare traditional Cape Malay dishes, there are several cooking classes available at affordable prices.
4 Go on a Hike to the Top of Table Mountain
Hiking to the Top of the Table Mountain is one of the best backpacking experiences in Cape Town. This prominent landmark and definitely the most visited attraction in the city is also reachable by a cable car. However, a hike to the top of the Table Mountain will give you a chance to spot many life forms and enjoy spectacular views of the city. In case you get tired from the hike, you can get back down by using the cableway.
5 Watch the Sunset on Lion's Head
Lion's Head is without a doubt the best place to watch the sunset in the city. The views of Cape Town and Table Mountain from here are truly amazing and impressive. Don't forget to bring your camera to take some photos and make sure to come early in the afternoon to grab a good spot, as this place tends to get quite crowded just before the sunset.
6 Boost Your Adrenaline with Shark Cage Diving
Ideal for adventurous backpackers, shark cage diving is one of those activities that you either love or hate since it is not exactly for the faint-hearted. There are several companies in the city that offer shark cage diving and some of them offer great discounts. Keep in mind that shark cage diving is not possible when the waters are rough and you should definitely plan this activity when the weather is good.
7 Take a Stroll through the Kirstenbosch National Botanical Garden
Often referred to as the most beautiful garden in all of Africa, the Kirstenbosch National Botanical Garden is home to various plants species and offers plenty of great hiking trails with unspoiled views of the surrounding nature. Backpackers who wish to see a movie will be happy to hear that there is an outdoor cinema here during the summer season.
8 Hang out with Penguins in Simon's Town
Located on the shores of False Bay just 40 km from Cape Town, Simon's Town is a small quiet village that boasts spectacular views and houses the amazing South African Naval Museum. It is also home to the lovely Boulders Beach where backpackers will find a colony of South African penguins. Touching the penguins is not allowed, but you can get quite close to them or admire them from the waters of the Boulders Beach while swimming.
9 Visit Robben Island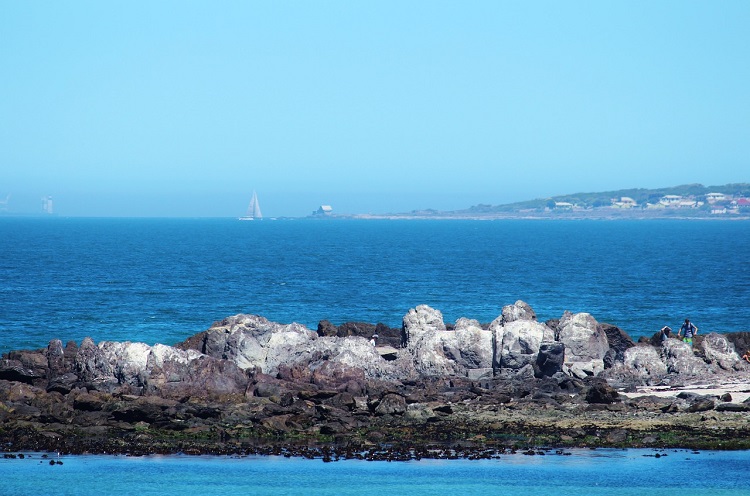 There is no shortage of awesome backpacking experiences in Cape Town and a visit to the Robben Island falls into this category. This island used to be a prison where Nelson Mandela served his time and most of the tourists come here to see his former cell. The interesting thing is that the tours of the prison are conducted by ex-prisoners and their stories are truly incredible.
10 Happy Hour in Cape Town
There are many bars and restaurants in Cape Town that offer awesome happy hour deals. You can get $50 off drinks or buy one drink and get the next one for free deals. At most places, these happy hour specials run between 4 and 7 pm. In case you are planning to visit a wine estate near Cape Town, some of them have great discounts on wine tastings.