One of the loveliest beaches in this part of the world is Boulders Beach in Cape Town. This beach is rather unique. Located on the False Bay coastline, just outside of Simon's Town, the beach is a nature reserve that is home to a massive colony of African penguins. For a small entry fee, you will be able to access the reserve to spot penguins and enjoy the warm Indian Ocean waters of this sheltered beach.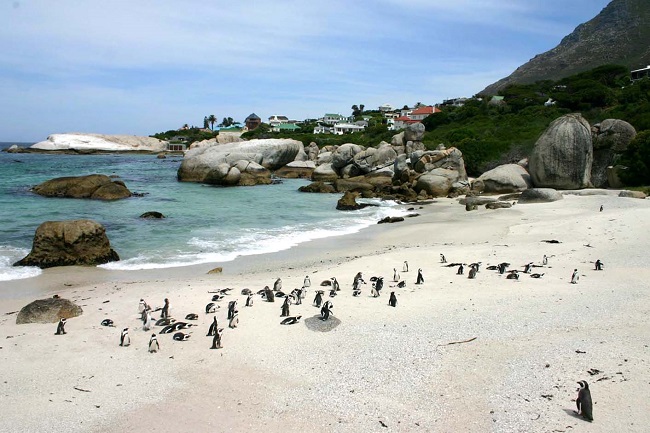 Why is Boulders Penguin Colony worth a visit on warmer days? What else do you need to know about this beach? Let's take a look…
About Boulders Penguin Colony
First things first, here is a bit of info on Boulders Beach in Simon's Town:
Address: 1 Kleintuin Road, Simon's Town
Contact: +27 (0)21 786 2329
Cost: R65 per adult per day; R35 per child per day
Hours: Open daily (see full list of opening hours below)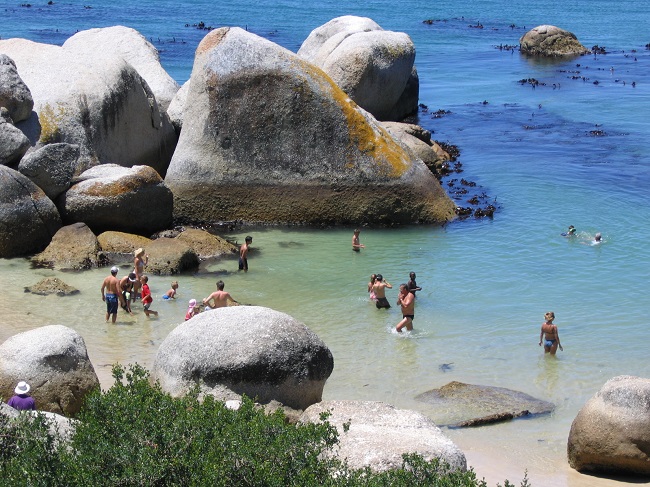 The reserve is owned and managed by South African National Parks, with seasonal hours that coincide with daylight hours and general travel seasons. These hours are as follows:
April – September (Winter): 08h00 – 17h00
December – January (Summer): 07h00 – 19h30
February – March (Autumn): 08h00 – 18h30
October – November (Spring): (08h00 – 18h30)
Interesting Facts About Boulders Beach
Most famous for its resident African penguins, which are also known as jackass penguins (yes, really!), Boulders Beach is loved by locals and visitors alike. It's a great place to visit if you're exploring nearby False Bay hot-spots such as Kalk Bay, or you are looking for a self-drive adventure on a hot day.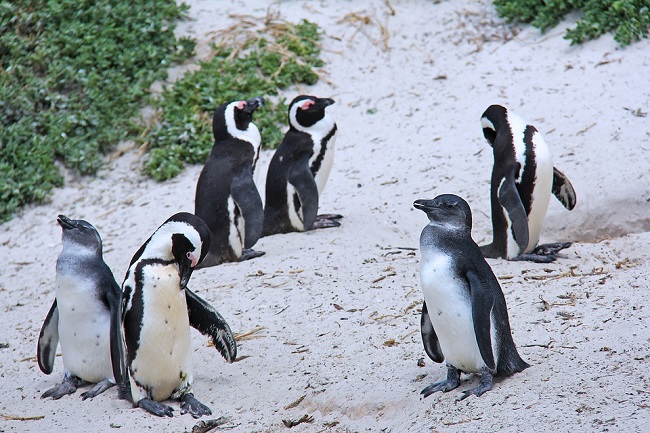 Some interesting things to know about Boulders Penguin Beach in Cape Town include the following:
* Boulders was established in 1983. A count in 2011 put the number of penguins at this colony at around 2100. Sadly, the African penguin is facing a decline, at Boulders and various other areas. Conservationists believe this to be caused by many factors, from a lack of habitat to domestic animal attacks, pollution and numerous other risks. You can learn more about helping the African penguin by contacting SANCOB on +27(0 21 557 6155.
* The beach is safe and protected. There are rangers on patrol every day, and the beach is clean and safe for picnics, walking and swimming. Alcohol and smoking are prohibited as this is a nature reserve – take along a packet for your refuse or use the provided bins to ensure that the beach stays clean and safe for its visitors and penguins.
* Some parts of the beach are closed to visitors. Breeding and nesting penguins are kept away from the main beach. You will still get to see plenty of penguins, and even swim near them. Remember however that as Boulders is a protected nature reserve, it is best to enjoy the penguins without getting too close. Penguins are adorable (and often hilarious to watch) but can get aggressive if they are threatened.
* It's best to arrive early during busy seasons. In the height of summer, once temperatures start to rise, the beach can get busy. Parking is limited, so try and arrive early in the peak summer months. It's also good to keep in mind that beach space depends on the tides. During high tide, the water takes up a large portion of the beach. Low tide is earlier in the day, with more space to sit on the sand.
* Swimming is wonderful at this beach. Being on the False Bay coast, you have the advantage of the warm Indian Ocean waters. The large number of boulders that give the beach its name make for a sheltered swimming space. Clear waters and white sands further add to the beauty of this beach.
__________________________________________
The next time you're in the mood to discover Cape Town beaches, be sure to include Boulders Beach in Cape Town on your coastal bucket list!