Famous for its laid-back vibe and beautiful beach, Muizenberg Cape Town is one of the False Bay's best loved destinations. This sleepy surfing village lies between Lakeside and St James, on the warm Indian Ocean. It's most famous for its family-friendly beach, eccentric cafes, small theatre, surf schools and relaxed atmosphere. Whether visiting for the day, or planning your stay on the False Bay, Muizenberg has plenty to offer.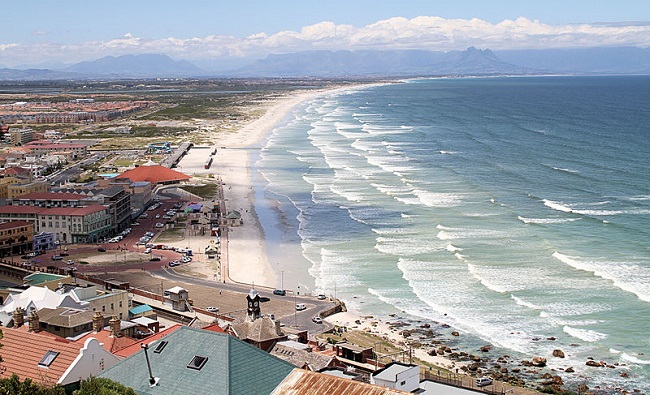 Come for the beach, stay for the vibes. Muizenberg, also often fondly referred to as Muizies, is a world of its own. This spot is as unpretentious as it gets, with a diverse population that includes families, singles and commuters who prefer living on the coast than in the heart of the city. With much to offer, a drive out to Muizenberg Cape Town is always worthwhile. You can even take a train ride from the City Centre if you're keen to explore the area by foot.
What to See and Do in Muizenberg Cape Town
What's good in this hood? Let's take a look…
Muizenberg Beach
Set on the False Bay coast, which lies on the warm Indian Ocean, this beach is popular with families, locals and visitors. It's also favoured by surfers, who have been riding these ways for decades. There is a surf shack on the beach, along with the Muizenberg Catwalk, which is great for a stroll along the beach. Next door lies St James – famous for its colourful beach huts that adorn the sand.
Blue Bird Garage Market
Housed in a historic plane hangar, the Blue Bird Garage Market offers a wide variety of food and goods. The market runs every Friday evening, from 16h00 until 22h00. It is family-friendly, with a great selection of items for sale. Whether you are seeking unique gifts, craft food, local beers, live music or all of the above, this market has become a popular choice of things to do on a Friday in the Mother City.
Gary's Surf School
One of the oldest operating surf schools, Gary's is located on Beach Road. This school caters to surfers of all levels. Total beginners, those with a little experience on a board, children, adults and those wanting to brush up on their skills will all find something here. The swell is beginner-friendly and safe, making Muizenberg ideal for new surfers.
Greater Zandvlei Estuary Nature Reserve
The Greater Zandvlei Estuary Nature Reserve comprises a 200ha wetland, river system and estuary that is ideal for a day out in nature. Whether you are a keen birder, nature lover or simply someone who enjoys being outdoors, this nature reserve is a must visit. While not quite in Muizenberg, it is right next door in Marina Da Gama.
Kitch Kombuis
On Albertyn Road, you will find a quirky eatery that is perfect for coffee, lunch, breakfast or a quick bite to eat. Kombuis is the Afrikaans word for kitchen. Thanks to its location next to Muizenberg Station, this spot has become popular with the early morning coffee crowd as well as those en route to the beach. Specialties include fantastic Lavazza coffee, served with a veggie pie, tartlet, rooti, sandwich or wrap.
Masque Theatre
On Main Road, you will find the Masque Theatre. This intimate venue plays host to a variety of amateur theatre productions over the years. Rebuilt after a fire in 1999, the theatre's shows have included a 2008 production of Agatha Christie's courtroom drama "Witness for the Prosecution", which marked the theatre's hundredth show.
______________________________________________
Keen to plan a holiday in this part of the city? Browse our selection of places to stay in Muizenberg, or explore our False Bay villas, guesthouses and holiday homes that put you in the very heart of this coastal destination. 
Image: Hilton Teper, via Wikimedia Commons