Now in its fifth year running, the Big Bottle Festival in Cape Town takes a local spin on a festival originating from Germany, offering big format bottles, fine dining and some of the top wines and bubbles from over 40 wine producers and importers. If you adore wine tasting, this event is going to be a good one! To uphold the highest possible standards of excellence, participation of producers is by invitation only. The festival's sommelier team choose their top picks, resulting in a selection that is quite simply superb.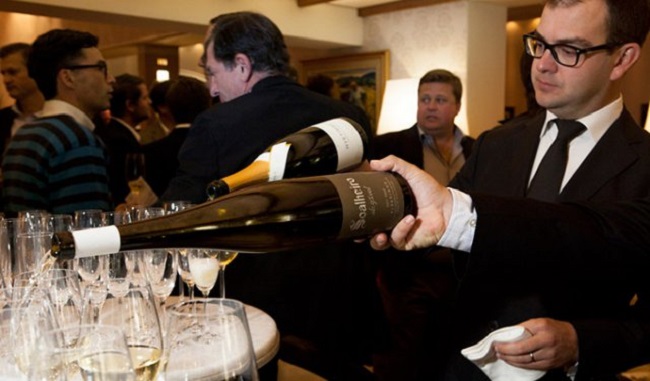 Along with wine, event goers can also enjoy culinary masterpieces from leading chefs, and all of the sense of celebration, enjoyment and decadence that comes from drinking from those lovely big bottles. While less may be more in many instances, this concept certainly does not apply as far as wine is concerned!
What can you expect at the Big Bottle Festival this year? Let's take a look…
Big Bottle Festival Event Details
Dates: Friday 21 & Saturday 22 August 2015
Venue: The Cape Town Club, 18 Queen Victoria Street, City Centre
Times: 15h00 to 20h00
Tickets: R450 from Quicket.co.za (includes wine, food, tasting glass and entertainment)
Visit www.bigbottle.co.za for more info. Wine producers and importers who will be represented at this event include the following (listed by region):
Constantia: Klein Constantia and Steenberg Vineyards
Cape Point: Cape Point Vineyards
Durbanville: Diemersdal Wine Estate
Elgin: Almenkerk, Paul Cluver Wines and Iona Wine Farm
Bot River: Beaumont and Luddite Wine
Hemel en Aarde: Hamilton Russell Vineyards, Newton Johnson, Sumaridge Estate, Restless River Estate Wines, Creation Wines and Domaine des Dieux
South Coast: Hermanuspietersfontein
Stellenbosch: Villiera Wines, Jordan Wine Estate, The Winery of Good Hope, Tokara, Raats Family, Delaire Graff Estate, Thelema Mountain Vineyards, Botanica Wines, Stark-Condé Wines, Glenelly Estate, Waterkloof Wines, Keermont Vineyard, Capelands, De Trafford, De Toren, Morgenster Estate, Vriesenhof, Ken Forrester Wines, Reyneke Organic Wines and Warwick Wine Estate
Franschhoek: Chamonix Wine Farm, Boekenhoutskloof, Le Lude and Cap Classique
Robertson: Bon Courage and Graham Beck
Tulbagh: Saronsberg and Fable Mountain Vineyards
Swartland: Chevallerie and Vonkelwijn
Piekenierskloof: Tierhoek
Gypsy Origin: Yardstick Wines, Savage Wine and Momento Wines
Champagne: Champagne Jacquart and Champagne Drappier
Why You Will Love Cape Town Food and Wine Festivals
If you have never been to a food and wine festival in Cape Town before, you are in for a treat. South Africa's Mother City plays home to many different festivals, which celebrate food, wine, beer and all that other good stuff. In addition to the upcoming Big Bottle Wine Festival, some of the other annual food and drink festivals that take place in and around the city include the following (click on the link for more info):
…
If good food and good wine are up there with your list of heavenly things, make sure that you do your best to head on over to the Big Bottle Festival in Cape Town this weekend. And, if you miss this event, don't worry – there is sure to be another amazing food and wine festival just around the corner!
Have you been to a wine festival recently? Share your thoughts below and let us know why you love celebrating the joys of fine Cape wines!