Here at the ComeToCapeTown.com Head Quarters, it is safe to say that we love beer. We love craft beer (of course – this is Cape Town aka Craft Beer Capital, after all!), we love places that serve beer, and we love beer festivals too.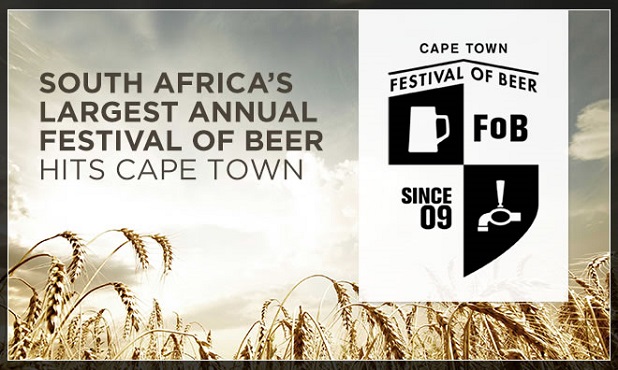 The annual Cape Town Festival of Beer is without a doubt one of our favourite festivals, bringing together not only some of the best brews under the sun, but also awesome people, a great vibe, food, music and all that other summery stuff that makes for a good weekend.
Cape Town Festival of Beer 2014
This year, the 2014 Cape Town Festival of Beer is set to be even better than ever before. Taking place from 28 to 30 November 2014 at Hamilton's Rugby Club in Green Point (just around the corner from the V&A Waterfront), this year's exhibitor list includes a variety of breweries of all shapes and sizes.
Over 200 beers can be savoured during the festival, while additional highlights such as live rugby on the big screen TVs, local music performances, food stalls and plenty more besides. With around 60 breweries in total represented here, you can expect to see local and international beers taking centre stage. Blind tastings, home brewing demonstrations and even personalised guide beer tours (yes, you read that right) add the final touch to what is sure will be an event that you don't want to miss.
If all of that is sounding like a party you can get on board with, here are the details you need to make note of:
* Venue: Hamilton's Rugby Club, Stephan Way, Green Point
* Dates & Times:
– Friday, 28 November – 12h00 – 23h00
– Saturday, 29 November – 12h00 – 23h00
– Sunday, 30 November – 10h00 – 19h00
* Tickets: R150 via Webtickets (click here to buy online)
* Exhibitors: click here to view the full list of breweries exhibiting at the festival
* Facilities: kids' play area, food stalls, big screen television, parking and more
* Website: www.capetownfestivalofbeer.co.za
* Social: Follow www.facebook.com/CTFOB or @FestOfBeer #CTFOB
We know we probably shouldn't have to tell you, but remember to enjoy yourself responsibly. If you plan to be drinking (and with over 200 beers to sample, it's a good guess you will be), hire a cab, call an Uber, arrange a designated driver or find another way to play it safe, as long as you do not drink and drive. Whether you are local or visiting, driving under the influence of 2 beers or more is illegal.
We also strongly advise that you drink plenty of water during the day, and try the delicious food that will be on offer. If you are a visitor to Cape Town, sunscreen is essential during the daytime too – it gets pretty hot out there!
Other than that, have fun, and we hope you enjoy the Cape Town Festival of Beer 2014 as much as we plan on enjoying it!