Planning a getaway with your significant other has never been easier, thanks to the wide range of romantic accommodation in Cape Town. Whatever your budget and preferences may be, South Africa's Mother City seems made for romance. In addition to a variety of compact apartments that are perfect for those who like to be on the go, you will also find dreamy villas that promise endless relaxation and luxury.
To help make your search a little easier, we have put together a list of some of our most popular romantic accommodation in Cape Town. This list has something for everyone, including couples and those travelling in pairs as part of a larger group. Simply navigate through to each property listing to get a better idea of what each property has to offer. From there, you can proceed to make a booking or send an enquiry to check availability of each property.
In Search of Romantic Accommodation in Cape Town
Start planning your dream escape right now with our top picks to the most romantic accommodation in Cape Town. Some of our suggestions include the following:
1/ Blinkwater Villa, Camps Bay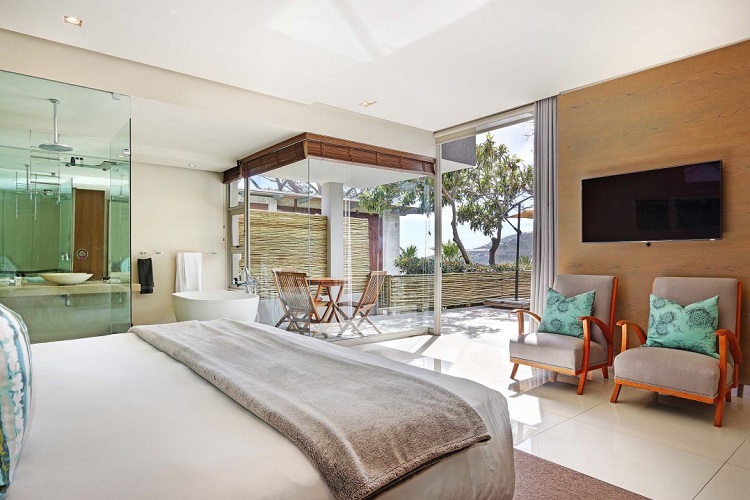 Situated in Camps Bay, with sweeping views of the ocean and mountain, Blinkwater Villa is ideal for couples retreats. This three bedroom villa has a modern, luxurious design, inviting bedrooms fitted with intimate bathrooms, private patios and sumptuous beddings, open-plan living and dining areas, a swimming pool and plenty of other high-end features. It's also just a few minutes walk from the beach, with cocktail bars, restaurants, and cafes in easy reach.
2/ Triangle Luxury Suites, CBD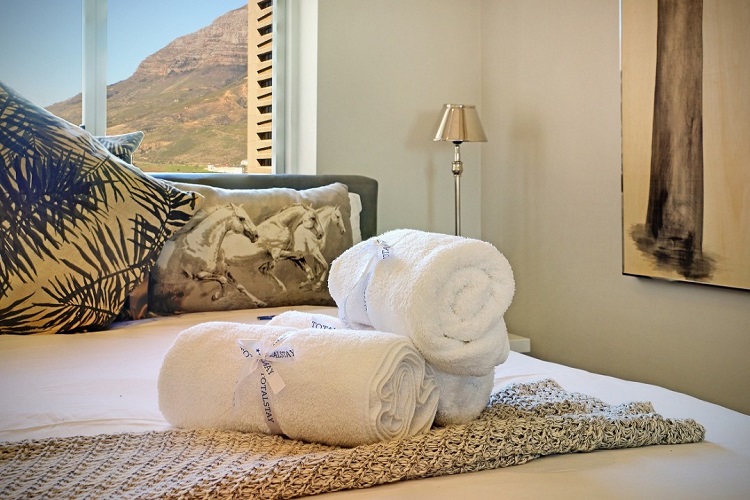 Offering one and two bedroom suites in the heart of the CBD, Triangle Luxury Suites puts you right in the centre of the city. These beautifully furnished apartments are compact, stylish and fully equipped with everything you could ever need for your stay. Whether travelling alone as a couple or visiting with another couple, you are sure to fall in love with the breath-taking views enjoyed from your apartment.
3/ Indigo Bay, Camps Bay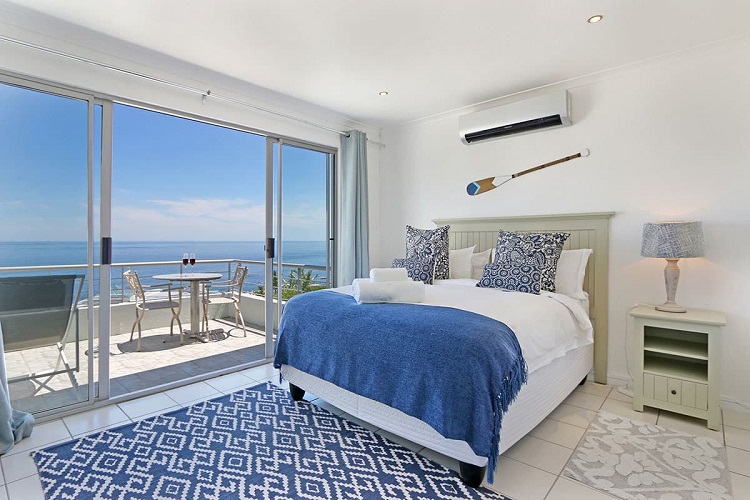 Indigo Bay includes four apartments as well as a ground floor house. Choose from one and two bedroom apartments, or rent the peaceful two bedroom house that leads out to the swimming pool. Ideal for couples wanting to be close to the beachfront of Camps Bay, the apartments and house all share a soothing coastal style, along with a host of luxurious touches that further add to your stay.
4/ Alphens Edge, Constantia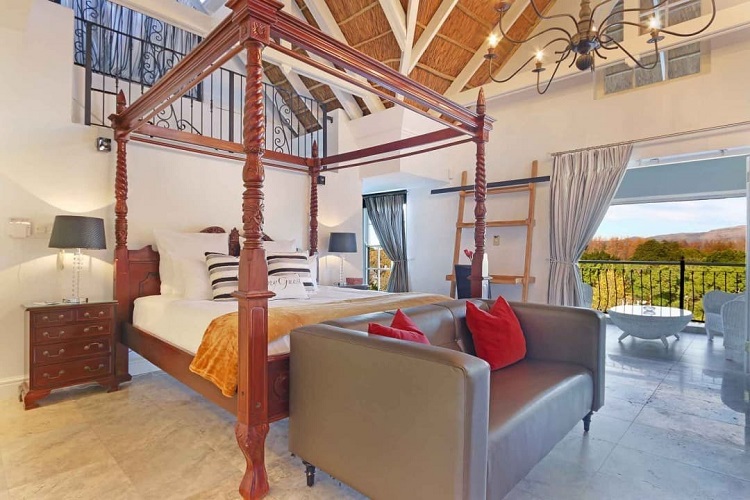 Escape the hustle and bustle of the city and head out to the lush, green neighbourhood of Constantia. Here, you will find Alphens Edge Boutique Retreat. This exclusive guest house offers six beautifully designed guest rooms, including a spectacular master suite, a one bedroom cottage, and a two bedroom cottage. With a tennis court, swimming pool and ample space for relaxation, this boutique retreat is ideal for honeymoons and romantic getaways.
5/ Glen Sunsets, Camps Bay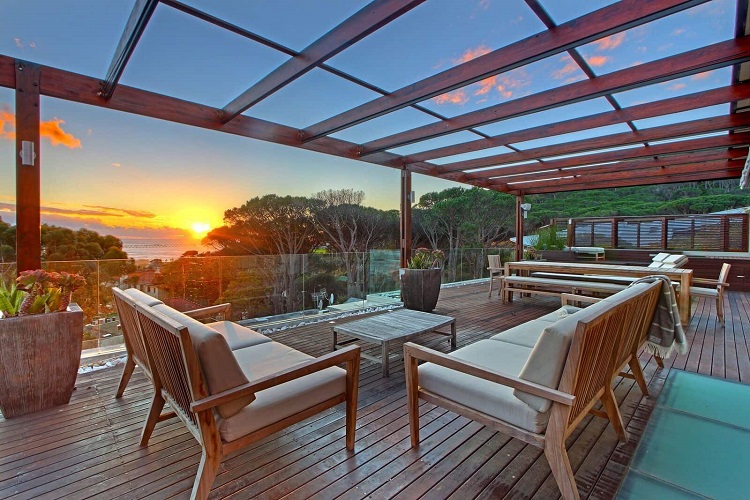 Boasting three bedrooms, three bathrooms, a host of luxurious features, and some of the best views imaginable, Glen Sunsets is a four-star villa in Camps Bay. This villa sleeps up to three couples, making it excellent for romantic getaways. From the spacious deck, you will be able to watch the sun set over the Atlantic Ocean while you sip icy cold bubbly or enjoy a meal outside under the African skies.
6/ Ivory Sands Villa, Clifton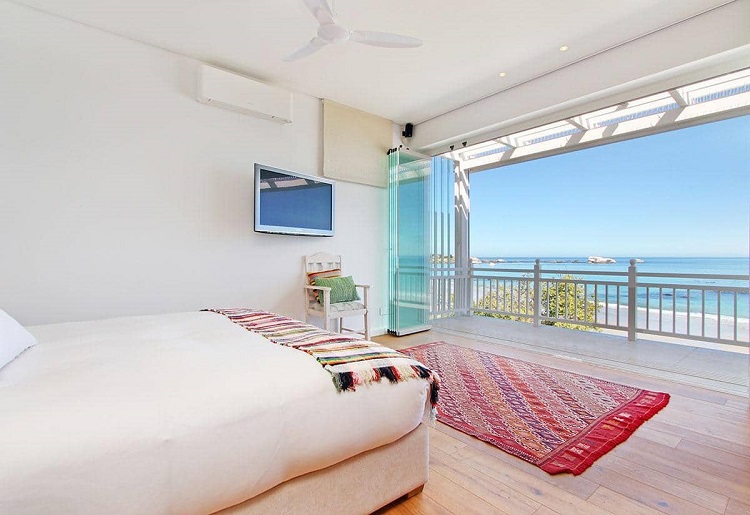 A highly in-demand property set on the sands of Clifton Second Beach, Ivory Sands Villa has two bedrooms, direct beach access, an open, modern style and plenty of luxurious touches. With no restaurants or businesses in Clifton, this area is ideal for romantic breaks. Camps Bay and its restaurants and bars are a short drive away, while the City Centre can also be accessed easily from this peaceful beach villa.
7/ Ocaso, Sea Point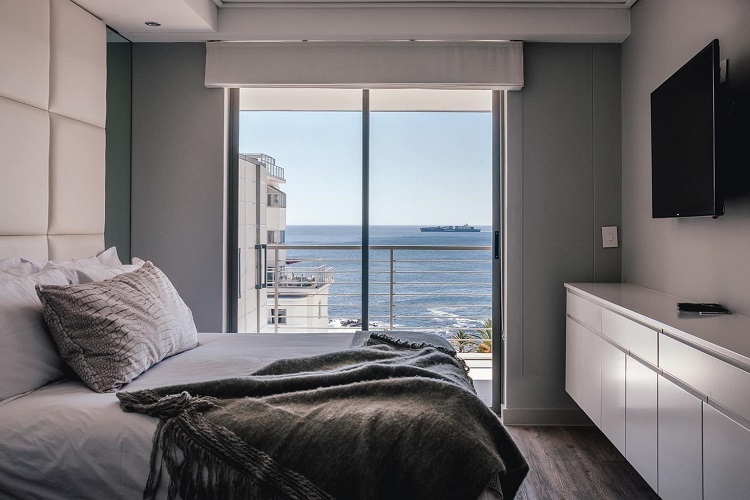 Situated in Sea Point, overlooking the promenade and ocean, Ocaso is a contemporary three bedroom apartment. A host of top-of-the-range features is offered here, from underfloor heating to 24-hour security, open-plan living and dining areas, a balcony, outdoor dining table and plenty more besides. Restaurants and cocktail bars are found nearby, while the Waterfront and City Centre are also within easy reach.
8/ Atlantique, Sea Point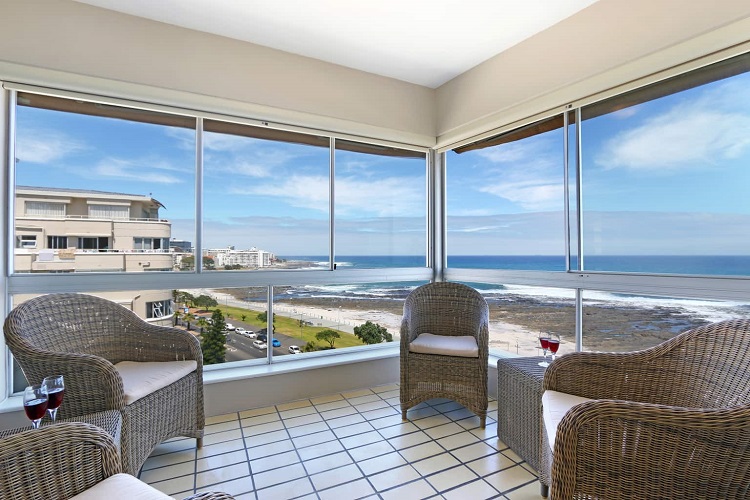 Also in Sea Point, Atlantique is a bright, spacious two bedroom apartment overlooking the ocean. With a sumptuous master suite, plus an equally lovely twin bedroom, this apartment is ideal for couples travelling with children or two couples travelling together. Highlights include a closed balcony that offers ocean views, along with a host of delightful features that enhance your stay.
9/ Clifton Santorini, Clifton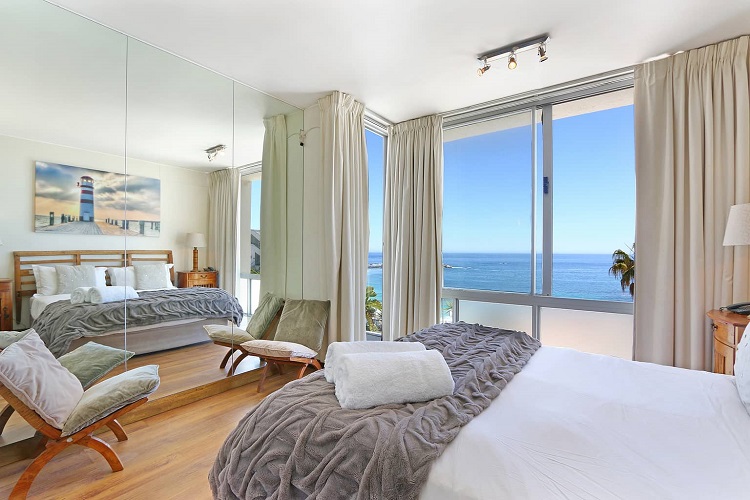 Modern, inviting and fully equipped for fuss-free self-catering, Clifton Santorini is situated in Clifton. This three bedroom apartment boasts beautifully furnished bedrooms, a private plunge pool, a fully equipped kitchen and plenty of relaxation and dining spaces. Ocean views can be enjoyed from the apartment, while beaches, restaurants and other attractions are just a short distance away.
10/ Villa Alba, Camps Bay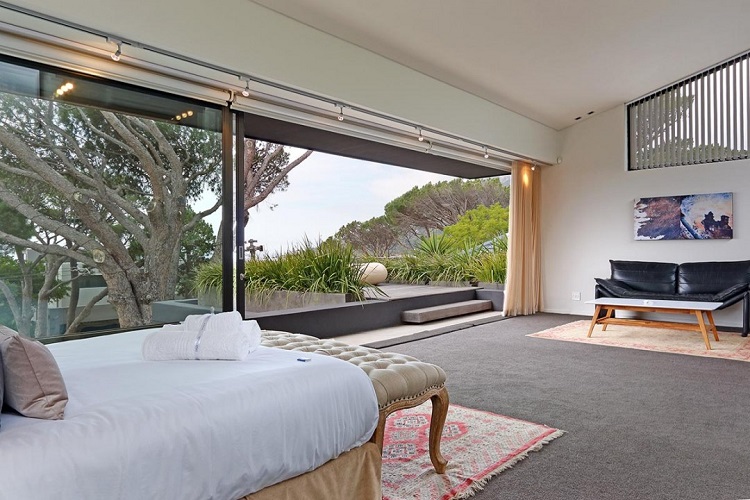 With three en-suite bedrooms, two levels, indoor and outdoor relaxation and dining spaces, a swimming pool and an enviable location in Camps Bay, Villa Alba offers the ultimate place to relax and unwind. What makes this villa perfect for romance is its sense of feeling far removed from everything. In fact, despite its woodsy ambiance, this villa is a quick drive away from restaurants, bars, beaches and other attractions in the city.
---
If you have any questions at all, we are always here to help with personal recommendations. Our team works hard to ensure that guests have the best possible experience. We're also suckers for romance. That means we are also on hand to offer suggestions on where to go and what to do during your stay as well. View our guide to romantic experiences in Green Point to find further inspiration, or try our tips on how to plan a romantic trip to Cape Town.
Still not sure where you want to stay? Browse our Curated Collection to view even more incredible choices for romantic accommodation in Cape Town. This collection includes some of our most sought-after apartments and villas across the city's top destinations. You can also contact us for assistance in finding the very finest selection of romantic accommodation in Cape Town.