The Victoria & Alfred Waterfront has become Cape Town, and South Africa's most visited tourist destination, with shopping, dining, accommodation and entertainment sure to please both tourists and locals alike.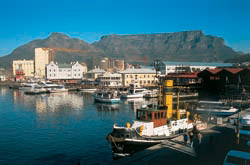 With a backdrop of mountains and sea, theV & A Waterfront is a creative architectural wonder.The Waterfront boasts over 400 shopping destinations, an endless variety of restaurants and coffee shops, luxury hotels, and many other activities to entertain the entire family.
Designer brands on offer include Diesel, Adidas, Paul Smith, Louis Vitton and Lacoste. International eateries include Subway, KFC, Hagen Daaz, Nandos, and many more.
Hotspots include the Two Oceans Aquarium, Telkom Exploratorium, SA Moritum Museum, and The Nelson Mandela Gateway.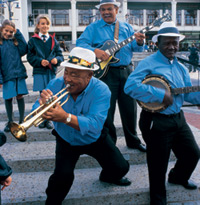 With fun and excitement for children of all ages you can shop, relax, enjoy live entertainment, take a cruise or join a day tour. Sip your drink at a waterside pub or take in the night air at many of the popular waterfront restaurants.
The waterfront is open daily from 9:00 am to 9:00 pm with plenty of secure parking.
Many visitors choose to stay in the waterfront itself, reasons for this choice being primarily location, and the variety of secure luxury accommodation, including marina penthouse apartments and luxury 5 star hotels, including The Table Bay Hotel, The Commodore Hotel, and The Cape Grace hotel. For more information about Waterfront Hotels & Accommodation, visit our Waterfront accommodation page, or Contact us now!