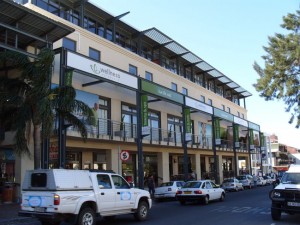 Situated in the heart of the trendy City Bowl area, Kloof Street in Cape Town runs on the other side of Lower Long Street, and is positioned just off Buitensingel via Orange Street.
This busy road is one that every visitor to the Mother City will land up on at some point or another, and has an eclectic blend of great restaurants, unique shops, old historical buildings and various other landmarks.
Accommodation options are also found in abundance, both on Kloof and in the general Gardens area.
Get the lowdown on what to see and do in our virtual Kloof Street tour below, which features all of the restaurants, bars, shops and other cool things you can find along this street.
Kloof Street Restaurants and Bars
While these are just a selection of the various dining options along Kloof, they are certainly worth a try:
Gourmet Boerie – Buitenkloof Studios, Cnr Buitensingel and Kloof Streets. One of the only places where you can enjoy delicious traditionally-made boerewors – a South African speciality!
Vide E Café – 34 Kloof Street. Whether you are in the mood for people watching, good coffee, a decadent quatro muffin or free Lindt bite-sized chocolates, Vida is something of a landmark in itself.
Knead – Shop 16, Lifestyles on Kloof, 50 Kloof Street. Great pizza, amazing bakery and an always vibey atmosphere. Look out for their R40 dinner special.
Van Hunks – 55 Kloof Street. Named after the legendary character behind Table Mountain's cloud cover, this popular bar and restaurant is a great spot with a busy, thrumming vibe. Perfect for pre-drinks before heading out for a night of partying!
Arnold's – 60 Kloof Street. Over the road from Checkers supermarket, Arnold's is most famous for their ridiculously cheap, super yummy breakfasts. They have great dinner specials too, and in summer water misting keeps patrons cool.
Asoka Bar – 68 Kloof Street. To-die-for cocktails aside, Asoka is a popular haunt for the city's trendy locals, and even visiting celebrities. Live music, DJs, tapas menus and awesome ambience can also be enjoyed.
Da Vinci's on Kloof – 72 Kloof Street. Famous for their divine pizzas, as well as their burger in a bowl and other Italian dishes, this restaurant is well worth a visit for lunch or supper.
Kloof Street Shopping
After you have enjoyed a lazy lunch, you can work it off with a bit of Kloof Street shopping. Here are some of our favourite shops:
Astore – 34 Kloof Street. Cutting edge menswear and other goods.
Wardrobe – 45D Kloof Street. Vintage glam, lovely dresses and other pretty things.
Purr – Lifestyles on Kloof. Designer fashion, shoes and other stylish ware.
Wellness Warehouse – Lifestyles on Kloof. Huge range of organic, hand-crafted goodies from soy candles to sleepwear. There is also a pop-in store opposite the main store.
Klooftique – 87 Kloof Street. Incredible high-end décor and furniture.
Kloof Street Entertainment and Facilities
In addition to places to eat and shop, you will also find loads of other facilities along Kloof Street. From supermarkets to ATMs and even theatres, here are some of the top facilities on offer:
Spar – 26-28 Kloof Street. Fairly reasonably priced supermarket with adjacent liquor store, ATM, bakery, sushi counter and salad bar.
Lifestyles on Kloof – 50 Kloof Street. This centre contains everything from wine shops to a bookstore, clothing stores, a Woolworths grocery store and a few ATMs.
The Labia – Lifestyles on Kloof. Retro style cinema showing a range of current mainstream and art house movies.
Wellness Pharmacy – Lifestyles on Kloof. Wellness Warehouse has an excellent pharmacy and homeopathic counter, as well as the Well Clinic that does basic health checks.
Cape Town Medi-Spa – 99 Kloof Street (021 422 5140). Wide range of healthcare and spa treatments in a beautifully renovated building.
What Else Should You Know About Kloof Street?
Another great thing about Kloof Street is that there are many little side-roads that also house even more quirky restaurants and shops. Park Road lies alongside the Lifestyles on Kloof centre, and is a fascinating hub all on its own. Kloof Nek Road winds its way from Kloof onto the main part of Kloof Nek, with the popular Rafiki's restaurant on the corner as well as florists and interesting décor shops to see along the way.
The best way to explore Kloof Street in Cape Town is to start at the bottom end, and make your way up the hill to browse, window-shop, eat, drink and take in the vibe as well as its beautiful views of the mountain.
Have you been on Kloof Street during your holiday in Cape Town? Share your favourite places below to let us know what you enjoyed about this street the most!