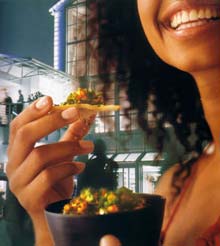 Cape Town offers the finest in dining pleasures, from fresh Mediterranean dishes, to exotic Asian spices and traditional African meals.
Cape Town Restaurants are typically reasonably priced, and often top internationally-trained chefs are on hand to offer the best of any variety of foods.
Excellent wine lists are available at most fine restaurants, offering a wide selection of local, domestic and international wines.
For beach or water front views, try these popular destinations.
* Visit Camps Bay, Clifton or Bantry Bay for the best beachfront and sunset locations
* A beachfront restaurant in Blouberg is your best bet for a spectacular view of Table Mountain
* At the top of Table Mountain you'll find bars and casual restaurants offering the best aerial views of the city
* For beautiful views of the False Bay coastline and quaint seaside and harbor views, visit Kalk Bay or Simon's town.
With these popular and scenic destinations there is no reason to leave Cape Town without enjoying all of the spectacular views.
If its wine, and gorgeous vineyard and mountain scenes you seek, then try these popular locations.
Find award winning restaurants in the wine regions of Stellenbosch, Buitenverwachting, Constantia, and Franschhoek.
Find a variety of fare, from local delicacies to French cuisine. For French cuisine one of the many restaurants in French-settled Franschhoek. Try Reuben's, Le Quatier Francais or La Petite Ferme. La Couronne is even located in the middle of a beautiful vineyard setting.
Find a Mediterranean buffet at Olivello in Stellenbosch. For a more relaxed picnic option, visit Le Pique Nique, at Boschendal wine estate in Franschhoek, or visit Helshoogte Pass and Delaire Wine Estate
There are also many spots for delicious local fare. Cape Town is a culmination of a variety of spices arriving as a result of its location on the spice route between Europe and the East.
For a taste of traditional Cape foods with Malay influcences, try Bobotie (made of curried mince, with an egg-based topping). Other dishes include smoorsnoek, a stew of flaked fish, with potato and tomato, or try a milk (custard) tart, or bredie stew.
You can find traditional Malay foods at Jonkershuis restaurant, at Groot Constantia, or at Emily's at the Waterfront. Also try The Cape Malay Restaurant at the Cellars-Hohenort Hotel in Constantia.
Seafood is also a poplar fare in Cape, including fresh linefish, and oysters, which appear on many local restaurant menus. Also try Imvelo Xhosa restaurant at the Waterfront, or the Africa Cafe, Mama Africa or Marco's African Place for more African fare.
For the more adventurous, try some local game such as ostrich, springbok or kudu.
Did you enjoy the food in Cape Town? Tell us about it below